Erinn Simon
Seeded whole-wheat bread
I bake bread pretty often at home, but almost always default to my favorite basic crusty white loaf. Truthfully, I feel a bit overwhelmed by the vast world of bread making. There's so much to learn, and I can never figure out where to start. But this weekend, while browsing baking blogs, I came across a lovely little recipe for whole-wheat bread with a mix of seeds that inspired me to break out of my baking rut. I changed things up a bit to make the process more like the trusty recipe I usually follow. And I used my stand mixer, but let my 4-year-old daughter, Sadie, hand-knead the dough before we shaped the loaves since it's her favorite part of bread making.
You can adapt this recipe to use any seeds you like. We had flax, pumpkin, sunflower and sesame on hand, which was a delicious combination. We ate some that was still a bit warm from the oven spread with butter and, the next day, it made incredible peanut butter and jelly sandwiches. I think we have added a new bread to our repertoire!
[jump]
Seeded Whole Wheat Bread
(Makes two 9-by-5-inch loaves)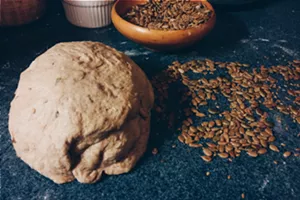 Erinn Simon
Dough and seeds
adapted from
Flour Arrangements
Ingredients:
3/4 cups warm water (105-115 degrees)
1 package (about 1 tablespoon) active dry yeast
2 teaspoons light brown sugar
1 1/2 cups warm milk (water works too if you want the bread to be dairy-free)
2 cups unbleached white flour
1 1/4 cups mixed seeds, divided (I used flax, sunflower, pumpkin and sesame seeds)
3 tablespoons vegetable oil
1/4 cup honey
1 tablespoon salt
3-4 cups whole-wheat flour
Directions:
1. Combine 3/4 cup water, yeast and sugar in the bowl of a standing electric mixer. Let sit at room temperature until foamy, about 10 minutes.
2. Add milk (or water if you're using it), unbleached white flour, 1/2 cup of your seed mixture, vegetable oil, honey and salt to the yeast mixture. Mix, using the dough-hook attachment, for a minute or two on low speed until well-combined. Then add the remaining flour gradually, until a soft dough forms. Knead with the dough hook for about 5 minutes. The dough should form a fairly smooth ball, but still be a bit sticky. You can knead it a bit by hand at this point if you want to, but try to use just a touch of flour to keep it from sticking.
3. Lightly oil the inside of a large mixing bowl. Roll the dough around in the bowl to coat it with oil and cover loosely with a clean kitchen towel. Let the dough rise at room temperature until it doubles in size. This should take about 1 1/2 hours.
4. Scatter the rest of your seed mix onto your clean counter, or on a rimmed baking sheet.
5. Punch down the dough (really, punch your fist right into the dough to deflate it!) and turn it out onto a dry, but unfloured surface. Divide the dough into two equal pieces and use your hands to shape each one into a small loaf. Roll each loaf in the seeds, pressing down gently to help the seeds stick.
6. Carefully move each seeded loaf to an oiled 9-by-5 inch loaf pan. You can scatter any remaining seeds on the top and down the sides of the loaf pans. Cover both loaves with a clean kitchen towel and let rest again until they rise just above the tops of the pans. This should take about 45 minutes. About 20 minutes before you're ready to bake, preheat your oven to 375° F.
7. Bake the loaves on the center rack of the oven for about 35-40 minutes, or until the tops turn a lovely golden brown. Transfer to a rack and cool at least 20 minutes before slicing.