I get sick of serving the same old vegetables at dinner time. If I see carrots or broccoli on my plate one more night, I might scream! So I'm always looking for ways to get my kids, and equally veggie-squeamish husband, to try something new.

I know they love seasoned salt, so when I found this recipe idea at the McCormick website, I thought I'd give it a whirl. It got mixed reviews, but everyone ate some, a couple of us with smiles on our faces. It's always worth the extra effort to get everyone at the table to try something new — especially when you promise ice cream afterwards.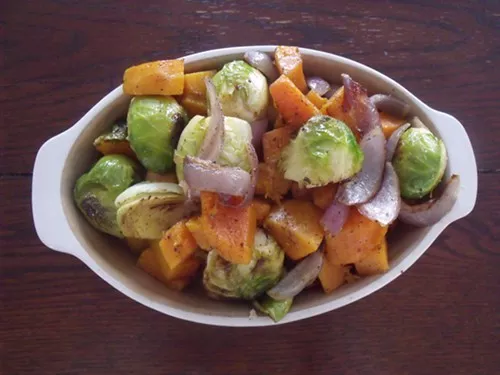 [jump]
Ingredients:
1/2 teaspoon rubbed sage
1 teaspoon seasoned salt
1/4 teaspoon black pepper
1/4 teaspoon ground nutmeg
3 tablespoons olive oil
1 pound brussels sprouts
1 small butternut squash, peeled and cut into chunks
1 red onion, peeled and cut into chunks
Directions:

Preheat oven to 450 degrees. In a small bowl, mix together seasonings. Prepare all the veggies and mix in a large bowl. Drizzle veggies with olive oil. Sprinkle with seasonings and toss to coat. Place in a 9-by-13-inch baking dish and bake for about 20 minutes, longer if you like softer squash.