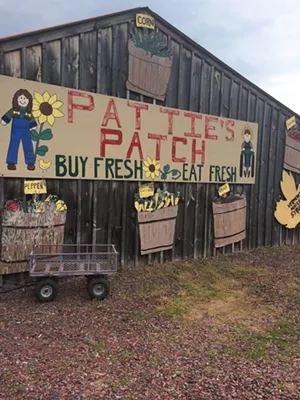 There's nothing worse than coming home from a week-long vacation to an empty fridge.
I take that back. Coming home to brown bananas and moldy grapes you forgot to toss before you left is much worse.
Luckily, my family has found a way to avoid these predicaments.
Once or twice a summer, we make the almost-five-hour drive down to Westchester County, N.Y. to visit both sets of grandparents. Our drive back home is not complete without a stop at Pattie's Patch. The Patch, as we like to call it, is a super-size fruit stand in Whitehall, N.Y., an eighth of a mile from the Vermont border. It's a little over an hour away from our house, so when we spot it we know we're at the tail end of our journey.
On Monday, our stop at Pattie's yielded a $40 haul of fruits and veg — pears, plums, sugar snap peas, eggplant and peaches.
Oh, the peaches. Without fail, Pattie's has the most delicious Georgia peaches (local produce at Pattie's is labeled but there's not a ton). They're juicy and perfectly ripe. So ripe, in fact, that you need to make sure they don't get jostled around in the trunk of the car; they bruise easily.
Thanks to Pattie's, we were able to delay the dreaded post-vacation trip to the grocery store until later in the week, and I was able to put a meal on the table that night that involved more than just a box of pasta.
Using the eggplant, I made
this surprisingly light and tasty dish
with chickpeas and a delicious cinnamony tomato sauce — which I can't fully endorse because, although my 4-year old, Theo, scarfed it up, he said it made his belly itchy. (If you have the itchy eggplant thing that many people seem to have, you can sub zucchini or yellow squash.)
With the peaches — which did get a little bumped around in the car — I made the easy and healthy dessert below.
[jump]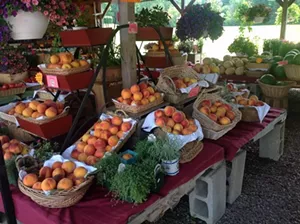 Cinnamon Roasted Peaches
(Serves 4)
Adapted from
House Beautiful

4 ripe peaches, halved and pits removed
1 teaspoon ground cinnamon
1 tablespoon brown sugar
1 tablespoon butter or oil (we didn't have butter so I used coconut oil, which was delicious)
Directions:
Preheat oven to 450 degrees.
Lay peach halves on a baking sheet or in a roasting pan. Sprinkle each peach half with a bit of cinnamon and sugar and a couple of dots of oil or butter.
Cook peaches for 10 minutes, until slightly brown on top. Let cool.
Serve with a dollop of greek yogurt, honey and mint leaves, if you're feeling fancy.