I always make wonderful plans for the holiday treats I'll make — and the cute ways I'll package them — but I just never have time to bake for Christmas.
I want the holidays to be special, but I know that the days between Thanksgiving and Christmas are always the busiest and craziest of the year for our family. Even the best-laid plans during those few weeks tend to go awry.
When I was growing up, I made holiday cookies with my mom every year. The process meant a lot to me. Even as a teenager — when I was too busy to spend a weekend day baking with her — I was comforted by the knowledge that she would unfailingly make the twisty, little, frosted cookies that made the house smell delicious.
Although my kids and I spend a lot of time in the kitchen together, we don't have a standing, we-make-this-every-year recipe like I did growing up. Preparing for the lightning-fast approach of the holiday season, I found myself thinking about this dilemma. Suddenly the answer seemed obvious: baking for Thanksgiving!
[jump] I love Thanksgiving. Since my extended family is fairly spread out geographically, it's sometimes the only time we get together all year. There's fantastic food, and many, many loved ones to enjoy it with. So why not start a baking tradition with my kiddos that we can share with the folks we love most, when there's more time to savor it?
I turned to the best — Martha Stewart — for inspiration, and came up with a winner: pumpkin whoopie pies. My kids loved the idea of making the cream-filled confections to share with their aunts, uncles and cousins. I made a few adaptations to suit my own taste preferences, and I'm happy to report: They were amazing.
A Thanksgiving tradition is born!
Pumpkin Whoopie Pies
(makes about 25 2-inch pies)
Adapted from Martha Stewart
Ingredients for the pumpkin cookies
• 3 cups all-purpose flour
• 1 teaspoon salt
• 1 teaspoon baking powder
• 1 teaspoon baking soda
• 2 tablespoons ground cinnamon
• 1 tablespoon ground ginger
• 2 cups packed dark brown sugar
• 1 cup canola oil
• 3 cups pumpkin puree, chilled (I used fresh, but canned is fine. Just make sure you get pure pumpkin with no extra spices added!)
• 2 large eggs
• 1 teaspoon pure vanilla extract
• 1/2 teaspoon pure orange extract or grated orange zest
Ingredients for the filling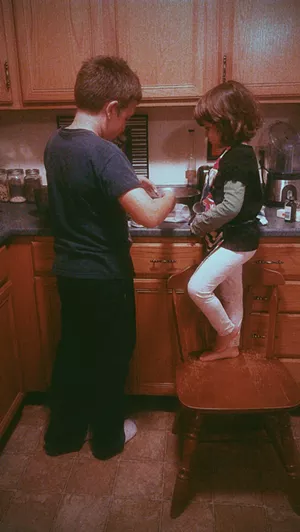 • 3 cups confectioner's sugar
• 1/2 cup (1 stick) unsalted butter, softened
• 8 ounces cream cheese, softened
• 1 teaspoon pure vanilla extract
• 1 teaspoon grated orange zest
Directions for the cookies:
Preheat oven to 350 degrees.
Line two baking sheets with parchment paper.
In a large bowl, whisk together the flour, salt, baking powder, baking soda, cinnamon and ginger and set aside.
In a separate large bowl, whisk together the brown sugar, oil and lemon zest until well combined. Add the pumpkin and mix well. Add the eggs and vanilla and mix well.
Slowly add the flour mixture to the pumpkin mixture and stir until everything is well blended and smooth.
Using a spoon, drop heaping tablespoons of the batter onto your parchment-covered baking sheets, about 1 inch apart. Pop them in the oven and bake until the cookies are just starting to crack on top and a toothpick inserted into the center of each cookie comes out clean. I checked mine after 10 minutes. Let them cool completely.
Directions for the filling:
Sift confectioner's sugar into a mixing bowl and set aside.
Using a hand-held mixer (or a wooden spoon) beat the butter until its smooth.
Add the cream cheese and beat until well combined.
Add confectioners' sugar, vanilla and orange zest or extract. Beat just until smooth. (You can make the filling a day in advance. Cover and refrigerate it, but let it come to room temperature to soften before filling the pies.)

Put it all together:
Line a baking sheet with parchment paper and set aside.
You can make a pastry-piping bag by filling a small plastic bag 3/4 full with the icing and snipping off one small corner with scissors. Twist up the open end and squeeze icing onto the flat side of one cookie, then sandwich with another cookie – flat side facing in. If this seems crazy to you, you can just use a soup spoon to spread the icing. It works just as well!
Transfer the finished pies to the baking sheet and cover with plastic wrap. Refrigerate cookies at least 30 minutes before serving. They'll keep up to 3 days in the fridge.