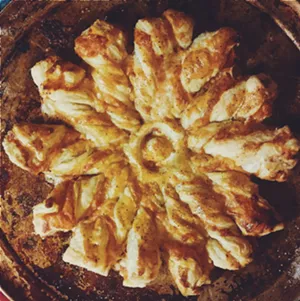 Erinn Simon
Pizza twists
After-school hours, weekends and school vacations always bring extra kids to our house to play or, in 12-year-old terms, "hang out." I love when we have a full house, but lots of kids need lots of snacks. For those times when carrot sticks and goldfish just won't cut it, I like to have a few quick recipes in my back pocket that will please a crowd. This one is my current favorite.
I first saw a photo of the finished dish on Pinterest. Though I've never been able to discover the origin of the recipe, there are many
YouTube tutorials
that take you through the process step by step. The directions here are mine, and the recipe is customizable. We are pizza lovers so we usually opt for this version. But try using pesto or salsa instead of marinara sauce or, for a sweet twist, skip the sauce and cheese and use Nutella!
[jump]
Puff-Pastry Pizza Twists
Erinn Simon
Making twists

Ingredients:
2 sheets frozen puff pastry, thawed and rolled out to about a 12-inch square
1/2 cup marinara or pizza sauce
1 cup shredded mozzarella cheese
1 beaten egg
salt and pepper to taste
Directions:
1. Preheat your oven to 400 degrees.
2. Lightly flour your workspace and the puff-pastry sheets.
3. Lightly oil a large shallow baking dish or pizza pan.
4. Lay the pastry sheets, one on top of the other, on the baking pan and lay a dinner plate in the center of the sheets. Using a sharp knife, cut around the pastry so you have two circles. Set aside the trimmed-off pastry.
5. Take off the top circle and set aside on a lightly floured surface.
6. Spread the tomato sauce evenly over the bottom circle. Sprinkle the cheese evenly on top.
7. Carefully lay the other circle of pastry on top of the sauce and cheese.
8. Make a small circle in the center of the top pastry and, with the sharp knife, cut lines through from the center circle to the outer edge of the pastry. You should get 12-14 sections. Twist each section of pastry, careful to keep the the sauce and cheese as contained as possible.
9. When all the sections are twisted, brush the tops with beaten egg and sprinkle with salt and pepper. You can make small single twists or other shapes with the trimmed-off pastry and arrange them around the circle.
9. Bake at 400 degrees for 20-25 minutes or until golden brown and puffy.
10. Let cool a bit before pulling apart!