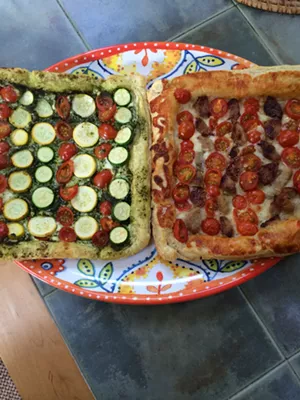 I have a weakness for food blogs. My best friend, Lexy — an editor of cookbooks, among other things — was visiting this weekend and introduced me to a beautiful one called
The Forest Feast
. The woman behind the blog, Erin Gleeson, is a former food photographer who lives in a cabin in the woods of Northern California. Her site is a collection of what she calls "photographic recipe illustrations," in which she writes, types and paints recipes on top of her beautiful photographs.
The mostly vegetarian fare Gleeson creates is styled impeccably — like
this salad
, in which a slab of watermelon becomes a plate atop which mozarella, herbs and nuts are piled. Still, most of the recipes look quite simple to make.
As I scrolled through the site, I stopped and swooned over a picture of a yellow-squash galette. Not only did the savory tart look beautiful, but I knew it would be a perfect way to use the farm-fresh baby zucchini, squash and cherry tomatoes I had just bought at the farmers market.
[jump] Conveniently, puff-pastry sheets — the base for this recipe — come in packs of two, so for dinner, Lexy and I made two versions, one for adults and one for kids. The adult one was pretty faithful to the original recipe: a thin layer of ricotta, topped with pesto and finished with rows of zucchini, yellow squash and cherry tomatoes. For the kids, we went for an upscale pizza vibe, with a mixture of precooked sweet chicken sausage, shredded mozzarella cheese and tomato.
The finished products were delicious — and
almost
as pretty as the one on the website.
Puff-Pastry Galettes
(serves 2 adults and 2 kids, with leftovers)
Adapted from
The Forest Feast

Ingredients:
2 sheets of puff pastry
1/2 cup ricotta cheese
3 tablespoons pesto
2-3 small zucchini and/or yellow squash, cut into thin slices.
About 20 cherry tomatoes, halved
2 precooked sweet chicken sausages, cut into thin slices and sautéed in a pan for a couple of minutes until browned
1/2 cup shredded mozarella cheese
Preheat the oven to 400 degrees.
Unfold and lay out each sheet of puff pastry on a greased cookie sheet.
Assemble the galettes:
For the adult galette, spread the ricotta on the puff pastry, leaving a border of about 1/2 inch.
Spread the pesto on top of the ricotta in a thin layer.
Layer the zucchini, squash and tomato on top of the pesto in rows — or get a little crazy with a fun pattern.
For the kids galette, sprinkle the mozzarella on top of the puff pastry, leaving the same 1/2 inch border.
Layer the sausage and tomato on top.
For both galettes: Pinch or fold up the border of the puff pastry. Drizzle with salt and olive oil.
Bake for 15-20 minutes until golden.
Enjoy!