Astrid Lague
Pepparkakor
Probably the most quintessential Swedish Christmas treat is
Pepparkakor
, or Swedish gingersnaps. They come in many different variations. You can roll them out and cut them into shapes or do what this recipe calls for and simply ball them up and flatten them into disks. You can ice them or leave them plain. I prefer mine along with a nice cup of coffee.
This recipe makes
a lot
of cookies, so there are plenty to share! Bring some to your holiday cookie swap or simply store the dough in your freezer and pull it out when you need a little something sweet. The dough needs to be refrigerated for at least several hours before baking and keeps well in the fridge for a few days, so don't hesitate to prepare it ahead of time.
[jump]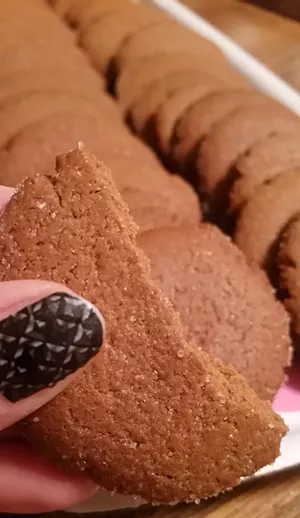 Pepparkakor: Swedish Gingersnaps

Ingredients:
3 teaspoons cinnamon
1 1/2 teaspoons ground ginger
1 teaspoon ground cloves
1 tablespoon baking soda
2 teaspoons water
1/2 cup sugar
1 cup butter, softened
1 1/3 cups molasses (you don't need Blackstrap or bold molasses for this recipe)
2 eggs
6 cups all-purpose flour
For rolling:
1/2 cup sugar and 1 teaspoon ground ginger
Directions:
1. Mix the spices together.
2. Dissolve the baking soda in the water.
3. Cream together the sugar and butter in a mixer. Mix in the molasses, egg, and baking soda dissolved in water and stir until well-combined.
4. Add the spice mixture to the flour, then add to the wet ingredients, a bit at a time, until a stiff dough forms. Refrigerate for at least two hours and up to three days.
Grandma with Grandma's Molasses
5. When ready to bake, preheat oven to 400 degrees. Roll the dough into small balls, about 1 tablespoon each.
6. Combine the sugar and ginger for rolling the cookies in. Coat each ball with gingered sugar, then flatten into very thin disks (about 1 centimeter or thinner) on a baking sheet lined with parchment paper.
7. Bake for 8 minutes, then cool on a cooling rack and store in an airtight container.
Enjoy with a nice cup of coffee, or with milk. These are ideal cookies for Santa!