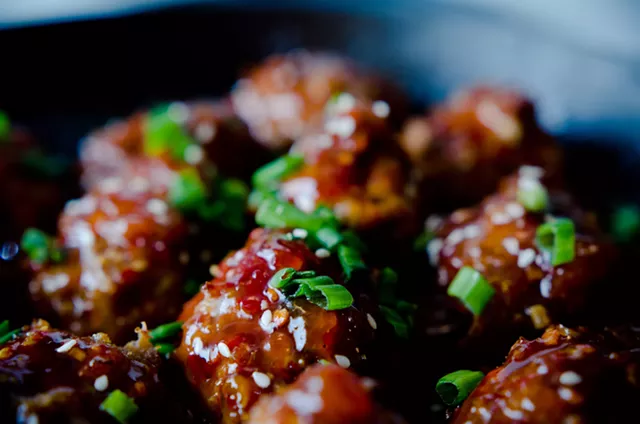 I have an obsession with spicy Asian noodle dishes. Pad Thai, vegetable lo mein, super-spicy peanut sauce, you name it. I've spent years trying to perfect my own home recipe. But after countless tries, I've always come up short. Until now.
I found two recipes that not only (finally!) satisfies my craving for a homemade noodle dish that tastes as good as takeout, but may have forever changed the way my family thinks of spaghetti and meatballs! These recipes are brilliantly simple. Lo mein noodles and mini-meatballs become something special with the help of two easy sauces.
As is, the recipes both have a little heat, but nothing my 3-year-old daughter couldn't handle. You can easily adjust the spice in either recipe by upping or lowering the amount of chili paste. Give these a try; they might just become new family favorites.
[jump]
Peanut-Sesame Noodles
(adapted from
food52.com
)
Ingredients:
2 1/2 
teaspoons sesame oil
1/3 cup
 soy sauce or tamari
3 
teaspoons chili-garlic paste (I used Lee Kum Kee, but any brand will do.)
1/2 
cup peanut butter (any type)
15 
ounces lo mein, udon or soba noodles (packages usually come with three 3-oz bundles, so two packages will be plenty)
chili flakes, sliced scallions and chopped peanuts, for garnish
Directions:
Boil a good-size pot of water.
In a large sauté pan over medium heat, combine the sesame oil, soy sauce, chili paste and peanut butter. Whisk gently to combine, then turn the heat off.
Add the noodles to the boiling water and cook according to package directions. Stir frequently to avoid sticking. When the noodles are al dente (still a bit firm to the bite), use tongs to lift them out of the water and directly into the sauté pan with the peanut sauce. The cooking water that comes along with the noodles will help loosen the sauce. Use the tongs to stir everything together until all the noodles are coated. You may need to add a few more tablespoons of the cooking water.
Garnish with chopped peanuts, sliced scallions, and chili flakes, if you want more heat.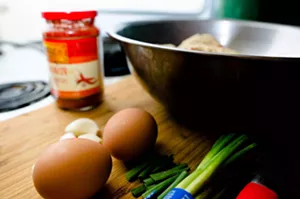 Sweet and Spicy Meatballs
(adapted from
food52.com
)
Ingredients:
1 1/2 pounds ground turkey, beef or chicken
3
 green onions, very thinly sliced
3 
garlic cloves, minced
2 
eggs, lightly beaten
1/2 
cup panko breadcrumbs
2 
tablespoons chili-garlic paste
1 
teaspoon salt
1/2 
teaspoon ground pepper
2 
tablespoons canola oil, for pan-frying
Directions:
Combine all ingredients in a large bowl and mix by hand until just combined. Form into balls, just a bit smaller than golf balls. If you have an oven-proof, pan you can brown the outside of the meatballs on the stovetop over medium high heat, then transfer them to a 375-degree oven for about 15 minutes, or until an instant-read thermometer reads 165 degrees in the center of a meatball. You can also just lay all the meatballs on a lightly oiled, rimmed baking sheet and bake at 375 for 25 minutes, or until the correct temperature is reached.
For the glaze:
1/2
 cup apricot preserves
3
 tablespoons chili-garlic paste
2 
tablespoons rice vinegar
2 
tablespoon soy sauce
Sliced scallions and toasted sesame seeds, for garnish
Combine all ingredients in a small bowl and stir well to combine. Pour over the cooked meatballs until all are coated. Garnish with sliced scallions and sesame seeds.