As an elementary school student in suburban New York in the 1980s, one of my favorite cafeteria meals was Brunch for Lunch. Once a month, we'd get a sometimes crunchy, sometimes soggy waffle served with a couple of links of pork sausage, both items drenched in a decidedly not-from-Vermont maple syrup.
A childhood friend whose daughter now attends our alma mater reported to me that the 2014 version of Brunch For Lunch includes updated options like frittatas, whole wheat waffles and turkey sausage.
Some things have changed, but others remain the same — the novelty of having one meal in place of another still gives me a thrill.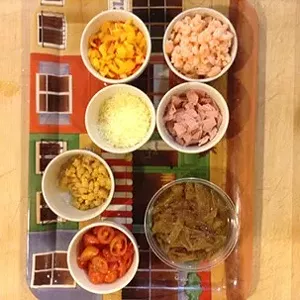 That's why when I came across
"Not Just for Breakfast Anymore,"
a
New York Times Magazine
feature by Mark Bittman about savory pancakes, I couldn't wait to give the recipe a whirl. My mouth watered as I read how Bittman whipped up a quick batter, added scallops, onion, parsley, salt and chile, fried it all up in olive oil and finished the pancakes off with a squeeze of lemon. In the article, he gives more than a dozen recommendations for other savory pancake ingredient combinations.
Most of them are a little too exotic for my 4-year-old son, Theo, and 6-year-old daughter, Mira, so I took the concept and adapted it to my kids' palates. I cut up bell pepper and slices of ham, chopped up some chick peas, thawed out some frozen peas and corn and grated a little mild cheddar cheese, then put each ingredient in a small bowl. For me and my husband, Jeff, I included some bay shrimp, grape tomatoes and caramelized onions. Making the batter was simple — just eggs, milk and flour.
[jump]
It was super fun to mix and match ingredients. I separated out some of the batter — enough to make four medium-size pancakes — added a combination of mix-ins and a couple of grinds of salt and pepper, then cooked the 'cakes up in olive oil over medium heat. I transferred the finished batch to the oven to keep warm, then ladled out another portion of batter and added a new combination of ingredien ts.
After 5 or 6 batches, I had made a cookie sheet full of pancakes and figured we'd have some leftovers. I was wrong; we devoured them. Mira liked the peas, chick peas, ham and cheddar combo the best, while I was partial to the shrimp, onion, corn, tomato and red pepper.
During dinner, we talked about having a pancake dinner party — with a boatload of batter and a gajillion mix-ins — where everyone gets to make the pancakes of their dreams. Sounds like a delicious plan to me.
Savory Pancakes
(Adapted from
The New York Times Magazine
)
For the batter, mix together:
1 egg
2 teaspoons milk
2 tablespoons flour
salt and pepper to taste
Note:
This makes one small batch of pancakes. I quadrupled this recipe, then, worried there wouldn't be enough pancakes, made another quadruple batch. We ate them all.
For the pancakes:
To one batch of batter (about four medium pancakes worth), add ½ cup of finely chopped ingredients. We used combinations of peas, corn, red pepper, ham, chick peas, bay shrimp, grape tomatoes, caramelized onions and mild cheddar cheese. Season the batter with salt and pepper.
Heat a generous amount of olive oil in a skillet over medium heat. Pour batter into four medium pancakes on the skillet. Cook, turning once, until golden on both sides, about three minutes per side.
Transfer to an oven to warm.
Serve with a squirt of lemon or a sprinkle of parmesan cheese.