Erinn Simon
Millionaire's shortbread
The first cookbook I ever bought for myself was British cooking star Nigella Lawson's
How to Be A Domestic Goddess
. It's still my baking bible — the book I turn to whenever I'm looking for some quick kitchen inspiration.
When I found myself needing some last-minute but impressive treats to give as holiday gifts to friends and co-workers this past weekend, I flipped through the book and found this gem of a recipe for layered shortbread, marked with a scrap of paper. Obviously I'd planned to make it at some point, and it seemed that moment had arrived. They sounded delicious, looked elegant and had only 6 ingredients. Perfect!
I whipped up a batch to package and distribute to friends, but they were so good my family ate them and I had to start over!
Nigella gives instructions to make the caramel and melt the chocolate in the microwave. I don't own one, so I provided directions for my own stovetop version which, I'm happy to report, was also easy-peasy. If you're looking for a last-minute holiday treat, you must give these a try.
[jump]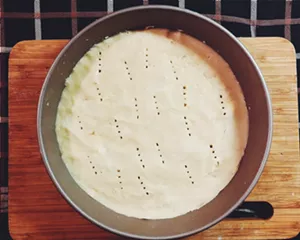 Erinn Simon
The bottom layer, ready for the oven

Nigella Lawson's Millionaire's Shortbread
(adapted from
How to Be a Domestic Goddess
)
Ingredients:
1 1/2 cups all-purpose flour
1/4 cup sugar
1 1/3 cups unsalted butter (that's 3 sticks plus 3 tablespoons and, yes, it's a lot!)
14-ounce can sweetened condensed milk
4 tablespoons light corn syrup
12 ounces bittersweet chocolate
And you'll also need:
One 9-inch square pan or something like it (I used a 9-inch round pie pan but you could use something a bit bigger if you'd like the layers to be on the thinner side.)
Directions:
Preheat oven to 325 degrees.
Put the flour and sugar in a bowl and rub in 12 tablespoons of the butter, pinching and smooshing with your fingers until it turns crumbly and then comes together in a ball.
Tip this mixture into your pan and press it down with your fingers until the bottom of the pan is completely covered. Smooth the surface with your fingers or a spatula.
Poke it all over with a fork and bake it for 5 minutes at 325 degrees, then lower the oven temp to 300 degrees and bake for another 30-40 minutes, or until it's light golden brown and no longer looks doughy. Let the shortbread cool in the pan on a rack.
Now, at this point Nigella advises to make the toffee
and
melt the chocolate for the top in the microwave, but since I don't own one I'll give you my steps along with hers and you can use whichever method sounds easier.
The original recipe: Melt the remaining butter in the microwave in a large microwaveable bowl for 2-3 minutes, then add the condensed milk and syrup. Whisk the mixture well until the butter is incorporated. Heat the mixture for 6-7 minutes in the microwave until it is boiling, stopping the microwave and stirring thoroughly after each minute. You must do this, or it WILL burn. It's ready when it's thickened up and has turned a light golden brown.
What I did: Melt the butter in a medium heavy-bottomed sauce pan. Add the condensed milk and corn syrup and start whisking. Whisk away, over medium heat, until it boils. Then turn the heat down a bit and cook, whisking so it doesn't burn or stick. This takes a while, maybe 20-25 minutes. It's done, just like in the microwave version, when it thickens and turns a light golden brown. If you like to be exact about these things, you want it to reach 235 degrees on a candy thermometer.
Pour the gooey toffee over the cooled shortbread. It should spread out nicely on its own but you can use the back of a spoon or a greased spatula to prod it into the corners if necessary. Put aside to set. If you put it in a cool place this will take about an hour, but you could cover it lightly with foil and put it in the fridge for 20 minutes or so if you're in a hurry.
Now melt the chocolate. I just melted semi-sweet chocolate chips in a sauce pan over low heat. I did add a teaspoon of grapeseed oil to add shine. Vegetable oil would work as well. Just pour the oil right in with the solid chocolate and whisk over the heat until all is melted and smooth.
When the toffee is set pour the chocolate over it, gently smoothing it into the corners of your pan if you need to. Leave the whole thing in a cool place to set for an hour or two. Cut into small squares for serving. And I do mean small, these are really rich!
You can store this in the fridge but, if it's winter, you can probably just leave it out on the counter to maintain the slight gooey-ness of the toffee.
Package them up and give them away, or keep them for yourself! Either way, happy holidays!