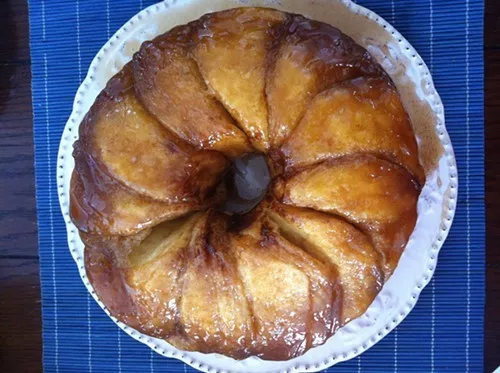 Maple-Syrup Sticky Buns
Biscuits:
2 ½ cups flour
2 ½ teaspoons baking powder
½ teaspoon salt
½ cup cold, unsalted butter, cut into cubes
¾ cup milk
1 large egg
In a large mixing bowl, whisk together the flour, baking powder and salt. Using a pastry blender or two knives, cut the butter into the dry ingredients until the mixture is coarse.
In a small bowl, combine the milk and egg, and lightly whisk together. Stir the liquids into the flour mixture until just combined.
Knead the mixture together until smooth. Place the dough on a lightly floured surface and cut it into individual biscuits, using a biscuit cutter or a round cup.
Sticky topping:
1/3 cup packed brown sugar
1/2 teaspoon cinnamon
3 tablespoons butter, melted
1/2 cup pure maple syrup

Preheat oven to 375°F. Grease a Bundt pan with nonstick spray.
Combine the brown sugar and cinnamon in a small bowl and set aside.
In another small bowl, combine the melted butter and syrup. Pour half of the syrup mixture in the bottom of the pan. Sprinkle half of the brown sugar mixture on top. Line the biscuits around the bottom of the pan, overlapping as needed. Top with the remaining syrup and then the remaining sugar.
Bake for approximately 30-35 minutes, or until the middle of the biscuits are no longer gooey. Cool in the pan for just a minute or two, then invert onto a plate. Enjoy!

Tasha Lehman is a mother of three boys living in Vermont. Read her "Home Front: Diaries of a Vermont Military Family" series here. Visit her personal blog, myhomemadehappiness.com, here.