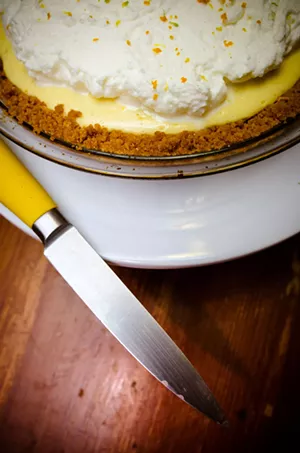 If you're anything like me, you've been spending some time gazing longingly at the tropical vacation pics of your Facebook friends. It's warm and sunny somewhere, but it's still the deepest part of winter here in Vermont.
My mom and stepdad spend most of each winter in Florida. We haven't made the trip south since our son Cal, now 7, was a toddler. This year I'm lucky enough to be taking all three kids to visit them over February break. That's not so far away, but after weeks of sub-zero temperatures, snow and ice, I need a dose of island sunshine ASAP! What to do?
For me, the answer lies in dessert. What could be sunnier than a key lime pie? I ate my first-ever piece at a beachside restaurant on the last trip we made to the Gulf Coast years ago and it was amazing — tart, sweet, smooth and oh-so-tropical, with a buttery graham cracker crust. I never thought about making my own until I saw Deb Perelman's version while checking in on her
Smitten Kitchen blog
the other day. Baking and eating one seemed like the perfect antidote to the winter blues, and it was.
You could make one this weekend and invite some friends over for dessert. Everyone could use a little vacation in February, even if it is only in pie form!
[jump]
Key Lime Pie
(adapted from
Smitten Kitchen
)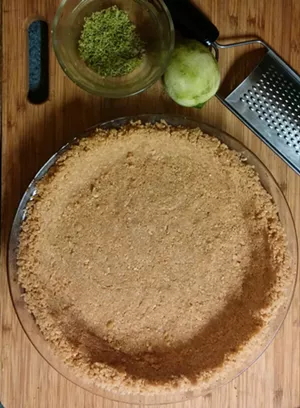 For the crust:
1 ½ cups plain graham cracker crumbs – about 10 crackers. I pulsed mine in the food processor, but you can also seal them in a Ziploc bag and bash them with a rolling pin!
8 Tbsp unsalted butter, melted
3 Tbsp granulated sugar
For the filling:
½ cup freshly squeezed lime juice – you don't really need key limes, regular old limes are fine!
1 14-ounce can sweetened condensed milk
4 large egg yolks
1 ½ Tbsp finely grated lime zest
For the topping:
1 cup heavy whipping cream
2 Tbsp granulated or powdered sugar (Go for three if you like your whipped cream on the sweet side!)
Directions:

Preheat the oven to 350 degrees.
Start with the crust. Mix your graham cracker crumbs in a mixing bowl with the melted butter and sugar until well combined and crumbly. Tip the whole thing into a 9-inch pie plate and press it evenly around the bottom and up the sides with your fingers or the back of a spoon. Put the crust into the oven and bake for 10 minutes until golden brown and slightly set. Take it out and set on a cooling rack while you make the filling.
Start the filling by zesting the limes until you have 1 ½ tablespoons of zest. Set aside. Then juice all four limes. I got ½ cup of juice from my four. You could certainly use bottled lime juice to make this step a bit easier.
Next, put your 4 egg yolks and the lime zest into a large mixing bowl and beat with an electric mixer whisk attachment on high until the mixture turns pale and gets very smooth – about 5 minutes. Add the can of condensed milk and whisk with the mixer again until the whole thing is smooth and sort of fluffy – about another 3 or 4 minutes. Add the lime juice and whisk quickly until well combined. Then pour the whole thing into your pre-baked crust.
Bake for another 10 minutes, until the filling is just barely set. You don't want the top to brown at all! Let the pie cool completely before finishing. You can speed up the cooling process in the fridge if you're in a hurry.
For the topping, wash off your whisk attachment and use it to beat the cream and sugar in a medium mixing bowl until it forms soft peaks. Don't beat too long or you'll end up with lumpy whipped cream! You want a smooth topping. Spread evenly over the top of your cooled pie. If you like, garnish with some extra lime zest.
You can practically feel the tropical breeze!