We're thrilled to have a new contributor to the Kids VT blog. Erinn Simon makes lunch everyday for the toddlers and preschoolers at Burlington Children's Space, where she's known as The Lunch Lady. You can find her blog about her work there
right here
. She lives in Burlington's Old North End with her husband, photographer Sam Simon, and kids Eli (10), Cal (6), and Sadie (3). Erinn will write every other week about the food she prepares for the kids of BCS and her own family!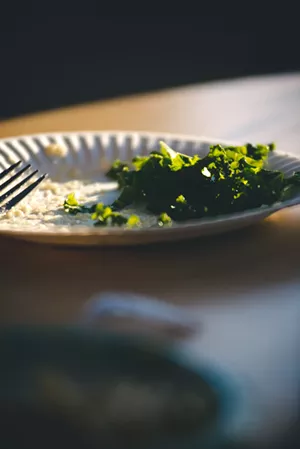 Feeding kids healthy food for lunch is my job — and I love it. I can't think of anything more rewarding than filling the bellies of little ones halfway through their busy days. I also take pride in nurturing kids' interest in nutritious food, especially veggies. I love watching a kid progress from pouting while pushing plain noodles around a plate to happily munching mouthfuls of broccoli "trees" with sesame dressing. I love trying out different flavors in dishes like curry quinoa and delighting kids with tried-and-true favorites like blueberry pancakes.
One of my main goals for the food program at Burlington Children's Space is to expose kids to wholesome homemade dishes while making sure they get a hefty dose of vegetables everyday. We are lucky to live in Vermont where there's access to so many local farms and great summer produce; BCS even belongs to a farm share program through the Intervale Food Hub throughout the summer season. I'm also lucky to work alongside teachers and staff who are passionate about food and a constant source of healthy recipe inspiration.
But if I'm honest, there are still times when coming up with new, fun and delicious ways to get kids to eat vegetables feels like, well… a job.
That's why I get so excited when I discover a recipe that's nutrient-rich, yummy and simple enough that kids can have a hand in preparing it. In this case, it was a kale salad from Deb Perelman's blog,
Smitten Kitchen
.
A co-worker suggested I try out the dish on BCS staff during a meeting, and it was a smash. I made it for my family the next night, and we ate the whole thing with some crusty bread and a bowl of strawberries. I'm pretty sure it was the best summer dinner I've ever made.[jump]
With a few tweaks I knew it would be a perfect lunch salad for the kids at BCS: a little crunchy, a little salty, a little sweet and super healthy. I was right. Since its introduction, it's become a staple at school.
The original recipe calls for a good bit of semi-fancy prep work — toasting the walnuts in the oven, toasting the breadcrumbs in a skillet with olive oil and plumping the raisins with vinegar in a saucepan — which I followed to the letter the first time I made it. It was great, but used a lot of pans and utensils and was generally more of a process than I like to go through for a summer dinner.
The next time I made it, my 3- and 6-year-old kids wanted to help, so I followed Perelman's suggestion to skip all of the preliminary steps and let the kids just toss the pre-measured ingredients into the salad and mix well with kid-sized tongs. They also loved squeezing in the lemons to finish off the dish.
The end result was just as delicious as the more complex version, and the kids were even happier to eat something they'd helped prepare.
Kale Salad with Pecorino & Walnuts
(Serves a family of 4)
From
Smitten Kitchen
Ingredients:
1/2 cup walnut halves or pieces

1/4 cup golden raisins

1 tablespoon white wine vinegar

1 tablespoon water

1/4 cup panko (or your favorite kind of breadcrumbs)
1 tiny clove garlic, minced or pressed

Coarse or kosher salt
3 tablespoons olive oil

1 big bunch lacinato kale (sometimes known as "dinosaur kale"), washed and patted dry

2 ounces Pecorino Romano cheese, grated
Juice of half a lemon
Freshly ground black pepper or red pepper flakes, to taste
If you want to do the fancy prep:
Walnuts:
Heat oven to 350 degrees. Toast walnuts on a baking sheet for 10 minutes, tossing once. Let cool and coarsely chop.
Raisins:
In a small saucepan over low heat, simmer white wine vinegar, water and raisins for 5 minutes, until raisins are plump and soft. Set aside.
Bread crumbs:
Toast bread crumbs, garlic and 2 teaspoons of the olive oil in a skillet together with a pinch of salt on medium heat until golden. Set aside.
If you're going for the easier kid-friendly prep:
Set the pre-measured pecorino, walnuts, raisins and vinegar aside so they're ready to add when your kale is prepped.
Remove the leaves from the stems of kale. You can use a knife or let the kids tear off the leaves by hand.
Once the large leaves are removed, have the kids roll them up tightly into tubes then hand them off to an adult, who can use a sharp knife to slice the tubes into very thin ribbons. Put all of the kale ribbons into a large bowl.
Squeeze the juice of half a lemon into a small bowl and set aside. Now you're ready to…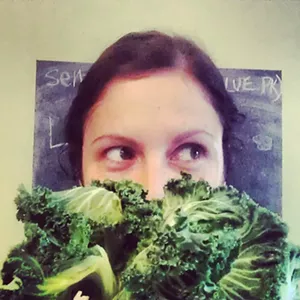 Put it all together:
Add pecorino, walnuts, raisins and vinegar to the bowl of kale and toss with tongs.
Add the lemon juice and 2 tablespoons of the olive oil and toss until the kale is nicely coated.
Have a taste, and add some salt, pepper and lemon juice if you'd like. It's great if you can let the salad sit at room temperature for a few minutes before serving to let all the flavors blend together.
Right before serving, toss in the breadcrumbs. Add a tiny bit more olive oil if you like.
Serve with scrambled eggs or omelets, grilled cheese sandwiches or quesadillas, brown rice or couscous or just bread and fruit like we did.
You can also vary this recipe to accommodate dietary needs. Substitute sunflower seeds for walnuts to avoid nuts. Leave out the cheese and add crumbled tofu if you're dairy free. Use gluten-free breadcrumbs or skip them entirely.
Have fun, and happy eating!