Erinn Simon
A tower of marshmallows
Even though the weather has been wacky lately, it's still hot chocolate season! At my house we've been experimenting with cocoa variations — spicing our cups with cinnamon and chili powder or using all white chocolate. Recently, while we were looking online for new cocoa tricks to try, we discovered a recipe for homemade marshmallows. Marshmallows are one of those things I never even thought about making from scratch, so I was surprised by the ease of the process. And the first time we added our beautiful, springy homemade marshmallows to our hot chocolate, it was a revelation. They were so much more delicious than the store-bought kind, I don't know if we'll ever go back. Plus, they are pretty enough to wrap up and give as gifts. This recipe makes about 100, so you'll have plenty to share! We added peppermint extract to ours, but vanilla, coconut, almond or lemon would also taste great. You can even tint them with food coloring during the last part of the mixing process if you like.
[jump]
Homemade Marshmallows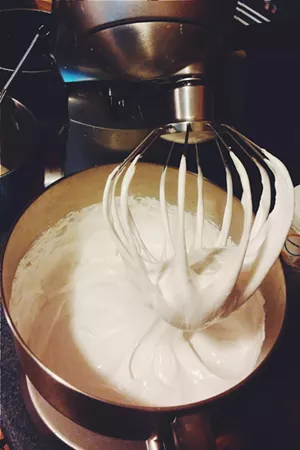 Erinn Simon
Using the stand mixer to combine ingredients
Ingredients:
3 1/2 packages (1/4-ounce each) unflavored gelatin
1 cup cold water, divided
2 cups granulated sugar
1/2 cup light corn syrup
1/4 teaspoon salt
1 tablespoon vanilla extract (You can omit this and add another flavor if you like. We used peppermint.)
2 large egg whites
About 1/2 cup confectioners' sugar
Directions:
1. Line a 13x9-inch baking dish with parchment paper, leaving extra paper hanging over the edges.
2. In the bowl of a stand mixer fitted with the whisk attachment, sprinkle the gelatin over 1/2 cup of the water and stir just a bit to combine. Set aside.
3. In a medium heavy-bottomed saucepan, add the granulated sugar, corn syrup, salt and remaining 1/2 cup of water and stir to combine. Heat on low until the sugar dissolves, then increase heat to medium. Bring to a boil, then continue to boil without stirring, until the mixture reaches 240 degrees on a candy thermometer. This should take about 12 minutes. If you have a digital thermometer, little ones can stand nearby and watch the temp rise! My 8-year-old loved this part.
4. Once the sugar hits 240 degrees, turn the mixer on low speed and carefully pour the hot sugar mixture in. Mix on low until the sugar and softened gelatin combine, then increase the speed to high and whip until the mixture triples in volume and turns white and shiny. This should take about 6-8 minutes.
5. In another clean and dry mixing bowl, use an electric hand mixer or whisk to beat the two egg whites until they hold stiff peaks. This will take 3-4 minutes if you use an electric mixer and a little longer if you do it by hand.
6. Add the whites to the marshmallow mixture and beat on low speed until they are well incorporated. Add any flavor or color you'd like and beat on low until well combined.
7. Pour the mixture into your prepared dish. Be careful when you're scraping out the bowl, this is super sticky stuff! You can wet your hands and smooth the top out if you like, but we thought the swirly, uneven top looked cool. Sprinkle with about 1/4 cup of the confectioner's sugar and put in the fridge, uncovered, to set for at least 3 hours or overnight.
8. When you're ready to cut the marshmallows, just grab the edges of the parchment paper and lift the big marshmallow right out of the pan. Lay on a cutting board, dust a sharp knife with a bit of confectioner's sugar and cut into squares.
8. To store, toss the cut marshmallows with a bit more confectioner's sugar in a large airtight container. Marshmallows will keep covered and at room temperature for up to a week.