Theo, showing the (unplugged) KitchenAid a little love.
I've rediscovered my buttercup-yellow KitchenAid stand mixer thanks to my three-year-old son, Theo. I registered for the heavy-duty machine when I got engaged 10 years ago — quite honestly, because my 25-year-old self thought it would look pretty in the kitchen. The über-appliance didn't magically turn me into a serious and meticulous baker, as I hoped it might, so it quickly lost its prime real estate on the countertop in favor of more practical things.
It's been gathering dust for years, but, from the moment Theo spied it in the basement's back closet, he was in awe of its shine, heft and potential power. At his recent urging, I lugged the behemoth back up to its proper home, extracted the dried play dough from the hole behind the silver KitchenAid disc and vowed to make up for lost time.
I'm more of a pumpkin-bread/banana-muffin-type person when it comes to home-baked treats — erring on the healthier side for my kids' sake and mine. Cookie baking and decorating, however, is pretty much a requirement during the holiday season.
This week, my rediscovered buttercup beast, Theo and I tackled brownie roll-out cookies in lieu of traditional sugar cookies. The recipe came from Deb Perelman's
The Smitten Kitchen Cookbook
, an excellent resource for non-fussy and delicious sweet
and
savory dishes (she has a
blog
, too!). We put our own seasonal twist on the confections, punching out the dough into star, gingerbread and Christmas-tree shapes and topping the baked confections with vanilla buttercream icing and candy canes, which Theo crushed up with a pestle.
As we loaded the cookie ingredients into the KitchenAid, Theo touched his cheek to the shiny metal bowl. "You're my best buddy," he said with a sigh.
It took me 10 years, but in that moment, I couldn't agree more.
Brownie Roll-Out Cookies
Courtesy of
The Smitten Kitchen Cookbook
(I halved the recipe, lest we end up with dozens of cookies just hanging around our house)
Ingredients: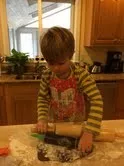 3 cups all-purpose flour, plus more for counter
2/3 cups unsweetened cocoa
3/4 teaspoon table salt
1/2 teaspoon baking powder
16 tablespoons (2 sticks) unsalted butter, softened
1 1/2 cups sugar
2 large eggs
1 teaspoon vanilla extract
Directions:
Whisk flour, cocoa, salt and baking powder together in a bowl and set aside. Beat butter and sugar with electric mixer until fluffy. Add eggs, one at a time, scraping down bowl. Mix in vanilla. Gradually mix in dry ingredients. Wrap in plastic and chill for at least one hour.
Preheat oven to 350 degrees.
Roll out cookie dough to about 1/4 inch thick on a floured counter. Cut into desired shapes. Bake on a parchment-lined baking sheet for about 10 minutes.
Vanilla Buttercream Frosting
Courtesy of The Food Network
(I quartered this recipe.)
Ingredients:
3 cups confectioner's sugar
1 cup butter
1 teaspoon vanilla extract
1-2 tablespoons whipping cream
Directions:
In a standing mixer with the whisk attachment, mix together sugar and butter on low speed until blended. Increase mixer's speed to medium and beat for another 3 minutes. Add vanilla and one tablespoon cream and continue to beat on medium for one minute more. Add more cream if needed for spreading consistency.

Alison Novak is
Kids VT
's calendar writer. She lives in Shelburne with her husband and two kids.