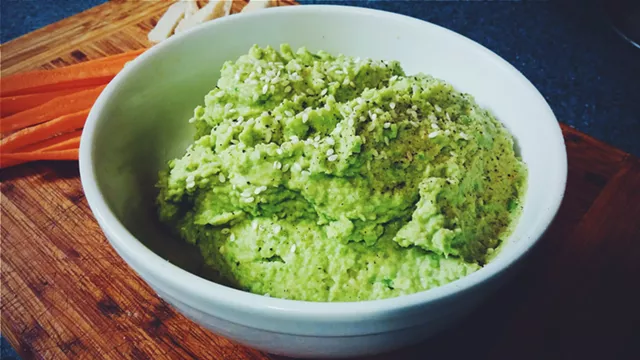 Sam Simon
Green pea hummus ready to eat
Everyday, my kids come home from school famished. I've learned that I need to get a snack in front of them immediately if I want homework, violin practice or playdate success. To keep things interesting, I'm always searching for new, healthy ideas.
My kids love hummus, especially since you can pair it with so many things; pitas, tortilla chips and carrots are favorites at our house. But even standbys need an update every now and then. So I was excited to find recipes for summery hummus variations popping up on all of my favorite recipe sites. This one, made with fresh or frozen green peas, was the most appealing. It's similar to the regular stuff so it's an easy sell for hummus-loving kids, but different enough to bring some excitement back to snack time. It's tasty, beautiful and easy as pie to make. Best of all, it incorporates veggies, so you can feel even better about serving it with tortilla chips or crackers on the side.
Many recipes I came across skipped the garbanzos entirely and used only peas and tahini, but I like my combination version better! Use as little or as much garlic as you like. We love the stuff so I actually used three cloves, but I recommend starting with one and adding more if you wish.
Sam Simon
Hummus ingredients
Green Pea Hummus
Ingredients:
1 15-ounce can or one cup garbanzo beans, drained and rinsed
1 cup fresh shelled or frozen peas
1 tablespoon tahini
1-2 whole cloves garlic
1 tablespoon lemon juice
2 teaspoons kosher salt
black pepper to taste
sesame seeds for garnish (optional)
Directions:
Combine all ingredients except sesame seeds in a food processor and blend until smooth. Taste and adjust salt, lemon juice, and garlic if necessary.