Have you ever purchased an unusual ingredient at the grocery store with grand visions for how you will use it, then let it sit on your shelves for months? I have.
Last fall, my then-6-year-old daughter, Mira, and I took a kids' cooking class at
Healthy Living
where we learned how to make tamales. Buoyed by the excitement over this new recipe, I bought a 4.4 pound bag of masa harina, a finely ground corn flour used in Mexican cooking.
That bag has sat in my pantry for the last six months or so, mocking me every time I open the door. Last weekend I decided to do something about it. [jump]
I felt like trying to make something other than tamales, and I didn't have to look further than the side of the bag of cornmeal for inspiration. Printed right on the package of Maseca-brand masa harina was a simple recipe for gorditas. It didn't matter that my knowledge of gorditas is derived solely from Taco Bell commercials. I dove right in.
A gordita is basically a fat tortilla that can be sliced and stuffed with a variety of fillings. Think of it as a Mexican pita pocket. You combine masa harina, water and a little salt to make a dough, shape it into thick patties, then fry them up in oil. It's really that easy.
Theo Novak with masa harina
I made some samples on a Sunday morning. My kids snacked on the crispy, golden nuggets plain.
Since I still had approximately four pounds of masa harina left, I was determined to find a way to incorporate gorditas into a weekday dinner plan. A quick Googling of "gordita fillings" led me to a number of recipes.
I settled on one which included ground beef, potatoes, cumin and garlic powder. I cooked cubed potatoes from my farm share with the Shelburne Farms meat in my freezer, added a couple of dashes of cumin and garlic salt and threw in some frozen corn for good measure.
Since I haven't fully mastered the art of gordita making, mine turned out not quite fat enough to slice and stuff with filling. So I served them alongside the meat mixture instead. The result reminded me of a Mexican twist on shepherd's pie, comforting and filling.
Chances are there will be more gorditas in my family's future. After all, there's still more than three pounds of masa harina left to go.

Gorditas with Beef Filling
(Serves 2 adults and 2 kids with leftovers)
Adapted from
Maseca
and
Mexicrave

For the gorditas:
2 cups masa harina
1 1/3 cup of water (more if needed)
1/2 teaspoon salt
Combine ingredients in a large bowl and mix until dough forms. Add more water a little at a time if dough is too dry. I found I needed to add about 1/2 cup more water little by little to get the dough to the consistency where I could mold it without it having it crumble.
Form the dough into golf-ball-size spheres, then press them into thick patties. Put on wax paper and cover with a damp paper towel so that they stay moist.
Heat a nonstick pan on medium high heat. Add a thick coating of vegetable oil to the pan, then fry the patties in batches a couple of minutes on each size until they are crispy, golden and cooked through in the middle.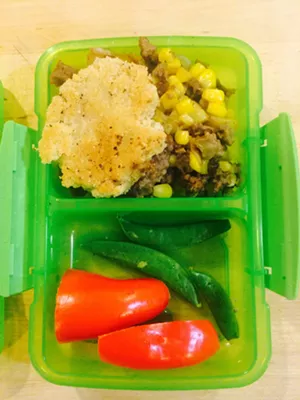 For the filling:
1 pound ground beef
1 small onion, diced
4 medium potatoes of any kind, cubed
3/4 cup frozen corn
cumin, garlic salt and pepper to taste
Heat a non-stick pan on medium high heat. Add a small amount of vegetable oil.
Cook the onion until soft, about 5-7 minutes.
Add the potatoes and cook for about 10 minutes, until slightly soft.
Add ground beef to the mixture and season with cumin, garlic salt and pepper.
Once meat has browned, stir the frozen corn into the mixture and cook several more minutes until the corn is warm and totally thawed.
Serve meat mixture alongside the gorditas.