Erinn Simon
Can we just have fruit for dinner? Yes.
The kids at the Children's Space love to make smoothies. They work together to gather the ingredients and measure them out, watch expectantly as teachers whiz them in the blender, and measure them out into cups with exact precision. Their favorite recipe involves bananas, frozen berries, plain yogurt and honey — and they make it often.
A few weeks ago when the weather turned summery they came up with the idea of freezing the smoothies in popsicle molds. Of course they were delicious, and an era of popsicle madness began. Teachers put out the call to parents for popsicle mold donations and splurged on some crazy shapes of their own, while the kids started thinking of different ingredients that would make tasty, but healthy, frozen treats. They tried apple juice, pineapple juice, and more smoothie concoctions, all declared delicious. One of my coworkers caught the homemade popsicle fever and started experimenting at home with various ingredients. She came up with an easy and delicious coconut number that I've adapted here with a few twists of my own.
Erinn Simon
Green Smoothie!
At home I have a favorite smoothie recipe that manages the neat trick of tasting sweet and (of course) incorporating a favorite powerhouse green veggie — spinach. I always make a large batch in my food processor because I know everyone's going to want their own once they see mine. My 10-year-old likes to pretend he thinks the bright green color is gross, but he always drinks as much as everyone else. My 3-year-old regularly asks for them for breakfast and sometimes gets whatever's left of mine after finishing hers. The frozen banana adds a milkshake-like creaminess, and the pineapple's sweetness hides any trace of "salad." I really hope you try it.
We Simons are popsicle lovers as well, and while I don't object to the occasional box of artificial color/sugar/water pops, I recently figured out a ridiculously easy trick to satisfy the urge for something icy and sweet while avoiding the straight-up empty calories: frozen-fruit kebobs. Such a great snack or dessert when it's hot outside, not to mention a crowd pleasing play-date treat.
Here's to summer! [jump]
Coconut popsicles:
Fills four medium popsicle molds or four 3 oz paper cups. Recipe can be multiplied for more molds/cups.
1 15 oz can coconut milk
1 ripe banana peeled and cut into chunks
2 TBSP pineapple juice
¼ cup confectioners' sugar (this can be omitted if you like)
1/3 cup shredded coconut, unsweetened
Blend all ingredients together in a blender or food processor until smooth. Pour into molds. If you're using paper cups spray the inside with cooking spray or brush lightly with oil to make removing them easier. Another trick: Let them freeze slightly before putting in the popsicle sticks. They'll stand straight up!
Freeze several hours.
Green smoothies:
Makes about two cups, enough for two kid servings or one major grown up serving!
1 cup loosely packed baby spinach
1.5 cups banana – peeled, cut into 1-inch chunks and frozen. (I keep a big Ziploc freezer bag full at all times)
1/3 cup frozen pineapple
½ cup coconut milk – plus a little more to loosen everything up if the mixture is too thick
Put everything into a blender or food processor, with the spinach on the bottom. Blend away until smooth and creamy. It should be very green, with tiny flecks of dark green, and the consistency of a milkshake. This is my favorite homemade summer treat EVER!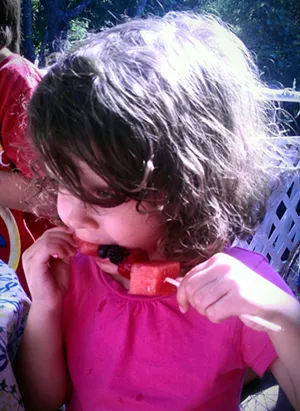 Erinn Simon
Sadie with fruit kebob
Fruit kebobs:
This is hardly a recipe at all. Just cut an assortment of your favorite fruits (we love watermelon, blueberries and strawberries but just about anything works well) into bite-sized pieces. Thread onto bamboo skewers. If your kids can stand to wait, wrap them in some freezer paper and pop them into the freezer for 20-30 minutes before eating. At my house we rarely manage this step. Luckily they are just as fun to eat right away. Enjoy!
Erinn Simon makes lunch everyday for the toddlers and preschoolers at Burlington Children's Space, where she's known as The Lunch Lady. You can find her blog about her work there
right here
. She lives in Burlington's Old North End with her husband, photographer Sam Simon, and kids Eli (10), Cal (6), and Sadie (3).