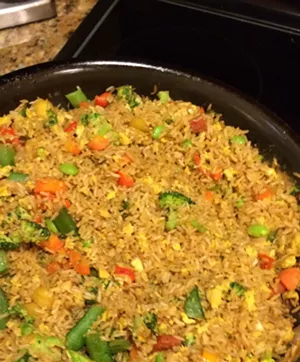 When I discover a home-cooked, nutritious meal that keeps my sugar-loving, turbo-charged preschooler in his seat for more than 10 minutes, I feel the need to shout it from the rooftops. I stumbled upon this fried-brown-rice dish a couple of months ago, and it's become a weeknight staple in our house. It tastes like wholesome Chinese take-out. And because of the nutrient-rich brown rice and copious vegetables, it leaves you without any post-meal regret.
If your kids are agreeable, they can do some of the veggie prep. I bought effective, kid-friendly cutting utensils (pictured below) from
this Montessori-inspired website
. The plastic, serrated knives and easy-to-hold chopper make my 3-year-old son and 6-year-old daughter feel empowered in the kitchen. And I don't have to worry they'll lose a finger while they help.
This recipe is also totally adaptable. You can sub in your kids' favorite veggies or go totally vegetarian, replacing the chicken with tofu or extra scrambled eggs.
[jump]
If, by some miracle, your family doesn't wolf the whole thing down in one night, this dish makes a great leftover lunch.
Fried Brown Rice
Adapted from
All Recipes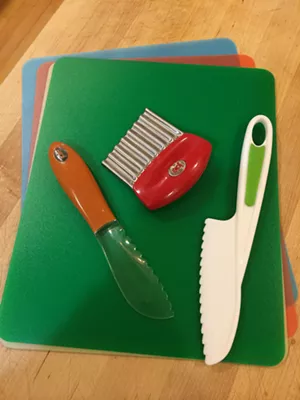 Kids' cooking implements that won't cut off little fingers.
(serves 2 kids and 2 adults, with some leftovers, if you're lucky)
2 tablespoons vegetable oil
2 chicken breasts, cut into bite-size pieces (I sometimes marinate the chicken ahead of time. This week I used
this delicious sauce
.)
2 broccoli crowns, cut into bite-size florets
1 large or 4-6 small bell peppers, cut into bite-size pieces
3 carrots, cut into bite-size pieces
2 cups cooked brown rice
2 tablespoons soy sauce
1-2 tablespoons rice vinegar
1 cup shelled edamame, cooked
4 eggs, scrambled and lightly cooked
Directions:
Heat 1 tablespoon of vegetable oil in a large skillet or wok over medium heat. Add the chicken, bell pepper, broccoli and carrot. Cook and stir until the chicken is cooked through, about 5 minutes. Remove just the chicken from the pan; keep warm on a plate.
Heat the remaining tablespoon of oil in the same skillet over medium-high heat. Add the rice; cook and stir until heated through.
Stir in the soy sauce, rice vinegar, edamame and scrambled eggs and continue to cook for several minutes. Return the chicken to the skillet and stir to blend with the rice. Heat through before serving.