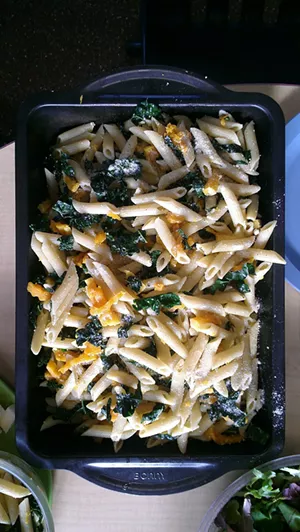 Erinn Simon
Dressed-up penne
We eat pasta at least once a week at my house. My kids like it, it's reasonably healthy and there are a million ways to prepare it. When I'm too tired or busy to really deal with dinner, or I just haven't been to the grocery store in a week, there's always a box of pasta and some crushed tomatoes in the pantry. But my kids are never that excited about plain old spaghetti with red sauce. So I'm always thinking of ways to dress up pasta that are truly tasty, but not too labor intensive.
I came up with this recipe while prepping squash for our Thanksgiving family dinner at Burlington Children's Space. I put pasta on the school menu that week because I thought it would be easy to prepare for lunch while multitasking, but I had no idea what I would do with it until the roasted squash came out of the oven. The BCS kids loved it, especially when served with extra parmesan for sprinkling on top.
I made it for dinner at my house, too. While each kid insisted at first that there was something in the dish they didn't like (kale and squash, I'm looking at
you
), they all ate it happily in the end. The familiar cheddar, the salty parmesan and the secret ingredient — a tiny sprinkle of nutmeg — won them over.
I love this dish because it satisfies my dueling holiday season urges to eat sensibly and indulge. Try it with a green salad and some garlic bread next time it's pasta night at your house.
[jump]
Fancy Weeknight Pasta (
Serves 5)
1 lb penne pasta

1 small bunch lacinato kale, tough stems removed and leaves cut into thin ribbons

1 medium yellow onion, minced

4 cloves garlic, minced

1 small or medium squash (butternut, delicata or acorn all work well), peeled, seeded and diced to half an inch

4 tablespoons olive oil, divided

4 oz sharp cheddar cheese, grated

½ cup grated parmesan cheese, divided

sea salt and black pepper

dash of nutmeg


Preheat oven to 400 degrees.

Cook the pasta according to package directions, drain and set aside in a large mixing bowl.
While the pasta cooks, spread the cubed squash on a sheet pan lined with parchment paper, drizzle with 1 tablespoon of olive oil and put into the hot oven. It should be ready in 15-20 minutes. Check to make sure you can pierce it easily with a fork.
While the squash is roasting, sauté the onion in 1 tablespoon of olive oil over medium heat until translucent, then add the garlic and sauté for another 3-4 minutes. Turn off the heat and leave the pan on the stove until you're ready to add it to the pasta.
Put the kale ribbons into another bowl, drizzle 2 tablespoons olive oil over them and massage the oil into the kale with your hands until it starts to soften up — this should only take a minute or two. Sprinkle with a bit of sea salt.
Add the kale, onions and garlic, squash, cheddar cheese and half of the parmesan to the hot pasta and toss to combine. Make sure you incorporate all of the oil and any crispy bits along with the onions, garlic and squash. They will make the dish extra delicious. Add sea salt to taste, a sprinkle of nutmeg (just a tiny bit, 1/8 of a teaspoon or less) and a few grinds of pepper. Toss again.
Sprinkle the remaining parmesan cheese over the top, lower your oven temperature to 375 degrees and pop the pasta in the oven for about ten minutes, until the top is just starting to brown.
Enjoy!