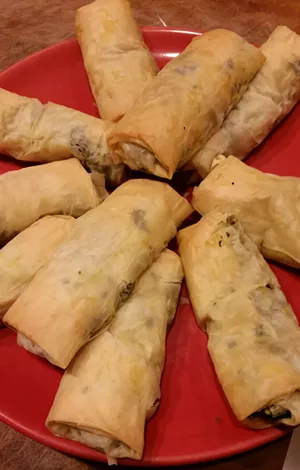 Astrid Lague
Finished spanikopita rolls
Not everyone grows up around a wide array of international foods. My husband, Chris, was raised in a mainly meat-and-potatoes household. He barely ate vegetables when we started dating as teenagers.
Consequently, he wasn't prepared for the onslaught of flavors he encountered at my family's dinner table. He was okay with peppers and onions — and, occasionally, carrots and peas — but, beyond that, he found eating at my house a bit daunting.
Luckily, he liked me, so he stuck around.
After we had been dating six months, I left to spend my junior year in Sweden, where I lived with a cousin. This was before the golden age of email and Skype but, amazingly, he still stuck around. The next year, we traveled to Sweden together so I could show him the country.
And here begins the story of how my husband came to appreciate spinach. The family we were staying with in Stockholm served spinach. So did the family we were staying with in another town. What did we eat on the airplane ride home? You guessed it — spinach.
During our week in Sweden, I think we were served spinach at least five times. By the end of the trip, Chris decided that he didn't mind the leafy green after all.
Years later, I found out that my mother had secretly told the Swedes to serve us as much spinach as possible, and that she then told Chris that it was very important to try everything he was offered, lest he be seen as incredibly impolite.
I don't think she had any sway with the airline, but I could be wrong.
Now, many years later, spinach is one of my husband's favorite vegetables, and spanikopita is one of his favorite ways to eat it.
In this Greek dish, flaky phyllo dough surrounds a savory filling of spinach and briny feta cheese. It's a perennial favorite in our household. Even better? Our kids love to help make it.
You can make spanikopita as a traditional pie, or in little triangle shapes, but my favorite preparation is spanikopita rolls, similar to egg rolls. Instead of using copious amounts of butter to crisp up each layer of phyllo, we use a butter-flavored cooking spray. (You can use butter if you like. It just takes a bit more time because you have to brush it on to each sheet of phyllo.)
Most markets stock frozen phyllo dough. If you have extra spanikopita rolls, just freeze them, then let them thaw a bit before baking (just add a couple of minutes to the cooking time). Or bake them all at once, and keep any extras in the refrigerator for a couple of days. Pro tip: They make a great addition to school lunches.
[jump]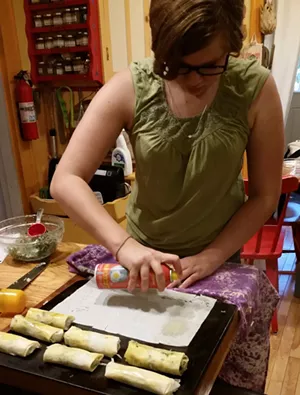 Astrid Lague
Roll preparation
Easy Spanikopita Rolls
Ingredients:
1 pound chopped spinach (thawed and drained)
6 ounces feta cheese crumbles
1/8 teaspoon nutmeg
1/2 onion, finely chopped
1/2 teaspoon garlic powder
1 box (20 sheets) frozen phyllo dough, thawed
butter-flavored cooking spray or melted butter (for brushing the dough)
Directions:
Preheat oven to 350 degrees.
In a bowl, combine spinach, feta, onion, garlic powder and nutmeg. Mix well.
Carefully lay one sheet of phyllo dough on a clean work service. (It can rip if you are not gentle — if it does, use a little bit of water to reseal it.) Keep the remaining phyllo covered with a towel, so that it doesn't dry out.
Spray the sheet of phyllo lightly with butter-flavored cooking spray (or brush with a little melted butter). Fold the sheet of phyllo in half carefully.
Astrid Lague
This is what your folded phyllo should look like before rolling
Scoop about two tablespoons of the spinach mixture in the center of the folded phyllo, fold edges over to seal (pictured at left), then roll up like an egg roll, keeping the roll nice and tight.
Finish with another light spray of cooking spray or brush again with melted butter. Place roll seam side down on a baking sheet.
Continue the process until you've used up all of the phyllo or spinach.
Bake for 20-24 minutes, or until the rolls are golden brown and crispy.