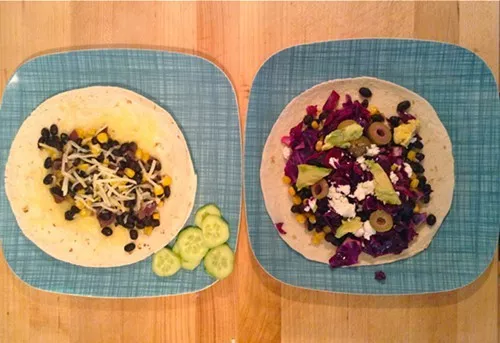 Tacos for kids (left) and adults (right)
In the year or two before I had kids, I was finally hitting my stride as a home cook. My newfound interest in the kitchen was piqued by my relocation from New York City to Burlington. It was July when my husband, Jeff, and I arrived. I remember driving to Hannaford in the New North End the night of our move and being dazzled, and a bit disoriented, by the long, brightly lit aisles and the ease with which we could load our bounty into the car and drive home.
The beautiful farmers-market produce, breads and cheeses further inspired my culinary endeavors. Not to mention the flower-lined porch in our backyard, which made long, alfresco meals possible.
But when our daughter, Mira, was born, the painstakingly prepared cheese plates and slow-simmered green-curry-chicken dishes came to a halt. Our son, Theo, arrived three years later. There was no time to prepare an elaborate home-cooked meal when one child was trying to tear open a bag of rice and the other was pleading with me to have a tea party, so I didn't even try. That's not to say we subsisted on microwaved meals and takeout pizza. I still cooked for my family, but it was rushed and not much fun.
But now that my kids are almost 6 and 3, I'm feeling a renewed love for making dinner. But I've had to reimagine my role as a home cook to figure out how to make meals work for two vastly different palates.
My husband and I are pretty adventurous eaters. We like spice and flavor and foods from around the globe. We also try to avoid major carbs at dinnertime. Our kids prefer "plain" food and could live on pasta and bread alone. Therein lay my dilemma: How could I satisfy both factions in our family without cooking two completely separate meals?
Jenny Rosenstrach, the blogger behind the fabulous, family-meal-focused website Dinner: A Love Story, has written about deconstructing dinners for children — basically, breaking down a meal into kid-friendly components. For example, an Asian chicken salad for adults might look like separate servings of chicken, red pepper, carrots, pineapple and peanuts on a plate for kids.
Inspired by Rosenstrach, I've developed a similar strategy. These days, I cook a "base meal," then add different ingredients for the kids and the adults.
Last weekend, I made tacos two ways. The kids got the "classic" version — black beans, corn and shredded Monterey Jack wrapped in a flour tortilla. For the adults, I jazzed up the black-bean and corn filling with sautéed red cabbage for heft, goat cheese and green olives for tang, and creamy avocado ... because what grownup in his or her right mind doesn't love avocado?
Now if only I could find an equally effective strategy to get my 3-year-old to sit at the dinner table for more than five minutes.
Tacos, Two Ways
serves two adults and two children
Ingredients
1 tablespoon neutral oil, such as vegetable oil
1 small red onion, chopped finely
2 cloves garlic, minced
1 teaspoon ground cumin
28-ounce can black beans, drained and rinsed
1 package frozen sweet corn, thawed
salt to taste
4 large flour tortillas
½ cup shredded Monterey Jack cheese, plus more for topping if desired
½ small red cabbage, chopped
juice of 1 lime
½ cucumber, sliced into rounds
4 ounces goat cheese
8 pitted green olives, sliced
1 avocado, sliced into wedges
a handful of scallions, chopped (optional)
tomatillo salsa (optional)

Directions
1. Make the corn-and-bean mixture:
• Preheat the oven to 225°F.
• In a large pan, heat the oil over medium heat. Add the onion and cook until soft, 6-8 minutes. Turn the heat to low and add garlic and cumin. Cook for 1 more minute.
• Add the beans and corn and cook several minutes, until heated through. Add salt to taste.
• Transfer the mixture to a oven-proof serving dish and keep warm in the oven.
2. Prepare tortillas:
• Lay the tortillas on a cookie sheet. Spread ½-cup Monterey Jack cheese evenly over two tortillas. Leave remaining two tortillas plain.
• Place the cookie sheet in the preheated oven to melt the cheese and warm the tortillas.
3. As the tortillas warm, cook the cabbage in the remaining vegetable oil in the same pan as used for the corn-and-bean mixture. Sauté for 5 minutes, or until slightly softened but still crunchy. Squeeze most of the lime juice over the top of cabbage and remove from heat.
4. Assemble tortillas:
• For kids: Spoon half of the corn-and-bean mixture over the two melted-cheese tortillas. Top with additional cheese if desired. Serve with cucumber slices on the side.
• For adults: Spoon the rest of the corn-and-bean mixture over the two plain tortillas. Top with cabbage, crumbled goat cheese, chopped green olives and avocado wedges. Squeeze additional lime juice on top to finish. Garnish with chopped scallions and tomatillo salsa if desired.
Enjoy!

This post was written by Kids VT contributor Alison Novak, who lives in Shelburne with her husband and two kids.