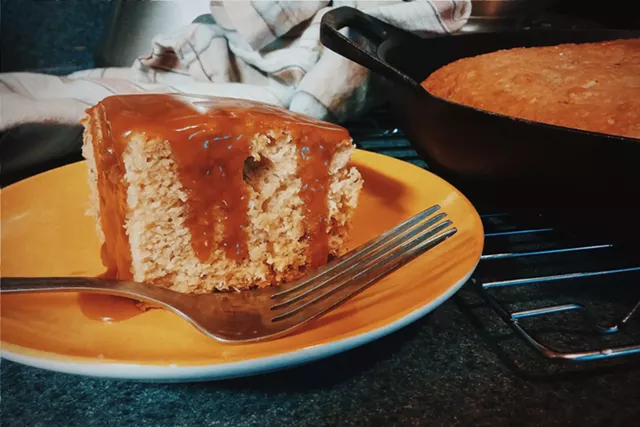 Since this will be my last Home Cookin' post, at least for now, I wanted to make something special and super delicious to celebrate the great time I've had writing on the blog. So here it is — coconut banana bread with optional salted caramel sauce! Breakfast, brunch, snack or dessert, you can't go wrong with this recipe. And the caramel sauce is so easy, you'll probably want to make it all the time like I do. This recipe works just fine in a loaf pan, but I like to make mine in a cast-iron skillet because it bakes quicker that way. This recipe makes enough batter for two 8-inch loaves, or one 10-inch skillet. Happy cooking!

Coconut Banana Bread
Ingredients:
2 1/2 cups unbleached all purpose flour
1 tsp baking soda
1 tsp salt
1 cup dessicated coconut (shredded, not flaked)
1 1/2 cups very ripe bananas, mashed (about 3 medium)
2 large eggs
1 tsp coconut extract
1/2 cup coconut milk
1/4 cup coconut oil, solid
1/4 cup butter, softened
Directions:
Preheat oven to 375 degrees.
In the bowl of a stand mixer, with the paddle attachment, cream the butter, coconut oil and sugar for 4-5 minutes until light and fluffy. It seems like a long time, but let it go. It makes a difference in the texture of the finished bread.
Add the eggs and mix on medium speed until smooth and well combined.
Add the bananas, coconut milk and coconut extract and mix well on medium-low speed until everything is incorporated.
In another bowl, sift together the flour, baking soda, salt and coconut. Add to the banana mixture and fold together on low speed just until everything comes together. Do not overmix. You want the batter to be lumpy.
Grease the bottoms and sides of two loaf pans, a 13x9-inch pan, or a 10- or 11-inch cast iron skillet. Pour in the batter and use a spatula to smooth the top.
Bake at 375 on the center oven rack for 30 minutes (13x9-inch pan or skillet) or 50 minutes (loaf pans), or until a toothpick inserted into the center comes out clean.
Cool on a wire rack for 15 minutes before cutting.
Stop there, or whip up some caramel sauce and drizzle each slice with a spoonful just before serving.
[jump]
Salted Caramel Sauce
(Makes about 1 cup)
Ingredients:
1 cup granulated sugar
1/2 cup light corn syrup
7 tablespoons butter
1/2 cup whole milk or light cream
1 tsp vanilla extract
1 tsp kosher salt
Directions:
Combine all ingredients except vanilla and salt in a medium, heavy-bottomed saucepan over low heat.
Whisk together gently, until everything is well combined. Then bring the mixture to a boil over medium heat. Keep on whisking!
Let the mixture boil gently for 4- 5 minutes, stirring just two or three times. It will start to thicken up and smell delish.
Remove the pan from the heat and let the sauce cool for a minute or two. Add the vanilla and salt and stir gently.