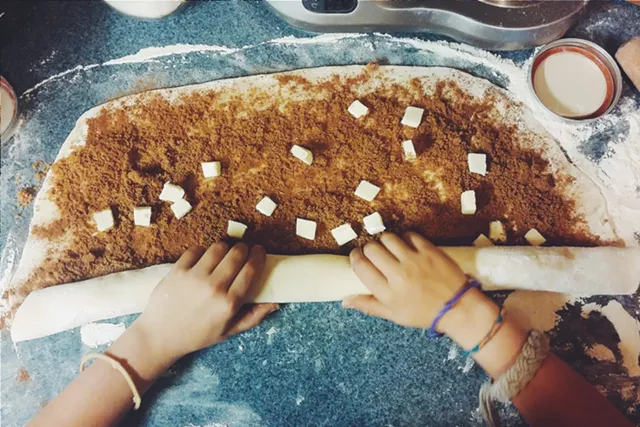 The weather is cool, the leaves are falling and we are in heavy baking mode at my house! This weekend my 8-year-old son Cal and I made cinnamon rolls together. Besides being delicious, they were so much fun to make. The dough is easy to whip up and involves a good amount of kneading — always a great kid job. And the rolling is challenging enough to be fun for a bigger kid who really wants to say "I made these!"
These rolls are made with a yeasted dough, so they do need to rest and rise twice. This makes them difficult to make for breakfast, unless you use my trick! Make the dough in the evening and place it in your fridge in an oiled bowl covered with plastic wrap overnight. In the morning, all you have to do is roll out the dough and fill it (Cal's favorite part), let the rolls rise for about 30-40 minutes, and bake. Since these are best eaten warm, this method makes for a fantastic weekend breakfast treat.
We used the basic recipe from my trusty Betty Crocker Cookbook, with a few tweaks to get some great caramelization in the bottom of the pan.
[jump]
Classic Cinnamon Rolls
(adapted from Betty Crocker)
Ingredients for the Rolls:
4 cups Gold Medal™ all-purpose flour
1/3 cup granulated sugar
1 teaspoon salt
2 packages regular or fast-acting dry yeast (4 1/2 teaspoons)
1 cup milk
1/4 cup butter or margarine (1/2 stick), room temperature
1 large egg
Ingredients for the filling:
2/3 cup dark brown sugar, packed
2 Tbsp ground cinnamon
6 Tbsp butter, cold
1/2 cup raisins, if desired
1/4 cup finely chopped nuts, if desired
Directions;
In the bowl of a stand mixer, combine 2 cups of the flour, 1/3 cup granulated sugar, the salt and yeast with a wooden spoon until well mixed.
In a 1-quart saucepan, heat the milk over medium heat until it feels warm to your finger. Add the warm milk, 1/4 cup butter and egg to the flour mixture. Beat on low speed for one minute, scrape down the sides of the bowl, then beat again until the flour mixture is moistened.
Detach bowl from the mixer. With a wooden spoon, stir in enough of the remaining flour, about 1/2 cup at a time, until the dough is soft, leaves the side of bowl, forms a ball and is easy to handle. It's okay if it's a little sticky.
Turn the dough out onto a lightly floured surface and knead for about 5 minutes, adding small bits of flour if it becomes too sticky.
Spray a large bowl with the cooking spray or rub with vegetable oil. Place your dough in the bowl, turning it around to grease all sides. Cover the bowl tightly with plastic wrap; now you can either let it rise in a warm place about 1 hour 30 minutes or until the dough has doubled in size, or put it into the fridge and leave it overnight.
In the morning or when it has doubled in size, turn the dough out onto a floured surface again. Using a rolling pin, flatten the dough into a 15x10-inch rectangle.
Cut the 6 tablespoons cold butter into small chunks, and scatter them over the dough. I like to get right up to the edge of the dough with the butter so some filling spills over when they bake!
Sprinkle brown sugar, cinnamon, and raisins and nuts if you're using them over the dough.
Beginning at one of the 15-inch sides, roll the dough up tightly into a tube. Pinch the edge of the dough into the roll to seal it.
Using a sharp knife, cut the roll into 10 slices.
Line a 13x9-inch baking dish with parchment paper. Place the slices slightly apart on the paper. Cover the pan loosely with a clean kitchen towel and let rise in a warm place, about 30-40 minutes or until rolls have doubled in size.
Preheat your oven to 350 degrees during this final rise.
Bake for 30 minutes or until the rolls are golden brown and the filling is bubbling. Let them cool in the pan for 10 minutes or so before you pull them apart.