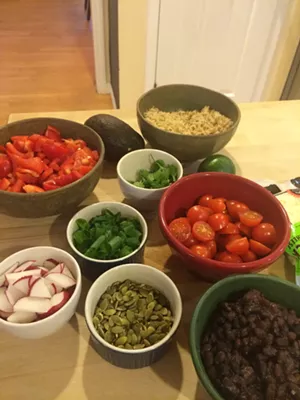 This week, we invited some friends we've known since before we had kids — now a family of five — to our house for dinner. Having others over for a meal is a nice way to shake up the routine, and something I wish I did more often, but it poses its own set of challenges.
First of all, making a meal for eight or nine people seems way more daunting than preparing one for just my family of four.
Moreover, given that I sometimes have a hard time coming up with palatable food options for my own daughter and son, making a meal other people's kids will like seems especially challenging.
My strategy was to create a base meal that was customizable depending on each person's likes and dislikes. I stumbled upon a recipe for burrito bowls that fit the bill on
Shutterbean
, a family-oriented food and photography blog with pretty photos and yummy-sounding recipes.[jump]
My husband, Jeff, and I cooked up a whole mess of brown rice, warmed some canned beans mixed with Mexican spices and browned ground chicken. Then I prepared bowls full of different toppings – red peppers, cherry tomatoes, scallions, cilantro, radishes, shredded Monterey Jack, pumpkin seeds and avocado. I was feeling good about the offerings.
But, in families, things don't always go according to plan. Jeff had been nursing a bad back for the past several days, a result of moving a really heavy basketball hoop.
Half an hour before our friends arrived, as I was putting out the chips and salsa, he said he was going upstairs to take a pre-dinner soak in the tub, then mentioned he might have to eat dinner standing up. I realized he was in real pain, so I made the executive decision to call off our plans.
I texted my friend and she was totally understanding, as friends are apt to be. That night our party of four dug into a meal meant for a party of nine, with Jeff standing up at the table. The kids preferred their rice, beans and ground chicken with just two toppings — shredded cheese and red peppers. Jeff and I loaded on the works. The radishes and pumpkin seeds provided a nice crunch to the dish and the avocado added some creaminess.
On the bright side, we had tons of delicious leftovers for work, school and vacation camp lunches. Now for Jeff's back to get better...
Burrito Bowls
(serves approximately four adults and four kids or two kids and two adults with plenty of leftovers)
Adapted from
Shutterbean.

2 cups uncooked brown rice
4 cups black beans
1 pound ground chicken
8 ounces shredded Monterey Jack cheese
1 avocado, cut into chunks
2 red peppers, seeded and cut into chunks
1 small container cherry tomatoes, halved
6 scallions (green part only), thinly sliced
4 radishes, thinly sliced
1/2 cup pumpkin seeds
1 lime
Cook brown rice according to package directions.
Drain and rinse the beans. Cook on the stovetop over low heat with Mexican spices until warmed through. (I like
this spice blend
from Vermont-based Teeny Tiny Spice Co.)
In another pan, cook the ground chicken over medium heat, with salt and pepper to taste, until the meat is no longer pink.
Fill containers with cheese, avocado, peppers, tomatoes, scallions, radishes and pumpkin seeds.
Scoop a desired amount of rice into a bowl.
Add a variety of toppings to your liking.
Squirt with lime if desired.
Enjoy your custom burrito bowl!