Erinn Simon
Muffins being assembled
In the baking bible
How to Be a Domestic Goddess
, Nigella Lawson writes that muffins are a lot of fuss for nothing much. I generally agree, except during one time of year: blueberry season. As soon as I get over the delicious novelty of eating blueberries by the handful all day long, it's time to start baking with them. My kids look forward to this summer phase, because every year I vow to make the best blueberry muffin ever. This usually involves testing two or three different recipes, at least. We eat a lot of muffins in August.
It was my son Eli and his friend who provided the inspiration for this year's version. While eating cold snacks for dinner on a recent hot night, they discovered that chomping a slice of peach on a graham cracker produced a peach-pie-like treat. Delighted, they tried every fruit they could think of on a graham cracker, then gave them to Sam and me to sample. Honestly, all of them were tasty, but when I took a bite of a few carefully balanced blueberries on the end of a graham cracker I knew what I had to do.
The kids loved these, and even Sam (not exactly a muffin fan) muttered "These are pretty good" as he ate a second. I share with you my 2015 attempt at muffin greatness.
[jump]
Blueberry-Graham-Cracker Muffins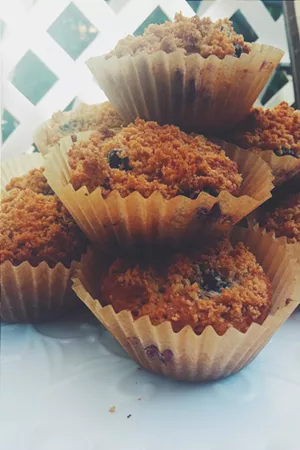 Erinn Simon
Fresh out of the oven
Makes 2 dozen regular-sized or 12 large muffins.
Ingredients:
For the muffins
1 1/2 sticks unsalted butter (12 Tbsp), melted
1 1/3 cups all purpose flour
1 1/3 cups graham cracker crumbs
1 tsp baking soda
4 tsp baking powder
1/2 cup light brown sugar
1 tsp kosher salt
3/4 cup buttermilk or plain yogurt (not Greek, it's too thick)
2 large eggs
2 cups fresh blueberries
For the crumb topping
1/3 cup all-purpose flour
1/3 cup graham-cracker crumbs
1/2 c light brown sugar
1/4 tsp cinnamon
4 Tbsp cold butter, cut into 1/2-inch pieces
Directions:
Preheat your oven to 400 degrees. Combine the flour, graham-cracker crumbs, baking soda, baking powder, sugar and salt in a large mixing bowl. Whisk to combine.
In another mixing bowl, combine the melted butter, eggs, and buttermilk or yogurt. Stir to combine.
Add the wet ingredients slowly to the dry ingredients and mix gently, just until everything comes together. It should be lumpy — really. Fold in the blueberries very gently so they don't burst.
Fill your muffin cups about 2/3 full, scraping every bit of batter you can out of the bowl!
In another mixing bowl, combine all the ingredients for the crumb topping and mix by hand, pinching the butter bits in your fingers until the mixture looks like small crumbs. Spoon enough of the crumbs over each muffin to cover the top completely.
Bake for 20-25 minutes, or until a toothpick inserted in the center of a muffin comes out clean and the crumbs are golden brown and toasted.
Let them cool a bit before eating if you can, and make sure you spread them with a little butter!