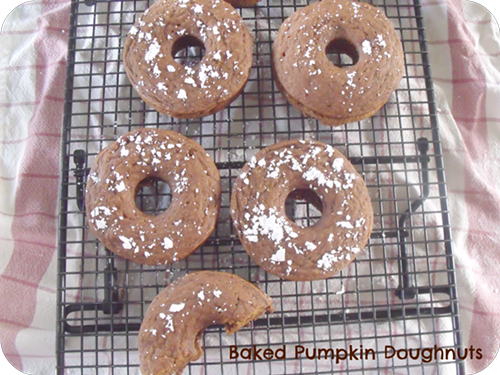 These quintessentially fall pumpkin doughnuts are baked, not fried — which means we can almost call them healthy, right? For this family treat, I used a King Arthur Flour recipe — outstanding on its own — and added a little burst of maple for fun.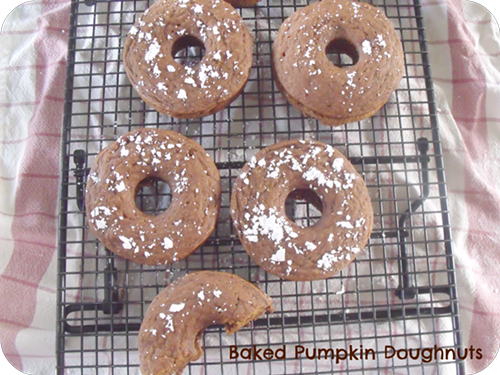 Baked Pumpkin Doughnuts
1/2 cup vegetable oil
3 large eggs
1 1/2 cups granulated sugar
1 1/2 cups pumpkin purée (canned pumpkin)
1 teaspoon maple extract
3/4 teaspoon ground cinnamon
1/4 teaspoon ground nutmeg
1 1/2 teaspoons salt
1 1/2 teaspoons baking powder
1 3/4 cups plus 2 tablespoons King Arthur Unbleached All-Purpose Flour
Preheat the oven to 350°F. Lightly grease two standard doughnut pans.
Beat together the oil, eggs, sugar, pumpkin purée, maple extract, spices, salt and baking powder until smooth. Add the flour, stirring just until smooth. Fill the wells of the doughnut pans about 3/4 full; use a scant 1/4 cup of batter in each well.
Bake the doughnuts for 15-18 minutes, or until a toothpick inserted into the center of one comes out clean.
Remove the doughnuts from the oven. After about 5 minutes, loosen their edges and transfer them to a rack to cool.
The original recipe calls for these doughnuts to be dipped in cinnamon sugar — which sounds delightful — but I chose to serve them warm from the oven with just a sprinkle of powdered sugar.
Check out the original recipe for King Arthur Flour's Pumpkin Cake Doughnuts for more details on making the perfect pumpkin doughnut and if you want to add the cinnamon-sugar coating.