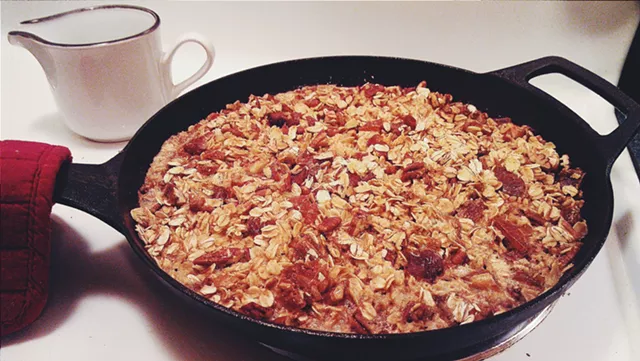 Erinn Simon
Oatmeal in the skillet
On a freezing school-day morning, cereal for breakfast just doesn't seem like enough. I want to give my kids something warm and delicious that will fill their bellies and guard against the chill.
Oatmeal seems like an obvious answer, but regular old oatmeal always leaves me kind of cold, even with liberal sprinklings of brown sugar. That's why I was so eager to try this recipe for baked oatmeal I found on the website
food52
.
Made with oats, milk, cream, eggs, honey, dried fruit and nuts, it sounded almost like dessert. I decided to get rid of the dried apricots (not my favorite) and make a few substitutions to lighten it up just a little.
It was quick and easy to assemble. The first batch went into the oven around bedtime. As it baked, everyone turned up in the kitchen wondering what was making the house smell so good. A quick taste test when it finished cooking left everyone excited for breakfast. Even my husband, not an oatmeal fan, gave it a thumbs up.
[jump] The next morning I covered it with foil and popped it back in the oven for about 10 minutes at 300 degrees. It still tasted OK, but it was a little too dry and the texture was definitely different, even after the addition of a little milk to loosen it up.
I had an idea.
For the next batch, I assembled the dry ingredients in a large Ziploc bag, and the liquids in a Tupperware container, which I put in the fridge overnight. In the morning, I got up a few minutes earlier than usual and turned on the oven, then gave the liquids a whisk and poured them over the oat mixture in my cast-iron skillet. I put that baby in the oven, and 25 minutes later, when the kids were waking up, the house smelled amazing and a hot, delicious breakfast was ready.
I urge you to give this one a try. Though I didn't test it, I bet it would work equally well with almond, soy or coconut milk for a non-dairy version. And you can sub in just about any fruit and nut combination you like. Here's to warm bellies on cold mornings!
Baked Oatmeal (
adapted from this food52 recipe
)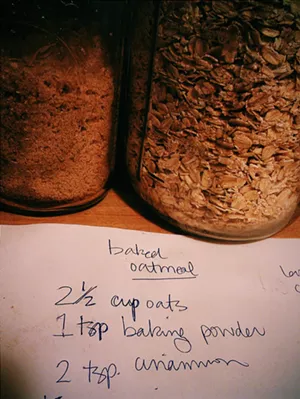 Ingredients:
2 ½ cups old-fashioned oats (not quick oats)
1 teaspoon baking powder
2 teaspoons cinnamon
1 teaspoon ground ginger
1 teaspoon sea salt
1 cup chopped pecans
1 cup chopped dates
2 cups whole or 2-percent milk (or substitute non-dairy)
½ -1 cup pears, peeled and diced
2 tablespoons honey
¼ cup brown sugar
1 egg
4 tablespoons butter divided (2 tablespoons melted, 2 tablespoons room temperature)
1 teaspoon vanilla
Directions:
Preheat your oven to 350 degrees. Butter or oil a 9x9-inch baking dish or pie plate. I used a 10-inch cast-iron skillet, and it worked beautifully.
In a large bowl, combine the oats, baking powder, cinnamon, ginger and salt. If you're baking right away, pour this mixture into your dish and sprinkle the chopped fresh fruit over the top. If you're going to hold it overnight, put the dry mixture into a Ziploc bag. Don't cut the fresh fruit until you're ready to bake in the morning.
In a medium bowl, whisk together the milk, honey, egg, half of the brown sugar, and the 2 tablespoons melted butter. If you're baking right away, pour this mixture over the oats and fruit in your pan and make sure it's evenly distributed. If you're holding overnight, pour this mixture into a Tupperware container and pop it into the fridge.
When you're ready to bake, sprinkle a little more of the brown sugar over the top, and dot here and there with the rest of the room-temperature butter.
Pop it in the oven and set the timer for 25 minutes. Mine was just right at this point, but you might need a few more minutes to achieve oatmeal perfection.
Let it cool for just a minute or two. Breakfast is served!