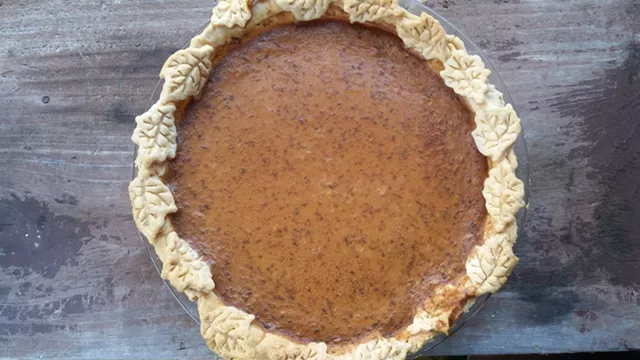 Every year, my sister makes her amazing version of apple butter. First, she asks the folks at
Hackett's Orchard
in South Hero to put together a special blend of apples for her. (I'm not sure what the mix is, but I think it might be magical.) Then, she turns the fruit into something spreadable and delicious.
Apple butter is really just a thicker version of applesauce. You don't even need added sugar because the natural sugars in the apples caramelize, making the apple butter dark and sweet, without being cloying. You can cook the apples down in a crockpot, which makes your house smell wonderful. My sister cans hers and presents a jar to everyone in our family for the holidays.
A few years ago, I decided I wanted to showcase the apple butter in a pie. In my family, we all love pumpkin pie, so why couldn't I make the same kind of pie using my sister's wonderful apple butter? And so, Apple Butter Pie was born. The dessert, with creamy custard-like filling brimming with apple-cinnamon flavor, has become a family favorite.
If you don't have homemade apple butter on hand, you can substitute with a store-bought variety. Look for one with no sugar added. Vermont-based
Cold Hollow Cider Mill
or
Sidehill Farm
make tasty versions.
This pie is ridiculously easy to make. All you have to do is whisk together the filling, pour it in the pie crust, top with a sprinkling of cinnamon, then bake. For a fancy touch, create a decorative crust using leaf-shaped cookie cutters. This pie is the perfect way to bring a Vermonty vibe to your Thanksgiving table — though it's delicious any time of year.
[jump]

Apple Butter Pie
Ingredients:
1/2 cup apple butter (store-bought or homemade)
2 cups evaporated milk
1/2 cup sugar
1 egg
1 tablespoon flour
Cinnamon (for sprinkling)
1 pie crust (store-bought or homemade)
Directions:
Whisk together apple butter, evaporated milk, sugar, egg and flour. Pour mixture into a pie shell. Sprinkle with cinnamon.
Bake at 425 degrees for 10 minutes, then at 350 degrees for 35 minutes, or until a knife inserted in the center comes out clean. Cool on a wire rack.