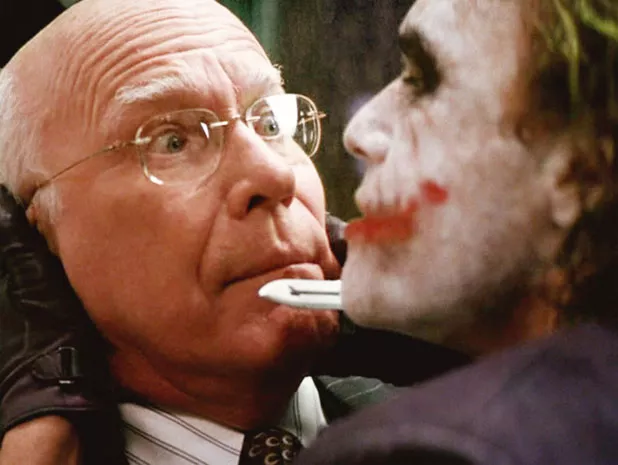 Sen. Patrick Leahy's cameo in The Dark Knight
When Sen. Patrick Leahy shows up at Williston's Majestic 10 Cinemas on Sunday to view his cameo appearance in the new Batman film, he'll be joined by a few of his bros: Warner Bros., that is.
Accompanying him will be Barry Meyer, the movie company's chairman and CEO; Kevin Tsujihara, the president of its home entertainment group; and Carol Melton, chief lobbyist for parent company Time Warner.
The special screening, which is a fundraiser for two of Leahy's favorite nonprofits — Montpelier's Kellogg-Hubbard Library and the ECHO Leahy Center for Lake Champlain — is just the latest example of the long-running relationship between the senator and the multinational media corporation.
During the six-year election cycle leading up to Leahy's 2010 reelection, Time Warner was the second-biggest donor to his campaign and political action committee, according to OpenSecrets.org. The company and its employees ponied up $84,000 to the senator — more than to any other politician. Melton herself has donated at least $3250 to Leahy over the years.
Time Warner's subsidiary Warner Bros. has cast the caped crusader aficionado in four films — from 1995's Batman Forever to the brand-new The Dark Knight Rises. According to a Leahy staffer, Warner Bros. paid the senator $10,000 in royalties over the years, all of which he's donated to Kellogg-Hubbard, his boyhood library. A 2008 Montpelier screening of The Dark Knight raised nearly $100,000 for the library, which named a wing after Leahy.
To Bill Allison, editorial director of the Washington, D.C.-based Sunlight Foundation, a nonpartisan government watchdog group, Leahy's relationship with Time Warner is "troubling."
"I think that what special interests look for is access to politicians," he says. "Clearly they're a big contributor to Leahy, and he's carried water for the industry. It's no surprise that of 100 senators, they picked him to be in the film."
Leahy spokesman David Carle has a far less sinister explanation: "Batman's connection to Vermont is a great thing that spans many years. The Batman character has been one of Patrick Leahy's lifelong passions, and it has spawned and energized an enduring bond to Vermont," he said in a statement.
Why on earth would Time Warner seek to curry favor with Vermont's senior senator? As chairman of the Senate Judiciary Committee, Leahy has tremendous influence over federal copyright law — a field of increasing importance to the television, movie and recording industries, which collectively gave Leahy and his PAC $522,606 between 2005 and 2010.
Last spring, Leahy introduced the Protect IP Act, a controversial bill that would prevent American search engines from sending traffic to sites distributing stolen or bootlegged goods. According to the liberal group Media Matters for America, Time Warner spent $62,500 lobbying for the passage of that bill and its House counterpart in the last quarter of 2011 alone, along with another $100,000 to lobby on a broader range of issues including the legislation.
After an internet-industry-sponsored uproar over the bill prompted President Obama to withdraw his support for it, Meyer, the Warner Bros. head, told the Los Angeles Times he was "very disappointed" that the White House "bought into all this furor that has been raised.
"It's important that we register both to the administration and to Congress that this is important to the industry and to the jobs it supports," Meyer said.
Craig Aaron, the president and CEO of Free Press, a "net neutrality" advocacy group that fought the Protect IP Act, said in a statement he doesn't think Leahy's casting was coincidental.
"It seems unlikely that it's Sen. Leahy's acting skills alone that have earned him his recurring roles in these movies," Aaron said. "We've seen the power that giant companies like Hollywood studios have to influence and buy legislation, and this is just another small but high-profile example of that."
Leahy has long argued that, as a former prosecutor, his support for the Protect IP Act stems from a desire to clamp down on international theft of intellectual property. According to figures provided by his staff, copyright infringement costs $16.3 billion in lost wages annually. An aide said the bill took five years to research and write. Leahy filmed the latest Batman movie late last summer.
"He has close working relationships with lots of businesses, and like Vermonters, they agree with him on many things but also have areas of disagreement," Carle said.
Warner Bros. spokesman Paul McGuire would not directly address whether his company was seeking influence with the senator, but said in a statement, "Senator Leahy has a history of appearing in cameo roles in the Batman franchise dating back to 1995," noting that the work has benefited charitable organizations.
But according to Allison, just because a member of Congress may not reap a personal financial benefit from such an arrangement, it still counts as influence peddling.
"Politicians have an awful lot of pockets," he says. "One way to get closer to a member is to give money to his favorite charity. There's all sorts of ways that a special interest can ingratiate themselves with a member of Congress, and giving to a favorite charity is one of them."
As to whether Leahy may simply have a preexisting relationship with, well, Batman, Allison says that explanation doesn't cut it.
"If you know somebody is in love with one of your properties, that's what you're going to offer to them," he says. "If they knew he loved test-driving Ferraris, they'd get Ferraris to test-drive — not Lamborghinis."
Or maybe Batmobiles.
Union Made?
This year's race to watch — the Democratic contest for attorney general — has been chock-full of endorsements from former governors, former law-enforcement officials and state senators.
But in a low-turnout, late-August primary, it's getting bodies to the polls that really counts. And that's where endorsements from the state's labor unions may make a difference.
Thus far, Chittenden County State's Attorney T.J. Donovan has run the table on incumbent AG Bill Sorrell in locking up support from organized labor. He's garnered nods from the Vermont State Employees' Association, the Professional Firefighters of Vermont, the Vermont Building and Construction Trades Council, the Vermont AFL-CIO, the Vermont Troopers Association and the Vermont Sheriff's Association.
All told, Donovan's campaign says, membership of those unions totals 15,000 — a significant number in an election that could draw just 40,000 Democrats to the polls.
How did Donovan wrestle labor's support from a 15-year-incumbent Democrat? According to several union bosses, it wasn't too hard.
"I've been lobbying in Montpelier for well over 10 years, and I can't recall the attorney general reaching out to organized labor in the state, I think, ever," says Matt Vinci, president of the firefighters union. "Bill's had an opportunity for many, many years to go to the podium and say, 'I'm with you.' He hasn't had a contested race, so he hasn't had to work as hard."
Mike O'Neil, president of the state troopers union, echoes the apathy assessment, saying, "We've never really in the time he's been in office had a relationship with him at all."
Worse yet, says VSEA president John Reese, when former governor Jim Douglas sought to privatize state jobs, Sorrell failed to come to state workers' defense.
"There were numerous instances when we brought contracts to the attorney general's attention that we felt were not going to meet cost saving, and the attorney general did not act on those requests," Reese says.
The way Sorrell's camp sees it, though, the AG was simply doing his job: upholding the law. Politics be damned!
"The attorney general's job, part of it, is that he has to represent the state anytime state employees bring a suit. That kind of sets up some conflict already," says Sorrell spokesman Taylor Bates. "I'd say the attorney general is tasked with enforcing the law, and there's never going to be an agreement on that, but Attorney General Sorrell has done his best to enforce the law without any thought of political advantage."
Point taken. But rule No. 1 of politics? Don't piss off the big fellas who might march alongside you in next year's parade.
For instance, in December 2009, Sorrell released a report calling out charitable groups that he said overpaid professional fundraisers for their services. Two of the biggest scofflaws he cited? You guessed it: the police and firefighters unions.
Vinci says his union was "very unhappy" with the way it was portrayed, noting that it was a factor, though not a primary one, in deciding to go with Donovan.
Bates defends Sorrell: "He hasn't had to be a politician. He hasn't had to worry about making friends or enemies in the past. He's just had to do his job."
My, how times change.
Do union endorsements really matter these days? To Vermont Republican Party chairman Jack Lindley, not so much.
"The use of union endorsements is an interesting tactic, but it's probably something out of the 1960s or '70s," he says. "Though it's nice and you feel good about it, I'm not sure what it translates to at the ballot box."
Republican Jack McMullen, who will face the winner of the Dem primary, has a more nuanced view, arguing that while union strength may not make a huge difference in the general election, it could in an August primary.
"Only the hard-core, politically interested people will be showing up for it, I would imagine. So a union's ability to turn people out may well make a difference," he says.
Reese, the state workers union head, says his outfit is planning to "touch" each of its 6000 members three times — through phone banking, emails and direct mail — to encourage them to turn out for Donovan. The union's affiliated political action committee has donated $2000 to the campaign and may give more.
Reese points to the crowded, five-way Democratic gubernatorial primary in 2010 as evidence of organized labor's might. In that race, his union, the AFL-CIO and the Vermont chapter of the National Education Association all endorsed Doug Racine, who narrowly lost to Gov. Peter Shumlin.
"Doug Racine was very much behind in the money game," Reese says. "I think the labor vote was huge with Racine and brought him within a few hundred votes of Shumlin."
Amy Shollenberger, who ran Racine's campaign and now consults for Donovan's, agrees, noting that while campaigns can't coordinate directly with unions, the latter often supplement the efforts of the former.
"We would go to public events like farmers markets, and we'd run into people and they'd say, 'I'm a member of the VSEA and I got a call. I'm voting for you,'" she says of the 2010 race.
Shollenberger argues that union support might matter as much or more in this race as in 2010 — especially given Sorrell's name-recognition advantage over Donovan.
"T.J. needs people to know about him, and the more people that are telling each other how great T.J. is, the better off he's going to be," she says. "Even if 10 percent of them are talking to people, that can make a big impact."