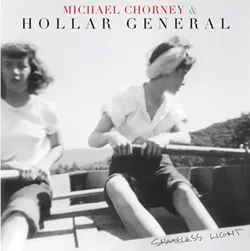 (Self-released, digital download, vinyl)
In recent years, local composer Michael Chorney has probably been best known to Vermont audiences for helping to make other artists' music mysterious, beautiful and strange. His work with Anaïs Mitchell, both on her early solo records and as the sonic architect behind her acclaimed folk-rock opera Hadestown, is the highest-profile example. But his contributions to Maryse Smith's 2015 record, The Way It Is, were just as transformative.
Chorney is also an accomplished bandleader, having helmed the great 1990s "antacid" jazz band viperHouse and a number of smaller local combos that haunt the shadowy margins of contemporary American music. By all accounts, Chorney is a selfless musician, having aided in the artistic development of countless local players, singers and songwriters. It is fitting, then, that so many of them returned the favor on his latest project with Hollar General, Shameless Light.
Flanked by bassist Rob Morse, pedal steel player Brett Lanier and drummer Geza Carr, Hollar General is essentially a vehicle for Chorney's indie-folk-oriented songwriting pursuits. But just as his avant-garde instrumental compositions exist on an ethereal plane, Chorney's comparatively more conventional writings with Hollar are similarly opaque and veiled. He deploys the talents of Zack DuPont, Peg Tassey, Jane Boxall, Alec Spiegelman, Caleb Elder, Nelson Caldwell and Miriam Bernardo with the skill and furtiveness of a master illusionist.
Album opener "Moline" unfolds gently with a serene guitar progression that ripples and splashes like a tiny waterfall. In the eddy below, Carr's brushed snare and cymbals lightly skim the surface, above which backing vocals entwine with Chorney's plaintive melody.
The slyly funky "Soldiers Field" evokes some woozy, boozy session between Joe Henry, Tom Waits and Andrew Bird. On "Solid State," Chorney uses the buzz of tape hiss as an instrument on par with guitars and drums. That almost subconscious hum lends the tender love song an air of nostalgia that transports and soothes.
"Luminous" is deceptively complex. A subtly dynamic rhythmic cadence churns beneath a dovetailing whirl of crystalline pedal steel and guitar tones. This all contrasts with Chorney's plainspoken vocal delivery, which carries his most direct lyrical turn.
"Fix" is a swooning, eight-minute suite of ethereal chamber folk. Chorney's incomparable talents as a composer are on display in the high, arcing tones of Elder's fiddle and the bowing weight of Caldwell's cello. The pastoral grace of "West, West, West," an instrumental, is given voice in Spiegelman's bass clarinet, which dances with pirouetting strings and twisting guitars.
Shameless Light closes on "A Perfect Time for Thieves," which is almost a microcosm of the entire record. In the span of nine minutes, Chorney guides Hollar General through a shifting landscape of styles and sounds, from orchestral indie folk to mountain music to avant-garde jazz, melding together brilliantly and beautifully.