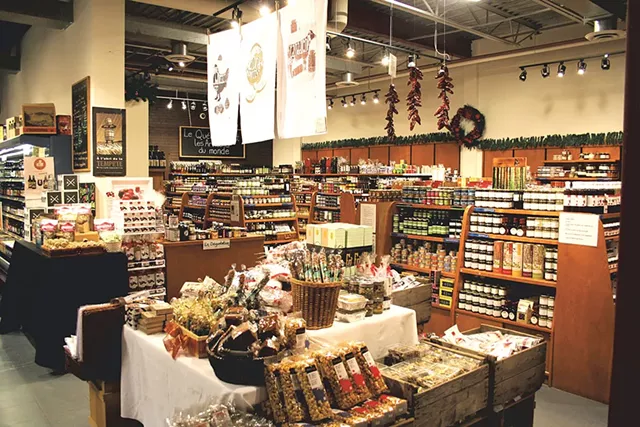 Suzanne Podhaizer
Marché des Saveurs du Québec
If holidays had personalities, Thanksgiving would be the tried-and-true friend — the same starchy meal every year, the same tryptophan naps. Christmas has a more exotic quality, flavored with the crunch of fresh snow, cinnamon and pine needles. There's the sweet agony of waiting to see what's under the tree, and the thrill of ripping off paper to be shocked (happily or otherwise) by the findings. Then comes the feast.
This year, after a fall seasoned by change and heartbreak, I found the thought of Thanksgiving's routines more melancholy than cozy. So instead of churning out pumpkin pie, I headed to Montréal, holding the promise of Christmas in my thoughts.
For 12 hours, I wandered the markets and the streets, seeking out fine flavors to grace my holiday table and gifts to give the gourmands in my life. I barely thought about turkey.
I'm always confounded by shopping guides that range all over a city, so I limited my wanderings to the vicinity of Jean-Talon Market, at 7070 avenue Henri-Julien, plus a brisk stroll down Boulevard Laurent and a couple of pop-ins on the streets nearby.
Tips for Shopping Abroad
Unless you're at the front of a long line, ask the person who's helping you to recommend their favorite products; they know more about them than you do. I typically fill in the blanks in this Mad Lib: "I'm hoping to take home some of [place]'s finest [type of food]. I like ones that are [adjective] and [adjective], and taste a little like [other food item], but I'm willing to try anything you think is essential."
Buy things you can't get at home. Buy things produced in the place you're visiting.
Make plans, but be willing to surrender them as your journey unfolds. My accidental discovery of Boucherie Lawrence led to a surprise lunch at Lawrence restaurant — my first taste of whelk, crispy and chewy, with chickpeas, cucumber and dashes of parsley — and to a new friend, co-owner Sefi Amir, who is a passionate advocate for principled agriculture.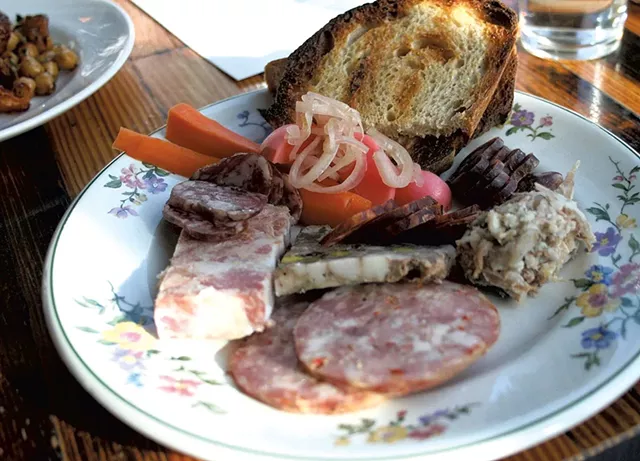 Suzanne Podhaizer
Charcuterie at Restaurant Lawrence
Specialty Food Shops
The best food shops fall into two distinct categories. There are establishments focused on particular items — say, things made with and from olives. These typically have impassioned staffs and small but well-curated selections. Bonus points if most goods are made on-site.
Then there are shops that aggregate the best of the best, offering handcrafted items in plenty of culinary categories. For instance, Le Marché des Saveurs du Québec features 7,000 items produced in the province.
Between those two extremes, you'll find hundreds of run-of-the-mill tourist traps, selling whatever attracts the eye.
Les Jardins Sauvages
Jean-Talon Market, 450-588-5125 — wildcrafted goods from Québec
The owners of this market stall also operate a retail store in Saint-Roch-de-l'Achigan, 45 minutes from Montréal, and a much-touted restaurant in the same town. Prix-fixe and open only on Saturdays, it serves dishes such as oysters Rockefeller made with sea spinach, and pork with corn and cattail-pollen polenta.
At the market, try: Labrador tea syrup, dried wild sarsaparilla berry, black trumpet mushrooms, milkweed flower, day-lily pistils (poor person's saffron), wild herb salt, Québec long pepper.
Épices de Cru
C-11, Jean-Talon Market, 514-273-1118 — spices and tea, tea ware
Try: Vanilla beans from a variety of countries and exotic spices such as ajwain, amchoor and mastic gum.
Suzanne Podhaizer
Épices de Cru
Pastificio Sacchetto
Jean-Talon Market, 514-274-4443 — 70 varieties of fresh pasta and the sauces to go with them
Try: Extruded noodles, such as penne and fusilli, that few people make at home.
Pâtisserie le Ryad
Jean-Talon Market, 514-777-2189 — Middle Eastern and Mediterranean sweets
Try: Turkish delight in a variety of flavors, including my fave — rose.
Specialty Food Shops: Outside Jean-Talon Market
Boucherie Lawrence
5237 boulevard St-Laurent, 514-277-8880 — a rotating selection of charcuterie made with meat from small producers, plus a few dairy products, eggs and pickled things
Even from outside, I could tell these people are serious about deliciousness. I wasn't wrong.
Try: Everything. And then go to the companion restaurant, also called Lawrence, which is just a couple of doors down (5201 boulevard St-Laurent, 514-503-1070). Eat something you've never eaten before.
Le Marché des Saveurs du Québec
280 Place du Marché du Nord, 514-271-3811 — fine foods from Québec in every category you can think of
Try: Cheese, and lots of it. Staff will help you pick the best ones. Then shop for preserved spruce tips, day-lily-and-apple jelly, chocolate bars, ice cider and ice wine, and all things cranberry and érable (unless you're a Vermonter who regards it a grave sin to buy Canadian maple).
Milano Fruiterie
6862 Boulevard St.-Laurent, 514-273-8558 — Italian groceries
For those who like lower prices and less froufrou, this store sells frozen microwave pizza ... and veal brains. The noodle aisle is like a shrine to pasta; I've never seen so many varieties in one place. Also look for local wagyu beef, organic porchetta, really big jars of Nutella, gooey nougat — the works.
Try: Getting an Airbnb room so you can buy sweetbreads here, cook them and serve them over saffron tagliatelle.
Cookbooks
Librairie Gourmande
Jean-Talon Market, 514-279-1742 — a thoughtful selection of cookbooks in French and English
Try: Francophone food magazines, such as Caribou, Saveurs (not to be confused with the American Saveur) and Dinette. Also, snap up some quintessential north-of-the-border cookbooks. I got Market Chronicles: Stories and Recipes From Montréal's Marché Jean-Talon, by Susan Semenak, which offers easy-to-make recipes inspired by the market's producers. Particularly intriguing are spruce-beer granita, spicy corn fritters with bacon, and wild mushroom and venison tartare.
More adventurous cooks may want to try Montréal Cooks: A Tasting Menu From the City's Leading Chefs, by Jonathan Cheung and Tays Spencer, featuring recipes for Pig's Trotter Savoury Cake with tomato jam, and Szechuan-style poached white fish.
Cooking Classes and More
La Guilde Culinaire
6381 boulevard St-Laurent, 514-750-6050 — a boutique selling specialized cookware and a small number of edibles, with an in-house cooking school that offers classes nightly
Try: All the strange chemicals chefs use for molecular gastronomy experiments, along with pipettes and other gadgets that will make you feel like you're in high school chem lab. Frequent visitors to the city may appreciate gift certificates that can be used toward goods or classes.
Les Touilleurs
152 avenue Laurier Ouest, 514-278-0008 — upscale cookware and regularly scheduled demos by local chefs
Try: Fine cookware in elegant neutral colors, pepper mills made of "naturally fallen" branches, heavy-duty aprons, cotton dish towels with antique-style prints.
Food and the Border Patrol
During my day in Montréal, I kept repeating two phrases. One was "Pardonnez-moi, mais je parle anglais." The second was "Can you vacuum seal that?"
Before leaving the United States, I'd thoroughly studied a document called "Travelers bringing food into the U.S. for personal use" on the U.S. Customs and Border Protection website. Frankly, what surprised me the most was the dearth of restrictions on food we can cart back from our northern neighbor.
If I'm reading that document correctly, dry-aged steaks, Brie, raw shrimp, Canadian-grown berries, honeycomb, clean wild mushrooms and dried pork sausages are all allowed. Heck, you can even drag a bison carcass across the border, provided that it's headless and gutless, and that you can whip out your hunting license.
Yet, to my surprise, none of the shopkeepers seemed to realize this. Most suggested that meat is probably prohibited and that dairy is dicey. I suspect that if the rules were more generally known, we'd be eating a lot more Canadian cheese.
For gourmands who are jumping for joy at the thought of better access to Canadian products, my advice is this: Buy a portable vacuum sealer and tote it around with you at the market. I chose not to buy some of the most delicious things I tasted at Jean-Talon because the vendors couldn't package them in a way that I thought would pass muster.
After all the care I took to study the rules, ask for special packaging and organize my receipts, guess what happened when I arrived at the border. The guard asked, "What did you buy while you were in Canada?"
"Cooking magazines, cookbooks and food," I replied, ready to elaborate and offer documentation. He waved me on with no further questions.
I passed the border with ease, but you never know when you'll be grilled. To help you be fully prepared, here's a rundown of what I learned:
Meat: Nothing made with goat or sheep. Meat can be fresh, frozen, cooked or cured but must be sealed in its package, include an English ingredient list and have originated in Canada — make sure you have proof.
Cheese: The only items listed as prohibited are ricotta and cottage cheese, or anything that "pours like cream." Cultured products such as yogurt are allowed, as are semi-soft and hard cheeses.
Seafood: No listed restrictions on "personal amounts."
Dried Foods: Avoid any parts of citrus plants, as well as fruit and vegetable seeds. Otherwise, fruits, herbs, spice blends, cooked and husked nuts, and dry mixes for baking are admissible. Rice from certain countries is prohibited because of an invasive beetle so it's best not to have rice.
Produce: If it was grown in Canada, you're crossing in May through October and it's not a western Canadian potato, it's probably fine. Have proof of origin.
Prepared Foods: Meat-free baked goods, bottled condiments, candies and chocolates are A-OK. Don't try to bring restaurant leftovers.