Holiday shopping suggestions from the Kids VT staff Santa isn't the only one making a list this time of year; most of us with kids in our lives can relate. That's why Kids VT publishes an annual holiday gift guide that aims to inspire parents — and aunts, uncles, grandparents and family friends — in search of the perfect present.
This year, we asked our staff to share things that they and their families have used and enjoyed. Then we narrowed the field to just a few tried-and-true suggestions in each category, with options for a variety of ages. The cost for each item is based on current retail prices.
At the end of each category, we've included a list of local stores where you can find items like the ones mentioned here. If our ideas don't appeal, no doubt these retailers have something else that will catch your eye.
Want to know more about the local shopping scene? Alison Novak visited all these stores and offers more detailed descriptions, below.
Sports & Such
Does your tyke have a need for speed? Does he or she consider recess the best time of day? These gift suggestions support your youngster's yearning for the great outdoors.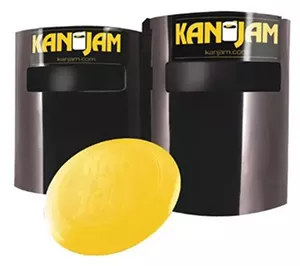 KanJam: This flying-disc game is perfectly portable and inspires friendly athletic competition. It's not a contact sport, which makes it a safe pastime for anyone old enough to catch and throw. $39.95.
Colby says: "Our whole family loves KanJam — it's a game my 64-year-old father can play alongside my 6-year-old daughter."
---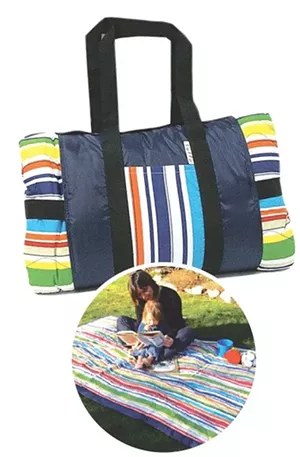 Tuffo Water-Resistant Blanket: Tuffo blankets are lightweight and durable and come in carrying bags for on-the-go use. Keep one in the car for whatever outdoor activities pop up. $41.95.
Sarah says: "We received a Tuffo blanket around the time our kids were babies, and it's rarely gotten a break since. We'll use it as a tablecloth at Shelburne Beach — or as a picnic blanket at Shelburne Farms — and then throw it in the wash."
---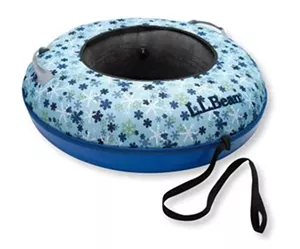 Snow tubes: Snow tubes have a slick bottom to make sledding runs faster than ever. Look for one with sturdy handles that can endure lots of long walks back up the hill. $13 and up.
Brooke says: "Our standard plastic sleds sink into the powder after a snowstorm. This light tube floats and spins on top of the snow — sometimes a little too much for my liking!"
Find gifts like these at:
Earl's Cyclery & Fitness: 2500 Williston Rd., South Burlington, 864-9197. Earl's offers a large selection of shiny new cycles, from pedal-free balance bikes to sleek, 21-gear two-wheelers. The shop carries Raleigh, Trek and Giant brands; Chariot and Croozer bike trailers; and small accessories such as bells, streamers and water bottles. Helmets in a variety of colors and patterns — including one by Bern with a detachable furry liner for skiing and tubing — ensure little noggins are protected.
Lenny's Shoe & Apparel: 2121 Essex Rd., Williston, 879-6640; 295 Swanton Rd., St. Albans, 527-0532; 359 N. Main St., Barre, 476-7446. The variety of kids' shoes at Lenny's is extensive, from fur-lined camouflage Crocs to waterproof Bogs to red suede Emu boots that look like ladybugs. Carhartt overalls in tan and pink, SmartWool and Darn Tough socks, and outerwear by Columbia, Burton and Spyder help kids ride out the winter months in style.
Lines for the Body: 2035 Essex Rd., Williston, 878-8988. This small dance shop sells ballet basics for kids age 2 and up, including solid-colored leotards, ballet slippers and tights. For those looking to kick their dancewear up a notch, there are cropped pastel sweaters, flippy dance skirts and legwarmers. Tap and jazz shoes and sparkly gymnastic leotards are also in the lineup.
Onion River Kids: 7 Langdon St., Montpelier, 223-6025. This offshoot of Onion River Sports sells established brands like Patagonia, North Face and Columbia alongside products from smaller companies, such as Vermont-based Bitybean's lightweight child carriers, Bunnytail all-weather baby blankets and Eco Vessel triple-insulated water bottles.
Outdoor Gear Exchange: 37 Church St., Burlington, 860-0190. For kids who like roughing it, OGE sells sleeping bags, hiking backpacks and a wide array of outerwear, snowboots and base layers. The outdoor emporium also stocks kids snowshoes and Mad River Rocket's extreme sleds. Check the consignment section in the basement for good deals on gently used seasonal gear.
Skirack: 85 Main St., Burlington, 882-4530. True to its name, this store is all about skiing and snowboarding. In addition to the main gear, it sells Smith Optics helmets, Giro goggles, and outerwear from Burton, White Sierra and Marmot. Skirack also offers discounted vouchers to Sugarbush, Smugglers' Notch and Jay Peak. And the store carries a large selection of kids' bikes and Burley bike trailers.
Read On
Bringing up a bibliophile? From classics to comic strips, the gift choices are endless for your little lit lover. Here are a few good reads that we think will make your bookworm beam.
Diary of a Wimpy Kid series: Author/cartoonist Jeff Kinney's hit fiction series follows the middle-school adventures of Greg Heffley. Handwritten notes and sketches make it a page-turner for readers ages 8 to 12. $44.98 and up.
Tasha says: "We love buying our kids a whole book series for Christmas. Our favorites so far have been Diary of a Wimpy Kid, Percy Jackson & the Olympians and The Little House on the Prairie."
---
The Complete Calvin and Hobbes: Bill Watterson's cartoon about a 6-year-old and his stuffed tiger is a hilarious and insightful classic. Read every strip ever drawn in this 1440-page collection. $56.30 and up.
Becky says: "We have been reading it together for years. As the kids get older, they understand more of the jokes. But even when they aren't getting the deeper meaning, they are riveted."
---
Yertle the Turtle and Other Stories: This Dr. Seuss collection includes "Yertle the Turtle," "Gertrude McFuzz" and "The Big Brag," and has been named one of the best-selling children's books of all time. $11.49.
Cathy says: "Yes, the title story about the tyrannical turtle king and his spectacular fall from power is a little heavy-handed, but it gives me goose bumps every time I read it. The stories in this collection contain good lessons for all ages."
Find gifts like these at:
Bear Pond Books: 77 Main St., Montpelier, 229-0774. The upstairs of this independent bookstore is devoted to kids books and fun items, from moon-shaped nightlights to clothing emblazoned with familiar literary characters like Harold and his Purple Crayon. A cozy oversized chair and braided rugs in the corner of the room invite parents and children to curl up together and read. "People definitely do just sprawl out here," says owner Claire Benedict.
Crow Bookshop: 14 Church St., Burlington, 862-0848. This upper Church Street store is best known for its large selection of used books. The kids area is separated into categories such as "classics," "foreign language" and "Vermont authors." The Crow also stocks new paperbacks and hardcovers. Popular series like Suzanane Collin's Hunger Games trilogy and Rick Riordan's Heroes of Olympus series are replenished often. Shoppers can also consign children's and adult books for store credit.
The Flying Pig Bookstore: 5247 Shelburne Rd., Shelburne, 985-3999. This indie shop was named 2013's Best Children's Bookstore in New England by Yankee Magazine. Local authors are celebrated here: Vermont authors Kate Messner and Dayna Lorentz both have new releases on the shelves. In the back of the store sits a collection of flying pigs, gifted by customers. There you'll also find good stocking stuffers, such as 3-D puzzles and crocheted indoor Frisbees.
Phoenix Books: 191 Bank St., Burlington, 448-3350; 21 Essex Way, Essex, 872-7111. Children's-book posters decorate the walls of the lower level of Phoenix's Burlington outpost. There's a large selection of graphic novels and books by local authors. Sprinkled throughout the store are notecards highlighting staff recommendations. For a $25 yearly membership, patrons get 10 percent off all their purchases. Phoenix's Essex store has a similar but slightly smaller selection of kids books.
Sparkle Stories (Online only): sparklestories.com. This Charlotte company connects families with inspiring, original audio stories divvied into series for different age ranges. Gift options include a one-month ($15) or three-month ($45) subscription to three series, or a one-year subscription to any single series ($65). Stories are delivered weekly to the recipient's inbox, no gift wrapping required.
Play Time
Does family game night need an upgrade? We've gathered a few of our favorite tabletop games below, along with some hands-on toys that let kiddos scoot, slide and jam.
Toy electric guitar: Wannabe rockstars will love these battery-operated instruments that light up and, at the push of a button, play songs. Every brand features different interactive activities to help develop kids' love of music. $11.99 and up.
Colby says: "Musical instruments have always been a hit with my kids. They love to sing and experiment with sound."
---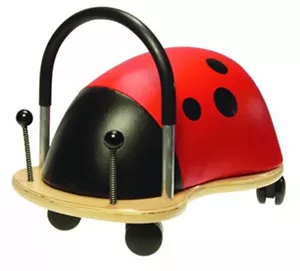 Wheely Bug: New walkers and toddlers can ride these foot-powered vehicles backward, forward, sideways and in circles. The classic Wheely Bug is a spotted ladybug with wiggly antennae, but other models include a big-eared mouse and striped orange tiger. $59.99 and up.
Sarah says: "Back when we lived in a relatively compact condo, the Wheely Bug seemed like a perfect fit for my toddler daughter, Dillon. Little did I know that, at age 6, she'd still be racing it around on our hardwood and slate floors."
---
Sleeping Queens: In this card game based on memory and strategy, players try to wake 12 queens who have fallen under a sleeping spell. $10.99.
Ana says: "I love the quirky graphics: The Tie-Dye King looks a bit like Jerry Greenfield circa 1978, and the Pancake Queen sports big pats of butter on her dress. Even better, math practice is cleverly worked into the rules — playing Sleeping Queens is one of the only ways I've gotten my math-reluctant 8-year-old to brush up on her addition."
---
Carcassonne: Named for a city in southern France famous for its fortified walls, this two-to-five-person tile game lets players build a different "board" every time. $29.97.
Cathy says: "This game is recommended for ages 8 and up, but it's simple enough that all four of us have been able to play — even 5-year-old Ivy. There's some strategy involved, too, unlike the dreaded Candy Land and Chutes and Ladders."
---
HABA clutching toys: German company HABA's wooden clutching toys make a soft clacking sound when clipped to a stroller and give babies something to grab and rattle. $7.99 and up.
Kathryn says: "Asa is entranced by the bright colors and rattling noises, and I'm delighted by the craftsmanship, durability and safety."
---
Magna-Tiles: These magnetic building tiles allow kids to construct colorful 2-D and 3-D designs, which helps develop logical thinking and math reasoning. $51.50 and up.
Alison says: "I first encountered Magna-Tiles at my daughter's daycare. Kids just gravitated toward them, spending tons of time building pyramids and castles, rockets and skyscrapers. Building with them is addictive, even for adults."
Find gifts like these at:
Buttered Noodles: 64 Harvest Lane, Williston, 764-1810. This kids emporium sells baby gear, kids shoes, clothes, and lots and lots of toys. Hot new items like Bubber modeling clay, kinetic sand and FunLooms share the shelves with tried-and-true classics — think Sophie the Giraffe, art easels and John Deere toy trucks. Little ones can let loose in Club Noodle, a play area in the back of the store with a toy kitchen and train table.
ECHO Lake Aquarium and Science Center Gift Shop: 1 College St., Burlington, 864-1848. Whether they're looking to grow crystals or experiment with magnets, curious kids will love the assortment of science kits at this well-stocked gift shop. There are also frog and snake toys, shiny gemstones, and a section of gyroscopes and pocket tornadoes inspired by the museum's latest traveling exhibit, Cool Moves: The Artistry of Motion.
Fairbanks Museum & Planetarium Nature Store: 1302 Main St., St. Johnsbury, 748-2372. Night-sky projector kits, gooey marbled putty called Mars Mud, gemstones and Wild Republic stuffed animals are among the astronomy- and natural history-themed items in this shop. There's also a selection of science reading for all ages, from board books to Peterson Field Guides for Young Naturalists.
Jamie Two Coats' Toy Shop: 54 Falls Rd., Shelburne, 985-3221. The stately shop — which occupies a pillared white-brick building that was once the town library — started out as a Waldorf school supply store nearly 20 years ago. It still stocks Waldorf-inspired products, such as Stockmar modeling beeswax, Woolpets needle felting kits and soft-bodied Kathe Kruse dolls. Capes, tutus and medieval Schleich figurines fill the "fairy room" in the back of the store. Other unique products —like Mama K's Aromatic Play Clay made with lemongrass and geranium essential oils — elevate toy shopping to an elegant pursuit.
Kids City: 10 Farrell St., South Burlington, 859-9130. "Our biggest thing is service," says store manager Tina Benoit. That translates to free gift wrapping, play stations peppered throughout the store and a rewards card that gives $10 off for every $100 spent. This kids department store carries Legos, Playmobil and Calico Critters brands, and has an extensive hobby section with rockets and model trains. Magna-Tiles, a magnetic building toy, are a hot commodity. "We can't keep them in stock," says Benoit.
Maple Landmark Woodcraft: 1297 Exchange St., Middlebury, 800-421-4223. For those looking to get back to the basics, Maple Landmark Toys crafts rattles, vehicles, building blocks, traditional games and more in a Middlebury woodshop. The adjoining factory store sells its full line of products, including the famous NameTrains, customizable magnetic trains that spell out the names of the kids on your shopping list. Geared toward children 3 and under, the Schoolhouse Naturals line is made from smooth, sustainably harvested maple with no paints or finishes.
Montshire Museum of Science Museum Store: 1 Montshire Rd., Norwich, 649-2200. From December 17 to January 19, the featured exhibit at Montshire is Toys: The Inside Story, which lets kids look inside toys to see how they work. For those who like to buy toys, there's the museum store, where the inventive offerings range from build-it-yourself robots to Laser Pegs, light-up building blocks that are Lego-compatible. For more traditional offerings, the store stocks cooperative games from Peaceable Kingdom, Slinkies and Crocodile Creek playground balls.
Shelburne Farms Welcome Center: 1611 Harbor Rd., Shelburne, 985-8442. Kids items at this year-round gift shop mirror what you'll find on the farm, from Schleich barnyard animal figurines to miniature tractors to plush birds that warble when you squeeze them. There's also a selection of nature- and animal-themed kids' books, and soft cotton Shelburne Farms T-shirts depicting chickens and cows.
Shelburne Museum Store: 6000 Shelburne Rd., Shelburne, 985-3346. The museum's carousel may stop its rounds in late October, but the museum's gift shop has plenty for the little ones and is open year-round. Kids books with circus, art and train themes align with the museum's collections. Pick-up sticks, marbles and wooden yo-yo's harken back to simpler times. Pliable Putty Peeps and fat tubs of markers, crayons and colored pencils by P'Kolino will appeal to the kid who likes to make art as well as view it.
Small Dog Electronics: 100 Dorset St., South Burlington, 862-1316; 1673 Main St., Waitsfield, 496-7171; 116 West St., Rutland, 281-4490. Apple computer-loving kids will go bananas for iPad minis and accessories. Highlights include Speck's iGuy foam carrying cases, Urban Ears headphones in shades like tomato and lime, and brightly colored iHome wireless Bluetooth speaker cubes for streaming music.
Turner Toys and Hobbies: 57 River Rd., Essex, 871-5513. This family-owned retailer specializes in "unplugged fun." Its website, turnertoys.com, advertises "heirloom-quality, battery-free, thinking toys," as well as hobbyist kits, tools, paints and glues. Shop online first, then pick up your order at the company's warehouse store.
Vermont Teddy Bear Factory: 6655 Shelburne Rd., Shelburne, 985-1627: Looking for a furry friend? There's a bear for every occasion at this iconic Vermont factory, which also offers tours.
Woodbury Mountain Toys: 24 State St., Montpelier, 223-4272. Flamingo hats and king's crowns hang from the ceiling of this jam-packed toy store. A large science section stocks Leonardo da Vinci-inspired building sets, trebuchets and telescopes. Few toys in the store require batteries. "We're going for hands-on, creative play," says owner Karen Williams-Fox, who has run the store for 14 years and still works without a computer.
Picture This
Kids are endlessly creative — the 147 coloring contest entries Kids VT received last month are just the beginning. Here are some gift ideas intended to capture their imaginations and put their artistic talents to the test. Smocks at the ready...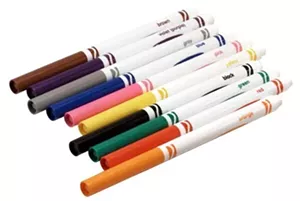 Art supplies: Mini Monets can run through a lot of paint, markers and construction paper. Stock up your crafting cabinet to fuel your child's artistic activities. Various prices.
Brooke says: "My boys are prolific artists! They love nothing more than setting up the kitchen table with multimedia supplies — stickers, popsicle sticks, glitter and glue — and creating 'art.'"
---
White board: This artistic medium lets kids practice their drawing skills, ABCs and 123s over and over again. $15.50 and up.
Ana says: "My 8-year-old daughter loves to play school. Presiding over her friends or stuffed animals as her alter ego, Miss Posie, she gives homework assignments and teaches science lessons. Her favorite accessory is her two-by-three-foot white board. It's a great way to keep track of the day's schedule. Or just doodle."
---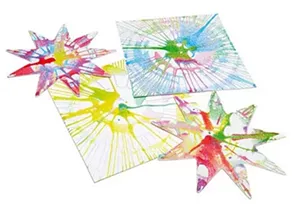 Spin Art: This mini art machine spins a piece of paper beneath drops of paint or a marker tip, resulting in interesting splatter patterns and color combinations. $19.95.
Cathy says: "My kids pull out their spin art machine on a regular basis and 'mass produce' a dozen vibrant designs in one sitting. These colorful creations are perfect for holiday cards and invitations."
Find gifts like these at:
Bead Crazy: 21 Taft Corners Shopping Center, Williston, 288-9666. Beads in all shapes, colors and sizes are available at this well-organized shop, which also stocks clasps, charms, stringing material and tools. Staffers provide in-store instruction for beginning beaders looking to design their own necklaces or zipper pulls. The store also hosts kids' birthday parties.
Boutilier's Art Center: 139 Bank St., Burlington, 864-5475. This established art shop, in business since 1925, carries high-end art supplies such as Swiss-made Caran d'Ache water-soluble crayons that double as face paints. You'll also find hedgehog and mushroom felting kits, and a selection of crafts, puzzles and stickers from toy company Melissa & Doug.
Creative Habitat: 555 Shelburne Rd., Burlington, 862-0646. This locally owned store stocks perennial craft favorites like Play-Doh and Shrinky Dinks, as well as Crocodile Creek floor puzzles, Folkmanis animal puppets and Toysmith "Ironic Hipster" mustache finger tattoos. On Saturday mornings, the store offers seasonal do-it-yourself kids craft sessions for $5.
Wear It Well
Baby, it's cold outside! Why not bundle up your little one in duds that are both toasty and trendy? There's no need for fashion-forward kids to sacrifice their style for six months of the year.
Pajamas: Warm, comfy jammies "never get old when you live in a freezing mountainous region," notes Becky. Our contributors love Hanna Andersson and Hatley brands for their durability and seasonal patterns. $26 and up.
Tasha says: "Our favorite tradition is giving the kids a new pair of PJs and a Christmas movie on Christmas Eve. There is just something super cozy and festive about it. Our favorite films so far have been A Christmas Story, Elf and It's a Wonderful Life."
---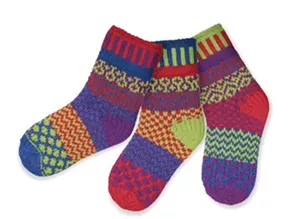 Solmate Socks: The motto of this Strafford, Vt., sock company? "Life's too short for matching socks." The stylish kids sock sets here come in threes — "a pair with a spare" — in case one happens to go missing. $16-20.
Brooke says: "I love these socks. Warm in the winter, breathable in the summer and gender neutral to boot. And they don't have to match!"
---
Zutano Cozie Booties: Leave it to a Vermont company to master baby boots. Cabot-based Zutano smartly designed these fuzzy, machine-washable booties with two snaps. $21.
Kathryn says: "As far as I can tell, Zutano Cozie Booties are just about the only thing that will stay on kicky baby feet. They're colorful, warm and downright adorable."
Find gifts like these at:
April Cornell: 131 Battery St., Burlington, 863-0060. This seller of all things girly stocks holiday-worthy dresses in plaids and florals alongside soft cotton dolls and miniature tea sets. Follow the pastel-painted steps down to the basement for deeply discounted merchandise.
Bumblebell: 1056 Mountain Rd., Stowe, 253-1955. This upscale children's boutique stocks stylish duds for boys and girls from Tea Collection and Pink Chicken. For babies, there are super-soft cotton bodysuits from Los Angeles-based brand PaigeLauren, and breathable muslin swaddles from Aden + Anais. Bari Lynn crystal hair clips make a stylish stocking stuffer.
Once Upon a Child: 38 Taft Corners Shopping Center, Williston, 878-5434. This locally owned chain sells mostly secondhand clothing, toys, books and games. New items include fairy wings, tutus, hair accessories and Melissa & Doug products. Racks of gently worn winter jackets, snow pants, holiday dresses and boys blazers make dressing warm and stylishly for winter easy on the wallet.
Yellow Turtle: 1799 Mountain Rd., Stowe, 253-4434. This children's clothing and skiwear store has been outfitting kids for winter for 25 years. It carries premium outerwear brands like Obermeyer, Jupa and Patagonia, as well as trendy fashions from Roxy and Quiksilver and raingear from Kidorable. "Our mission is to keep kids warm and dry," says manager J. Stein.
Zutano Company Store: 79 Main St., Montpelier, 380-6043. Cotton leggings, tops and onesies in bright colors and whimsical prints fill the shelves of this store on Montpelier's main drag. Reversible hoodies and faux-fur vests go beyond the basics. Staff recommend the fleece and cotton booties with Velcro closures as a fail-safe baby gift.
All About the Experience
The best presents don't always come in packages. Surprise your young ones by thinking outside the box — hands-on family fun can be far more memorable than material items. Consider these family passes and classes to be gifts that keep on giving.
ECHO Stewards Family Membership: Savvy science lovers will get good use out of a membership to Burlington's ECHO Lake Aquarium and Science Center, which also includes admission to more than 300 museums and science centers around the world. $100-150/family.
Brooke says: "This has been, hands down, the best family purchase. Since we have been members, we've also visited the Boston Museum of Science; New York City's Intrepid Sea, Air & Space Museum; and Connecticut's Yale Peabody Museum of Natural History and Children's Museum — for free."
---
Vermont State Parks vehicle pass: Make the most of living in the Green Mountain State by getting a season pass to Vermont's 52 state parks. It provides unlimited day-use entry to any park for everyone in the car. $80/season; $40 per additional vehicle.
Cathy says: "This is the perfect gift for a family that loves the sandy shore at Alburg Dunes State Park, the hike up Mt. Elmore, the swimming pool at Button Bay State Park and the paddle boats at Boulder Beach. Hint, hint."
---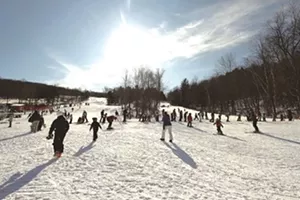 Cochran's Ski Area Ski Tots lessons: Learning to ski is a Vermont rite of passage. This adult/child program at Cochran's, directed by Olympic gold medalist Barbara Ann Cochran, teaches parents how to best help kiddos ages 3 to 5 hit the hill. $117.50-175/four lessons (includes full-day lift tickets for parent and child).
Brooke says: "Our adventurous preschooler started the Ski Tots program last winter. It was a great opportunity to get our family back on the slopes. My husband and I liked that one of us was participating in the lessons and could share the experience."