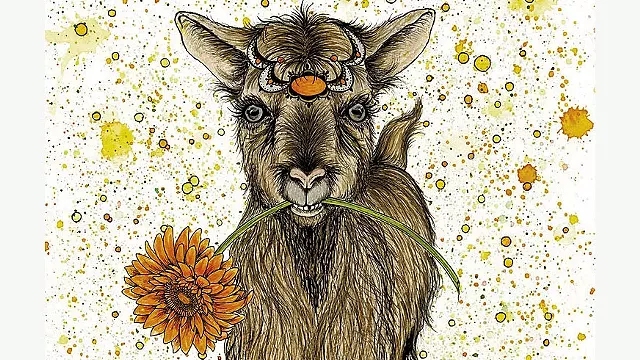 Courtesy Of Nikki Laxar
Goat by Nikki Laxar
For artists and craftspeople, holiday markets are a huge source of income and involve a lot of work. "We call it 'the schlep,'" said visual artist Nikki Laxar, describing the process of waking up early, loading and unloading her wares, setting up a booth, and spending hours tending it. Add to that the actual creation of the work and the mental calculus of deciding how much to make, and the season is typically pretty exhausting. But it brings a lot of joy, too.
"It's a juggle, but it's an exciting juggle," Laxar said. She described shows and markets as a chance to have in-depth conversations about her work and find out how people react to it. "That really builds a connection [between] you and your viewer," she said.
But holiday markets, like everything else, are going to look different this year. It's Laxar's first year directing the Women's Festival of Crafts, and she decided back in April that the event, which typically takes over all three floors of Burlington City Hall, would be virtual. That gave her time to work with artists to develop a virtual storefront, a site that showcases more than 80 local artists and provides links to their websites, Etsy pages or email addresses for purchasing.
"In our market, [for] a lot of these women makers and artists, this is their biggest show," Laxar said. "During the holidays, that's where they make the bulk of their income for the year, and that's what allows them to buy supplies, rent their spaces and continue to support themselves."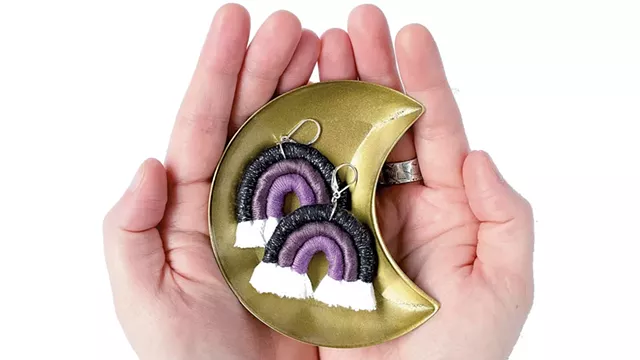 Courtesy of Women's Festival of Crafts
Earrings by Make More Whimsy
While some artists already have a thriving online sales system, others might barely use Facebook. Laxar wanted everyone to be able to join the virtual festival, even if it meant simply listing contact info.
"For this particular showcase, I wanted to offer many possibilities for exposure, no matter what your online presence was," she said. The site will offer special promotions through December 18.
In central Vermont, Meg Schultz has had to make similar calculations for the Moretown Artisans' Sale, which takes place annually in the Moretown Elementary School gym and features live music and pictures with Santa. "It's a long-running show, and I would also argue that we have a huge [amount of] repeat business," said Schultz, the event coordinator. "It's the kind of thing you circle on your calendar."
Schultz runs an event-planning business, but she said that creating a virtual sale was "daunting." But she was determined. "The stuff we have locally is made by your neighbors, and it's important to make sure that the money you spend comes back to your community," she said.
Like Laxar, Schultz chose to build a directory that links to separate sales websites or contact forms. She pointed out that while sites such as Etsy make it easy for artists and makers to sell their products, it's not so simple for consumers to search for Vermont-made items. Etsy does have that option, but it's buried in the search filters.
When Schultz surveyed the local community about whether they'd be interested in an online sale, she found that people were excited about the prospect. "The overwhelming problem people seemed to have [was], they just didn't know what was available," she said.
In that way, Schultz thinks the web directory she's built will be relevant even after the holiday rush is over, and she plans to keep it up indefinitely.
Some makers have resisted the urge to lean into social media, even during the pandemic era. Beki Auclair makes and sells fermented foods through her business, Vermont Fermentation Adventures. She has a Facebook page that she rarely updates and a website that's been broken for a while. Her aversion to the online world is due to her belief that the large companies running social media have done more harm than good in American society, especially since the 2016 presidential election.
"I've been waiting for the companies, or the owners of these platforms, to have the safety and the well-being of their users at the heart of their business," Auclair said. She aims to be socially responsible in all aspects of her work and "to engage with a business that I think can be so harmful to its users really seems to run right smack into the face of that."
But even Auclair has found a happy medium in the pandemic era. To accept preorders at this summer's Waitsfield Farmers Market, she made a simple Google form for customers, and she plans to use it again to participate in the Moretown sale.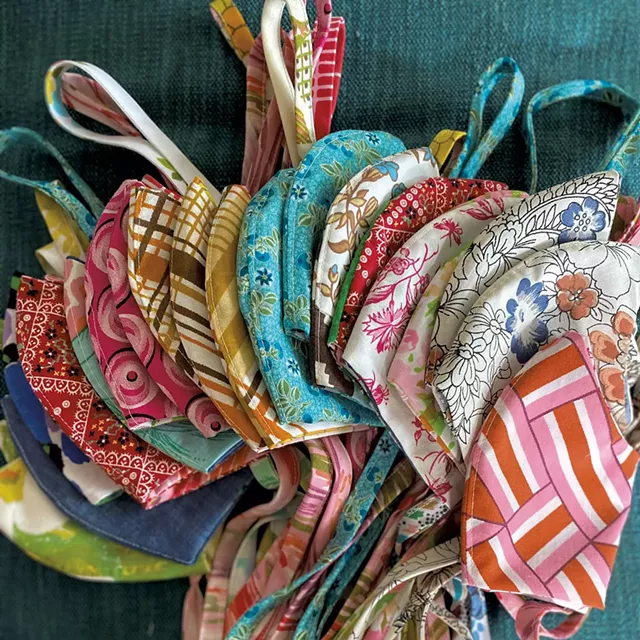 Courtesy Of The Women's Festival Of Crafts
Masks by Edie & Glo
Some in-person sales are still taking place, albeit with restrictions. Burlington City Arts is holding its Holiday Artist Market outdoors in City Hall Park on December 5 and 6. And in Middlebury, Kelly Hickey has organized socially distanced pop-up events through the summer and hopes to continue them indoors, if possible. Hickey is a textile artist who runs Bundle, a grant-funded "creative-led revitalization" to fill empty spaces in downtown Middlebury during the rail and bridge construction.
"We had a lot of things on our schedule that had to be canceled," Hickey said. But she was able to host small groups of artists in sidewalk markets, on patios and in parks.
"For the artists that I work with, it's been difficult to sell online, because online is so flooded with noise," Hickey said. "Any opportunity that they can get to be able to sell ... they want to come and they still want to connect with their customers one-on-one."
Hickey's business, Edie & Glo, has had surprising success during the pandemic. She attributes this to the fact that she makes comfortable, colorful clothes that appeal to the work-from-home set. Still, the holiday season is pivotal.
"I think half my sales happen between October and the end of December," Hickey said. "And I think that's pretty typical for most of us."