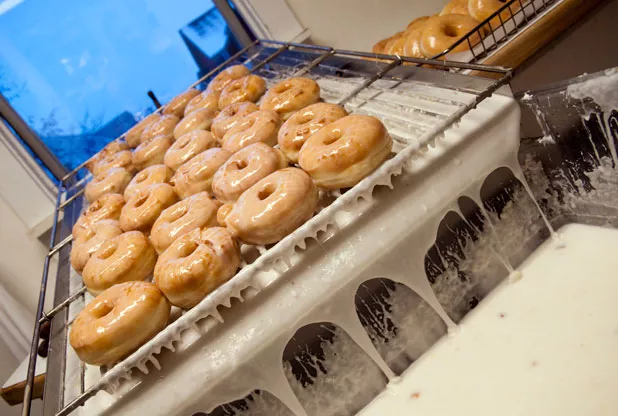 The Rubright family's doughnuts
As I tread through the snow to the back-porch entry of the Middlebury Bagel & Delicatessen, a few faint stars dust the heavens above the parking-lot lights. Outside, it's cold and dark. But when I swing the door open, it's warm inside the brightly lit room. Two generations of Rubrights stand at the enormous maple worktable. It's 4 a.m., and another day begins at the bakery.
For more than 30 years, the Rubright family has been turning out some of the best doughnuts in America. I've braved the cold and the early hour to see how they turn flour, sugar and oil into food fit for the gods.
The doughnuts, though, will have to wait on the bagels — dozens of them, brought out of the enormous walk-in fridge where the chunks of dough have blossomed overnight. Each chunk gets rolled by hand and then boiled, seeded and fed into the commercial oven's 8-foot maw. There the bagels rotate on a sort of mini Ferris wheel until they're golden brown and have the perfect balance of crunch and chew.
But enough about bagels. For me, the doughnuts are the real show. And this is funny, because before I started coming to this place, I thought of doughnuts as hideous greaseballs purchased, along with a cup of burnt coffee, only by desperate travelers at chain stores along the interstate.
The Rubrights' doughnuts are different — made fresh every day from scratch, with an eye for quality and a goal of perfection. Warm, sweet, delightful, toothsome, tender.
The future doughnuts start out in a Hobart mixer taller than I am, with a bowl big enough for a giant's kitchen. Sugar, salt, yeast, milk powder and flour are scooped and measured; a crate of eggs is cracked two hands at a time; water is poured into a gallon container. In go vanilla, a dash of lemon and a towering handful of a special shortening that perfects the texture. Then the giant dough hook is attached, and the mixer takes off on its prescribed rounds.
The ingredients for cake-style doughnuts, including buttermilk and nutmeg, go into a smaller, 4-foot-tall mixer, which stands beside the mammoth Hobart like a lesser idol. This batter is first whisked by hand and then folded in with a spatula that resembles an Aleutian seal scraper. While the dough hook whirs through the yeast doughnuts, the cake batter goes into the "hopper" — a kind of squisher thing that plops the batter into the bubbling oil. With each spin of the hopper's crank, blobs of batter dive briefly below the surface and then bob up like ducks.
Once these doughnuts come out and are drained, daughter Lindsey Rubright, 28, sorts them with a practiced eye. The most perfectly shaped — those with the most pronounced circle in the center — are left unadorned. The rest are alternately tossed in cinnamon sugar, rolled in a crunchy topping or sunk into a vat of sugar glaze. Baking is a sensuous and tactile art.
The mystical properties that make a cake doughnut "ball up" or maintain its perfect inner circle have been bakery owner Jim Rubright's constant study. They all look perfect to me, but he keeps looking for ways to make them even better: adjusting the batter, the frying temperature, and the way the squisher plops.
As tray after tray of cake doughnuts take their place behind the counter, son J.J., 31, hefts the bowl of yeasted dough onto a prep surface. The dough is wedged and weighed. Some of it goes into a machine that quickly divides it into 36 equal parts. These are rolled into circles for jelly and Boston cream doughnuts. The remaining dough is rolled out and cookie-cuttered into the pastry's perennial meditation on eternity, one perfect circle inside another. Any scraps, and all those little holes, are remixed with apple and cinnamon into apple fritters. There is no waste here.
Like the scent of warm doughnuts, the proprietors of Middlebury Bagel & Deli are welcoming. On any given morning, folks of all ages and from all walks of life are likely to stop in — college professors, tradespeople, office workers, farmers, moms and dads with babies, schoolchildren, retirees, high school football coaches, and, yes, police officers. And the service is the epitome of "friendly."
That same attitude appears to propel a seamless operation behind the scenes. Good management breeds loyalty, and much the same crew has worked here for years. Tellingly, there is no single dishwasher. "Dad's never believed in sticking somebody at the sink for hours," explains J.J. "We all pitch in."
Indeed they do. A typical morning's five hours of intense production look effortless. Everyone cycles through almost every job, wordlessly doing what needs to be done and then moving on to the next task.
"There's nothing more satisfying than hard work," declares Jim Rubright, whose drive and dexterity make him look about half of his 61 years. "It's that simple. You want to serve a purpose every day, so [you] work really hard and get things accomplished."
Jim and his wife, Cathy, started this place in 1979, working seven days a week, 12 to 18 hours a day. All of the family's five children grew up in the kitchen. "I was the doughnut guy all through high school," says oldest brother Brett, 39, now a housepainter, who's dropped by the kitchen for an early-morning snack and chat.
"When we were kids, our job was breaking the eggs," says J.J. "I loved being up that early, Dad driving over the speed limit while it's still all dark outside."
Lindsey, the Rubright's youngest and only daughter, remembers coming in as a preschooler and falling asleep on the flour sacks.
While they work and talk, racks of yeast doughnuts proof up in the gray metal warming cabinet. Once ready, they go into the fryer and plump out almost immediately, leaving the desirable, cream-colored line around the middle that shows they're texture perfect. Watching the doughnuts in the fryer, turning them at just the right moment, is an art. The big round circles will get injected with custard filling, frosted with chocolate or stuffed with jelly.
Anthropologist Paul Mullins writes in Glazed America: A History of the Doughnut. that humans have been making fried-dough products since they began to grow wheat in the early Neolithic period. Across continents, one civilization after another has served up its own variant. But the glorious and humble doughnut is emblematically American. And here at the Middlebury Bagel & Delicatessen — which closes only for Thanksgiving, Christmas, Easter and New Year's — the Rubright family keeps figuring out new ways to make their own sweet stuff even better.