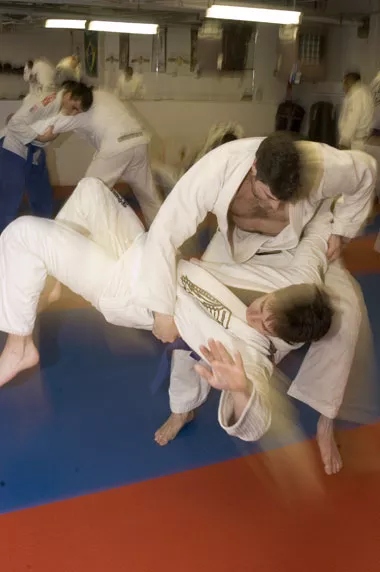 Matthew Thorsen
Julio Fernandez
Watch a 7D video on Brazilian Jiu Jitsu
A dozen men dressed in white martial-arts gi jog around a room covered in blue-and-red-striped mats. Pairing up, they start an exercise that looks like plowing, each one moving as quickly as he can while dragging his partner, who holds tightly to his belt. Rolling break-falls to the left and right follow, with loud thwacks when legs hit mats. Another partner routine serves up a sight you don't often see: a roomful of adults carrying each other piggyback while running full-tilt in a circle.
Despite the strenuous warm-up, most of the guys are only slightly winded by the time they pair off again to practice a combination - four punches to the face, then a knee to the gut. A second scenario emphasizes self-defense during street fighting: An attacker gets an elbow to his neck; then two hands bring his head down for a knee to the face.
Welcome to the beginners' class at the Vermont Brazilian Jiu Jitsu and Self-Defense Academy. After nine years in Burlington, the school relocated to its current space on Leroy Road in Williston in early March. In addition to Brazilian jiu jitsu, the school offers cardio boxing, kids' classes and special self-defense courses for women.
At tonight's class, the instructor, energetic, bright-eyed Julio Fernandez, teaches the next combination, raising his voice over a pulsing background of Brazilian techno: "If I grab like this my hands, I don't have much power here." He moves his hands 90 degrees, from the sides of his leg to the front and back, just above the knee. "Here, it is very hard to get out of the hold. Hand on top! Bring it up!"
As a martial art, BJJ is all about submission grappling: quickly getting your opponent into a position in which he can't move without putting himself in pain. Its main principle is that with leverage and proper technique, a smaller, weaker person can overcome an assailant who's much larger and stronger.
A multicultural martial art that originated in South America might seem incongruous in northern Vermont. But BJJ has put down roots here. Fernandez emigrated to Burlington from Rio de Janeiro in 1989, after a five-year stint as that country's featherweight BJJ champ. President of the Brazilian Jiu Jitsu United States Association, he's the school's founder and only teacher - but not its only success. Fernandez helped train Tom Murphy, a St. Albans resident who won the 2006 Las Vegas Ultimate Fighting Championship heavyweight title fight, using his BJJ moves.
Most Americans associate BJJ with the UFC, a cable-TV and video franchise that sponsors semiannual mixed-martial-arts showdowns. But the history of the combat sport goes back much further. BJJ is unique among modern martial arts in that it's intricately tied to one family. In 1914, Mitsuyo Maeda, a globe-trotting Japanese judo expert, settled in Brazil, where a businessman named Gastão Gracie helped him get established. In return, Maeda taught Gracie's son Carlos all he knew.
Carlos taught the art to his brothers, and then to the next generation: 11 of his 21 children earned black belts in the family fighting style. Several opened schools of their own, among them Carlos' oldest son, Carlson Gracie, who began teaching in Rio de Janeiro and later moved to Chicago. He's credited with popularizing the fighting form by divulging combinations once known only within the family. One of his protégés was Julio Fernandez, who studied with Gracie for more than 30 years. Before his death last February, Gracie offered annual workshops at Fernandez's Vermont academy. Decals with the Carlson Gracie logo - a spike-collared bulldog baring sharp teeth - still adorn the door.
Grimaces of concentration are visible around the room. Some of the students, all twenty-to-fortysomething guys, really are able to throw partners twice their size. Fernandez singles out a tall student with a purple belt and a shaved head to demonstrate the next step: what to do once you get your assailant on the ground. With the model on his back, Fernandez leans his hand into his opponent's shoulder, making him raise his arm. He immobilizes his target's entire upper limb with a "figure-four" grip and lifts just a little, putting painful pressure on the shoulder joint. The demo model signals submission by tapping his foot.
Next, Fernandez discusses some not-for-the-classroom add-ons to consider when you're in a jam. "If you go in the street, it's all about damaging the guy, right?" He kneels gently on his long-suffering assistant. "Some people have strong stomachs, so he won't feel a knee in the stomach, but he'll feel a knee here, on his lungs. The lungs are two small boxes. If you have 100, 200 pounds on your lungs, you'll notice." He runs through the arm-lock sequence once more. Then, cranking up the music again, he grins and shouts, "Vamos! That's Portuguese for 'Let's go!'"
Fernandez radiates gentility, and he's so at home on the mats that it's no wonder his pupils trust him with their joints. He's got the experience: In Rio de Janiero, he fought nearly 200 BJJ matches on Carlson Gracie's team, and he currently holds a sixth-degree black belt.
BJJ wasn't Fernandez's first competitive sport, though. Born in Copacabana, he earned his nickname "Foca," meaning "sea lion," by starting to surf at age 5. By 17, he was winning surfing championships on the pier in Ipanema. The teenage Fernandez also studied capoeira, a legwork-laden Brazilian fighting form he describes as more like a folk art and a way to get in shape: "Like Tae-bo: it's for the exercise. You don't learn it if you're going to fight somebody."
That distinction matters, because BJJ is for the streets, not just the gym. Street fighting is alive and well in Brazil, in vale tudo matches, where literally "anything goes," as long as it's unarmed combat. Personal defense is a priority in Rio de Janeiro, where crime and drugs are still big problems. Fernandez started studying BJJ partly because Carlson Gracie's school was three blocks from his parents' house, he says, but also "because I wanted to learn an effective, realistic martial arts style so I'd be able to defend myself and my family."
Fernandez and his wife moved to the Burlington area in 1989, to raise their son. The next year, Fernandez started offering private lessons in BJJ. At the time, Vermonters were studying karate and Tae Kwon Do, but few had heard of Brazilian jiu jitsu. Fernandez remembers exactly when that changed: "After 1995, when Royce Gracie won the UFC four times in a row, fighting five or six matches nightly and beating people 100 pounds over his weight." Now he teaches four nights a week and Saturday mornings; by day he's a financial contracting analyst for GE Healthcare.
The beginners' session is followed by the advanced class, which features more complicated combinations, such as a set of moves that proceeds through pretzel-like poses until the defender cinches the attacker's head with his upper leg while pulling his arm straight, painfully hyper-extending the elbow joint. Fernandez explains that beginners learn by repetition and sharpen their moves, while advanced students go into more detail. Most of Fernandez's students are male, but one woman in the advanced course holds her own among the burly crowd. Fernandez encourages partners to pair at random: "They train with everybody. Work with someone at a lower level, and that's how you reach a higher level yourself."
Several participants wear gi that mark them as members of Fernandez's competition team. Though many of his students prefer to focus on self-defense, he encourages those who want to compete - a valued tradition in the sport. "Last year, I had people compete in holds-barred stuff, and the Pan-American championships," he says. "I've even had people compete in Brazil."
The two annual mixed-martial-arts tournaments held in Vermont are open to karate, aikido, judo and wrestling experts, as well as BJJ fighters. This year, the spectators-welcome spring tourney is slated for April 7 at Winooski Education Center, and will host members from a BJJ school in Richmond as well as a BJJ club at UVM.
Fernandez says his students respect the fighting form's streetwise authenticity: "They see on TV that the majority of successful contestants in the UFC competition are using BJJ. It's not WWF - that stuff's fake. Those BJJ guys are technicians, and it's real. In reality, on the street, you want to be ready."
Despite BJJ's emphasis on defeating opponents, Fernandez says safety is paramount. "Nobody gets hurt here. If I see someone being rough, they get a warning. Three warnings, and they're out, or there's a change."
"Train like a lady, fight like a lion" is his favorite saying. "There's a safe and positive environment on the practice mats," he explains. Decorum and consideration take precedence during training, but ferocity rules in the ring during competition.
In lieu of a formal cooldown, the advanced class winds up with a sparring session. While his students practice, Fernandez strides around the room watching their technique.
As the class ends, a small pool of sweat shines on the floor where the demo volunteer has been pinned multiple times. True to Fernandez's training maxim, his tired students head for the changing room with amiable grins, handshakes and backslaps, no offense taken.