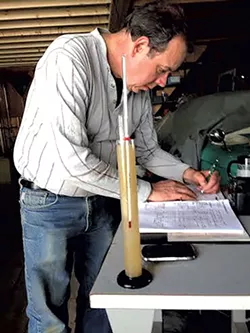 Courtesy of Hogback Mountain Brewing
Kevin Hanson
Friends and family have been enjoying Kevin Hanson's beer since the 1990s. But the sixtysomething Bristol native waited until retirement to toss his bottles into the local beer market.
"I'm at the point in my life when I can do something less stressful than my previous job," he tells Seven Days. Given his longtime interest in brewing, coupled with the awards his handmade suds have taken in regional competitions, beer "seemed like a natural fit."
Last week, Hanson sold 10 cases of Hogback Mountain Brewing beer — produced in micro-batches on a one-and-a-half-barrel brewhouse in his barn — to Bristol Discount Beverage & Redemption.
Hogback's inaugural brews include a malty pale ale dubbed 1st Run, produced with Bristol-grown Chinook hops; and Drake & Smith brown ale, a dark, chocolaty quaff with a hoppy finish. The labels (1st Run is part of Hanson's experimental Carriage Barn series) feature the names and images of longtime Bristol businesses, in homage to the brewer's hometown history.
Up next, Hanson says, he's working on a porter, which he'll pour alongside last week's releases at a tasting party at Bar Antidote in Vergennes on Thursday, November 19.
Hanson says his beers will remain on draft — when available — at Antidote thereafter, and that he will begin shopping beers around to other Addison County bars and restaurants as supplies allow.
"Once I get more capacity, I'll probably be beating the bushes a little more," Hanson says, noting that he's chosen a labor-intensive "entrepreneurial adventure" for his retirement.
"It's not a part-time job by any stretch of the imagination," he says. "As a matter of fact, a couple [Vermont] breweries have decided to throw in the towel recently because they were trying to do it as a part-time thing." Those would be Northfield's Paine Mountain Brewing and Sheldon's Liftline Brewing, both of whose owners cited lack of time as their dominant reason for closing. But Hanson hopes his full-time focus and decades of experience will keep Hogback brews on the market for years to come.