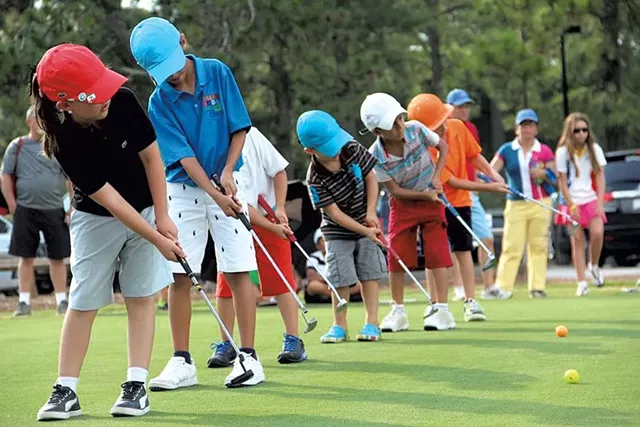 courtesy of steve gonsalves
Imagine a sunny summer Saturday where you and the kids head to the golf course, hit a few balls, then unwind with Ping-Pong, hot dogs and cold drinks. That vision will soon be a reality thanks to Steve Gonsalves, owner of Gonzo's HD Sports in South Burlington and PGA director of instruction at Kwiniaska Golf Club in Shelburne. This spring he launched the Kwini Club at Kwiniaska, a new initiative to get families to the green. Gonsalves will offer 10 weeks of all-day golf camps in June, July and August, where kids ages 8 to 15 will play games and hone their technique in the morning, then spend the afternoon practicing on the Kwiniaska course. He'll also run hour-long Saturday clinics for 5- to 8-year-olds. Under a 40-by-40-foot tent, which Gonsalves calls "the big top," picnic tables, a horseshoe pit, and Ping-Pong and pool tables will provide post-golf entertainment for families who have paid for golf-course access. A food-and-drink stand will serve up sandwiches, hot dogs and soft drinks — and beer for the grown-ups. There's also a new chipping green with nine par-three practice holes where Gonsalves envisions families noshing on barbecue and practicing their form, "like Putt-Putt," says the pro, minus the windmills and Astroturf.
The Kwini Club at Kwiniaska is located at 5531 Spear Street in Shelburne. Camps for golfers, ages 8-15, will be offered from June to August. Saturday clinics for kids ages 5-8 will be offered on Saturdays. Find out more at 233-6019 or kwiniaska.com/junior_golf_academy.