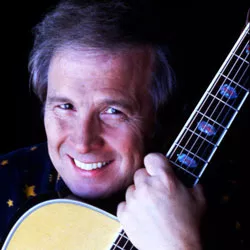 Don McLean doesn't want to talk about "American Pie." You can hardly blame him, though. Despite a 40-plus-year career, the songwriter is almost singularly identified with that iconic, eight-and-a-half-minute folk-rock tune. Released on an album of the same name in 1971, it ruled the charts for four weeks, and now ranks fifth on the Recording Industry Association of America's 365 Songs of the Century.
So, what did Seven Days do when we spoke with McLean in advance of his Tupelo Music Hall show this weekend? We asked him about "American Pie," of course. But rather than focus on what the song "means," or on any statement McLean might have been making with it, we wanted to know if he felt the song was as much curse as blessing. It certainly made him a star. But it also overshadowed the remainder of his musical output. Was "American Pie" a double-edged sword?
"I don't answer those questions," said McLean coolly.
Uh … OK. Why not?
"Think about it and you'll come up with the answer."
Perhaps it's because music fans, scholars and journalists have spent the past four decades dissecting the tune, which recounts the "day the music died": that is, the day in 1959 that a plane crash killed pop stars Buddy Holly, Ritchie Valens and the Big Bopper (Jiles Perry Richardson Jr.). McLean himself is on record for never analyzing the song. Of his cryptic lyrics he says, "They're beyond analysis. They're poetry." While legions of English majors may defend the viability of deconstructing poetry, McLean can be excused for declining to navel gaze. Maybe he just wrote a song, like any of a hundred others he's written and never analyzed.
Maybe he's just tired of explaining himself to reporters. Maybe he's run out of things to say. Or maybe he's irritated about Weird Al Yankovic's Star Wars-themed send-up, "The Saga Begins." Granted, it is among Weird Al's lamer efforts.
McLean will forever be linked to a single song, but he's far from a one-hit wonder. He has charted with several other tunes that he penned ("Vincent," in 1972) or covered (Roy Orbison's "Crying," in 1981). Furthermore, to call "American Pie" a mere "hit" is a gross understatement. "Wannabe" by the Spice Girls was a hit. Love it or hate it, "American Pie" is historic. And yet McLean is not usually mentioned in the same breath as Bob Dylan, Paul Simon, Joni Mitchell or other "great" American songwriters of the same era. Ironically, "American Pie" itself may be partially to blame.
"It's dangerous to do anything that is a phenomenon," McLean says. "And that song was a phenomenon. What happens is that people go all ga-ga and get weird, and they just don't behave rationally toward the song or toward you. In that sense, it messes up any logical career progression."
After American Pie, McLean released a pair of albums — a self-titled record in 1972 and a 1973 covers album, Playin' Favorites — that intentionally eschewed any stylistic or thematic relation to the song that put him on the musical map. Neither album fared well commercially. By 1976, McLean had been dropped from two labels. Following a brief resurrection in the early 1980s with "Crying," he again disappeared from the public eye. In the decades since, his career has been something of a roller-coaster ride, marked by fleeting resurgences of interest — usually related to "American Pie," as when Madonna covered it in 2000.
McLean considers himself an outsider — perhaps a strange assertion, given his fame. He says he never had the same countercultural ideals as his folkie contemporaries — including his early mentor, Pete Seeger — who were virulently antiestablishment.
"I enjoyed being around people in that scene," McLean recalls. "But one of the reasons I walked away from that in the 1970s was that … there was a lot of hatred. People that hated everything about America and hated everything about everything."
In other words, McLean was anti-antiestablishment. Surprisingly, he cites "American Pie" to illustrate that disconnect.
The song "is a perfect representation of me, and it's a very good representation of the fusion aspect of my music, which is: I have fused together early popular music, '50s rock and roll, and folk music," he says. "Most songwriters who were in the singer-songwriter bag pretty much rejected establishment popular music. Their music was supposed to be the antiestablishment music. But I did not do that. I didn't care … So, that's why I'm an odd bird."
And he continues to be. Despite another recent resurgence following successful international tours, McLean says he's calling it quits. For him, the day the music died was not when Buddy Holly's plane crashed but April 19, 2010 — the date his last album, Addicted to Black, was released in the United States. Though the 66-year-old will continue to tour for as long he's able, he says that record will be his last composed of original material. It seems that Don McLean no longer believes in rock and roll.
"There is no more music business. It's finished," he says. "I'm not going to go out there and constantly be flogging some album that I care about and no one else gives a damn about. The hell with that. I've done my best work, and I've said most everything I have to say."
So, bye-bye … well, you know.