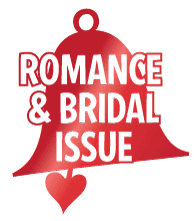 The key detail WPTZ meteorologist Tom Messner remembers about his wedding day? The weather.
An ice storm swept through that day in 1994, the toothy TV weatherman recalls, and threatened to shut down the entire region. Tom and wife-to-be Kate were eloping, and a burst pipe in their home drenched their plans for a stress-free wedding day. The bathroom was flooded, and the walls had to be ripped out. Undeterred, they made it to a church to say, "I do" in front of a handful of witnesses before hopping a plane for their Caribbean honeymoon.
In their wedding photo, a younger Messner and his new bride look happy as can be — despite the missing drywall and exposed insulation behind them. What did they care? In a few hours, Mr. and Mrs. Messner would be in sunny Barbados, where, Tom says, "The water pipes seemed to work just fine and the weather was perfect!"
For this year's Romance & Bridal Issue, Seven Days asked some local celebs to share a wedding photo and a story from their special day. Seven couples did.
Far from the generic studio portraits often associated with nuptials, the snapshots we received are candid and casual, offering an intimate glimpse into the lives of Vermonters widely known for their talents. You ride their snowboards, eat their ice cream, laugh at their jokes and rely on them for the weather. Now see them on their wedding days — and chuckle at all that hair!
Chris Bohjalian & Victoria Blewer picture perfect: Bestselling author Chris Bohjalian and photographer Victoria Blewer tied the knot at the Brick Church in Manhattan on October 13, 1984. "I had hair then; Victoria looks remarkably the same," says Chris. "In the '80s, it really was all about the hair — even on your wedding day. And we're smiling a lot, but we only got happier."
Tom & Kate Messner weathering the storm: WPTZ chief meteorologist Tom Messner and wife Kate eloped on January 28, 1994 — during a big ice storm. Offers Tom: "Ice storm + burst water pipe = crazy wedding day."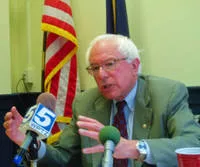 Bernie & Jane Sanders beach party: On May 28, 1988, Sen. Bernie Sanders, then the mayor of Burlington, married Jane Driscoll on North Beach in the Queen City. Pictured with the newlyweds are their collective offspring from previous marriages (from left): Dave, Levi, Bernie, Jane, Heather and Carina. Davey, as he was then called, walked Jane down the aisle, and Levi was Bernie's best man. Heather and Carina were maids of honor.
Jerry Greenfield & Elizabeth Skarie scooped off her feet: Ben & Jerry's cofounder Jerry Greenfield and Elizabeth Skarie were married on February 26, 1987, at the Mahoe Bay campground in the U.S. Virgin Islands. "We were on vacation," Elizabeth says, "and decided to get married." The officiant said he was a minister of the Church of Metaphysical Science — and a jazz musician. Elizabeth is holding a bouquet made from twigs and gummy candies by one of the kids in their party.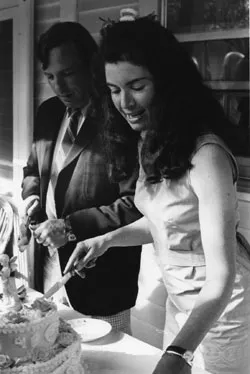 Sabra & Spencer Field sweet serves: Vermont artist Sabra Field married husband Spencer in Woodstock on May 25, 1974 — the third anniversary of the day they met. Three years before, Spencer had loaned Sabra his special Epinal knife to pick fiddlehead ferns. When she returned the knife, Sabra included an invitation to dinner in East Barnard. "Spencer never left," Sabra says, "and now it's almost 36 happy years later."
Steve & Janet Cormier altar-cation: Radio personality Steve "Corm" Cormier married Janet on June 11, 1983. Their first argument happened while they were kneeling in church, Corm says, after a whispered dispute over baseball between the groom and best man provoked a long "shhhhhhh" from the bride. Janet didn't find it funny then, Corm says, but "27 years later it makes a great story — one that actually comes up at least a couple of times a year."
Jake & Donna Carpenter jailbait?: Burton Snowboards cofounders Jake and Donna Carpenter got hitched on May 21, 1983, in Greenwich, Conn. Only 12 attended the wedding ceremony at Donna's parents' home, but the reception had 400 guests. The weather was torrential rain, thunder and lightning, and the couple thought about calling the whole thing off and returning the wedding gifts. "Not kidding," Donna says. Instead, they went on their prepaid honeymoon and remain together 26 years later. And the "Jailbait" photo caption, which Donna provided? "I look like I'm about 12 years old, and Jake has kind of a devilish grin on his face," she says. "In reality, I was 19 and he was 28."