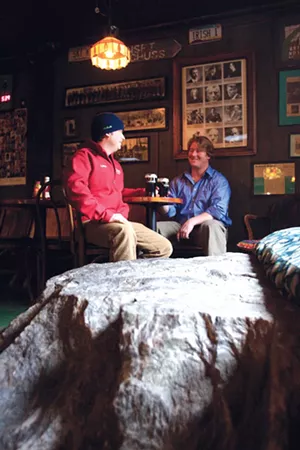 Justin Cash
McGrath's Irish Pub
When bars advertise they've got "rock," they're usually talking about music. At McGrath's Pub, in an inn on Pico Mountain, they mean it literally: The dining room and pub are built around a massive boulder.
In addition to nature's contribution to the decor, the bustling bar area is packed with Irish memorabilia, from gaudy Guinness ads to facsimiles of historical documents. On one blustery day, hungry patrons in ski clothes watch rugby on a massive, flat-screen TV and suck down pints of ale. In one corner, a digital clock counts down 'til the next St. Paddy's Day. The fun, friendly vibe is enhanced by Irish music, from classic tunes to U2 hits.
It's no surprise that the cuisine skews the same way as the songs. A corned-beef plate, bangers and beer-braised onions all grace the menu. And, of course, there's a thick Irish stew, made with hunks of beef, potatoes, carrots and peas — and just a hint of beer.
Not interested in eating Irish? There's roasted duck with pear sauce, a vegetarian strudel and a very Vermont-y baked veal with maple ham and cheddar, too.
Appetizers range from $2.94 for a bowl of soup to $6.50 for seafood-stuffed 'shrooms. Entrées max out at $22.95.
After a day on the slopes, this cozy restaurant guarantees a rockin' good time.