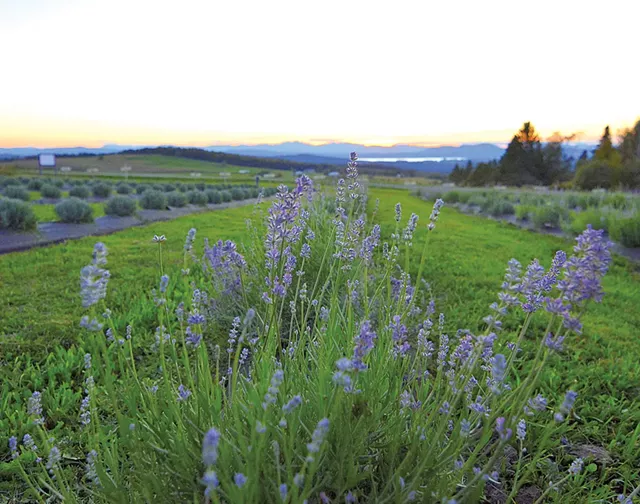 Courtesy of Lavender Essentials of Vermont
Lavender Essentials of Vermont
Lavender Essentials of Vermont
Lavender is a known healer — the flowering plant has antiseptic, antimicrobial and anti-inflammatory properties. It also smells great and is used in aromatherapy to foster peace of mind, emotional balance and overall wellness.
So a visit to a lavender farm just might be the breath of sweet-smelling air Vermonters need in a stressful, uncertain year. This is the fourth year Michele and Pierre Capron have been harvesting lavender and selling aromatherapy products — and the second year they've opened their Derby farm to the public.
The 50-acre farm lost a lot of its lavender crop in the spring. "Mother Nature isn't always kind. It's not always predictable," Michele said. But she replanted, and the new crop is expected to bloom in late August. Meantime, there's plenty to do and see during a visit.
Wander the lavender labyrinth, inspired by the work of expert labyrinth designer Lars Howlett. Pick your own sunflowers, mint and chamomile. Shop the farm store, full of fresh vegetables and lavender products ranging from lotions and oils to smudge sticks and maple syrup. Enjoy the solitude of primitive, no-hookups camping — all groups are placed an acre apart for easy social distancing. Sign up for a romantic date night in the gazebo, complete with s'mores and heart-shaped sparklers, or stargaze through a telescope. Visit on the weekend for proper cream tea, served with lavender sugar cookies and lavender-blueberry jam.
Or just stroll the fields, inhaling deeply. The farm is open for drop-ins Wednesday through Sunday, 10 a.m. to sunset. "You're bound to meet me and my mom," said Michele. "This is definitely a family farm. We're trying to offer something different and affordable and an experience — the romanticism of a lavender farm on a former dairy farm in the Northeast Kingdom."
Also try:
Dog Mountain
143 Parks Rd., St. Johnsbury, dogmt.com
Tristan Von Duntz
The chapel at Dog Mountain
Dog Mountain pays homage to our best friends with hiking trails, ponds for dogs to swim in, grassy fields, a Dog Chapel and a gallery devoted to the folk art of its creator, the late Stephen Huneck. It's not just dog friendly; it's a nonstop dog celebration. Canines can sniff, run, pee, play, romp and sniff some more, all of which is just fine.
The 150-acre property in St. Johnsbury is open year-round and offers scenic mountain views. In non-pandemic times, its concerts and "dog parties" draw hundreds with two legs or four. These days, visitors can still hike through fields lined with wildflowers and into dense forest. Dog Mountain does request, however, that to enable social distancing, you leash your pet — a first — and wear a mask when around other guests. There's plenty of room to spread out, though.
Check out the gallery, where Huneck's artwork is on display and for sale. It's open 10 a.m. to 4 p.m. on weekdays and until 5 p.m. on weekends.
The same hours apply to the Dog Chapel that Huneck built. "Welcome," says the sign out front. "All creeds, all breeds, no dogmas allowed." Inside, thousands of people have pinned photos and notes of gratitude on the walls, recalling the companionship of pets they have lost. One sample: "The terror who loved everyone."
Even in these divisive times, we can all agree that dogs rule.
Also try:
Drive-In Movies
Sunset Drive-In, 155 Porters Point Rd., Colchester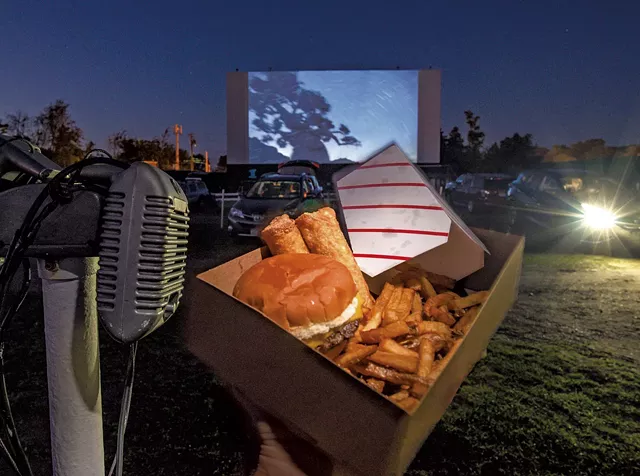 Glenn Russell ©️ Seven Days
Goodies from the snack bar at the Sunset Drive-In
Since the pandemic closed Vermont's indoor theaters in March, most of us have been watching movies on our couches. But warm weather and the loosening of lockdown restrictions brought another option that is both refreshing and retro: the drive-in theater.
For many, it's the quintessential American summer experience: Buy the tickets, tune the radio, get some popcorn and settle in for a picture show. Yet, just six years ago, Hollywood's transition to digital cinema threatened the survival of drive-ins across the U.S. In Vermont, three were left when the dust settled: Colchester's four-screen Sunset Drive-In and the one-screen theaters in Bethel and Fairlee.
Now, all three invite pandemic-weary Vermonters to soak in the magic of the big screen, with built-in social distancing and additional safety precautions. Most theaters have online ticketing; some deliver concessions to your car.
And there are newer, pop-up options. Rutland's Paramount Theatre has been holding sold-out drive-in movies on the Vermont State Fairgrounds, with plans to open another screen in Brandon. Up north, Moonrise Cinemas shows movies on a 52-by-26-foot screen on the Caledonia County fairgrounds in Lyndonville during the month of August. It will move to another, to-be-determined location for September.
This sudden drive-in renaissance has a fringe benefit for movie fans. Because Hollywood's big releases are on hold, the drive-ins are mixing up newer fare with older favorites that many younger viewers have never seen on a big screen: E.T.: The Extra-Terrestrial, Footloose, Jurassic Park, Galaxy Quest. Want to see Jaws the way so many scared-stiff moviegoers did in the summer of 1975, in a car under the stars with crickets in the background? Turn off your phone and drink it in.
Also try: