Countless Vermont drivers have grumbled for years that gas prices in Chittenden County are always higher than everywhere else in the state. Lawmakers have held hearings, grilling gasoline wholesalers about their pricing strategies. They've contemplated legislation that would require sellers to disclose more information about their practices.
But nothing changed. Recently, though, gasoline business skeptics scored a couple of legal victories.
On August 5, the Vermont Supreme Court unanimously rejected Skip Vallee's years-long efforts to prevent Costco from selling cheap gas at its Colchester store, which is within walking distance of one of his filling stations. Vallee, a Republican national committeeman who raised money for George W. Bush, owns the Maplefields convenience store chain. His legal argument against Costco was built around concerns about traffic and the impact on nearby wetlands.
Costco insisted that Vallee wasn't interested in conservation but in stifling competition.
In a separate lawsuit, Chittenden Superior Court Judge Helen Toor gave a boost to a high-stakes class-action lawsuit against local gas companies. In May and again in July, Toor denied pleas from Vallee and three other wholesalers to dismiss a $100 million class-action claim accusing them of conspiring to rig gas prices.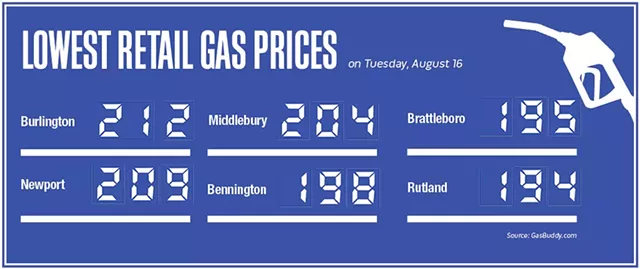 Unless it's overturned, Toor's decision will force the businesses to spend "millions of dollars" on the case and potentially bankrupt them, the gas companies claimed in an appeal that is part of the court record. The decision also paved the way for the plaintiffs to issue a flurry of subpoenas seeking records from some of the defendants' cohorts and customers, in hopes of digging out more evidence to prove their case.
In July 2015, six residents of Chittenden, Franklin and Grand Isle counties filed the class-action lawsuit under the state's Consumer Protection Act. They allege that gas prices in northwest Vermont do not rise and fall in relation to the wider market and that the companies have not competed with each other. They further charge that prices dipped when state officials convened legislative hearings about gas business practices, despite overall rising costs at the time.
In other words, they are alleging that the four parties colluded.
Charleston, W. Va.-based Bailey & Glasser represents the plaintiffs. Specializing in multimillion-dollar class-action suits, the heavy-hitting firm scored a $60 million settlement against a financial company that allegedly swindled 401(k) investors and is currently embroiled in a class-action lawsuit against Walgreens over claims that the pharmacy chain misled consumers about its herbal supplements.
Each of the four Vermont defendants — Vallee's R.L. Vallee, SB Collins, Wesco and Champlain Oil Company — has hired its own high-powered attorney. Together, those four companies allegedly control nearly 70 percent of both the retail and wholesale gasoline market in the region, according to the plaintiff's lawsuit.
Those sellers are simply engaging in normal market practices, their lawyers say, while being targeted by "paper-thin" allegations that are not supported by hard evidence.
"Despite its length," they wrote in a court filing, the lawsuit against their clients is "devoid of any allegations that would plausibly suggest the defendants entered into a price-fixing agreement with one another."
"Boiled to its essence," they continued, "plaintiff's complaint alleges nothing more than gasoline prices are higher in certain parts of the state than in others. That allegation is no more suggestive of a conspiracy than it is of different geographic markets with different competitive characteristics."
Attorneys representing the Vermont gasoline companies declined to comment for this story. "We will let our court filings speak for themselves," said Burlington attorney Tristram Coffin, the former U.S. attorney in Vermont, who represents Vallee.
The companies tried to score an early knockout by asking Toor to throw the lawsuit out of court. But Toor noted that Vermont law allows price-fixing conspiracies to be proven without direct evidence: A case can be built on circumstantial evidence about prices and other factors.
The defendants have asked the Vermont Supreme Court to overturn Toor's decision.
Meantime, on Tuesday, the lowest price of regular gas in Rutland was $1.94; in Bennington, $1.98; in Brattleboro, $1.95; and in Newport, $2.09.
In Burlington, it was $2.12, according to GasBuddy.com, a private company that tracks gas pricing and analyzes the market. GasBuddy.com gathers data via crowdsourcing.
Why are gas prices consistently lower in southern and even remote corners of Vermont than they are in the state's most populous region?
For the same reason that you will likely pay more for a beer in Burlington than in Rutland, according to Gregg Laskowski, a senior petroleum analyst for GasBuddy.com.
He said prices are higher in the Chittenden County area because of its relative wealth and its ability to lure visitors, who in turn drive up demand.
"It's a point we hear in many different parts of the country. We hear it in markets like yours that are attractive for tourists," Laskowski said. "You have a very affluent consumer base ... and that means there is less price sensitivity to gas and almost anything, like grocery items. Those are areas where retailers will charge whatever they think the market can bear, and there's no law against that."
Moreover, Laskowski said, the discrepancies in gas prices in the state may not be as large as many Vermonters think.
GasBuddy.com monitors the average daily spread — the difference between the cheapest and the most expensive gasoline sold — in other markets. In 2015, Vermont's average spread was 30 cents a gallon, which Laskowski said was "fairly low." Massachusetts' spread that year was 48.7 cents per gallon; New Hampshire's, 33.4 cents; New York's, 60 cents; and Maine's, 30.3 cents, he said.
Thus far, court documents don't indicate that the plaintiffs have uncovered any hard evidence of gas price-fixing, or that they have a whistleblower who could spill the beans. They have even withdrawn one of their most incendiary allegations in the lawsuit: that the four defendants had met and hashed out an agreement to fix prices.
Now, according to court records, they are merely suggesting that the gas sellers had an "opportunity" for such a meeting.
But they may soon learn more.
On July 25, subpoenas went out to two of the defendants' customers, Handy's Service Stations and Simon's Premium Gas, as well as two trade groups to which the defendants belong: the Vermont Retail & Grocers Association and the Vermont Petroleum Association.
The subpoenas seek an array of documents, including communications with the defendants, contracts, tax filings, minutes of meetings and scripts of presentations.
The defendants have asked Toor to quash the subpoenas.
From this point on, the legal hurdles required to prove a price-fixing claim will only get higher, Vermont Law School assistant professor Ken Rumelt said. The plaintiff's attorneys will eventually have to persuade Toor to certify that they represent not just their six clients, but a much larger "class" of people — potentially tens of thousands of customers who have been wronged by the alleged price-fixing. Vermont residents would likely receive letters notifying them of the lawsuit and offering them a chance to participate in any settlement or judgment — simply by signing their name.
A similar process will soon play out in Bennington County. In May, a handful of residents filed a class-action lawsuit against Saint-Gobain Performance Plastics. They allege that the company contaminated wells used by hundreds of local residents by polluting the air and water with the chemical PFOA.
Such class-action lawsuits generally take anywhere from three to 15 years to resolve, according to Rumelt.
And payouts vary in size. Local residents who claim they paid too much for gas shouldn't expect to receive a windfall.
"In the Bennington case, if the plaintiffs succeed, they could be looking at significant, tens to even a hundred thousand dollar awards," Rumelt explained. In contrast, in claims that involve a vendor, for some charge they put on the user, he said, "you're looking at little coupons, maybe 10 or 20 bucks."
The cases generally prove a lot more profitable for attorneys, who typically are paid a significant percentage of a settlement or judgment. But Rumelt said class-action suits are the most effective way of pursuing complex cases involving multiple plaintiffs.
"The lawyers in these cases can make an amount of money that is seemingly disproportionate, but they're really the only way that some of these claims get made, because a lawyer isn't going to take a case that's only worth $40," he said. "The only way consumers can get justice is really through the class-action mechanism."