Alice Levitt
P&H Truck Stop
Truck-stop fare tends to get lumped into the fast-food category: Both are quick, convenient and available 24/7. But P&H Truck Stop, at Exit 17 on I-91, has another thing going for it: The food is really good. At the Northeast Kingdom diner, beloved by Jane and Michael Stern of Roadfood fame, everything from pies to pickled beets is made fresh, using local ingredients whenever possible.
2886 Route 302
Upper Valley
Wells River, VT
802-429-2141
American (Traditional) and Diner
Take the Blue Mountain Elk Burger: The juicy, splendidly seasoned patty on a house-baked bun is pure Vermont. Maple syrup, tapped in Hardwick, is dark and abundant. Pour it on thick slices of French toast, and you won't be hungry again till you arrive in French-speaking Canada. For the benefit of truckers who hail from across the border, the P&H menu is bilingual. Somehow ordering a hot meatloaf sandwich feels more elegant when it translates as "Un Sandwich de Viande Hâchée Chaud."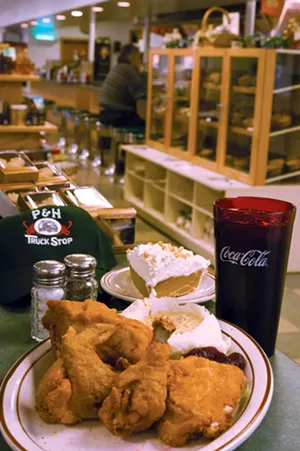 Alice LEvitt
P&H Truck Stop
The gravy-drenched sandwiches of pot roast and turkey are deservedly acclaimed by magazines such as Gourmet and Every Day with Rachael Ray. The P&H version of fried chicken nearly transcends the limits of language: The moist meat is girded with a thick covering of faintly spicy, slightly salty batter that remains thoroughly crunchy even under a slathering of creamy yellow gravy. The same sauce covers an ice-cream scoop of buttery mashed potatoes.
An entire wall of the truck stop is stacked with shelves of refrigerated pies, cakes and cookies. (The building also houses showers, beds and a small arcade.) Make sure to save room for a slice of chocolate or coconut-cream pie, or a maple-and-chocolate-glazed doughnut that feels so light you want to eat it before it floats away. And before you drive off into the sunset, in a Peterbilt or a Prius.