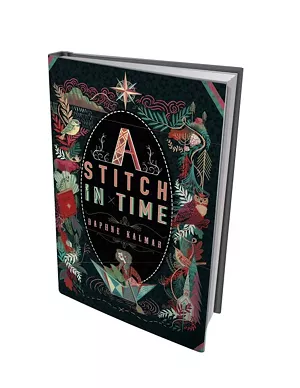 Daphne Kalmar brings along a taxidermy mouse named Bob when she shares her middle-grade historical fiction novel, A Stitch in Time, with kids at schools and libraries. It's an outside-the-box presentation, but Kalmar is a bit outside-the-box, too. She became a first-time novelist at age 63 when A Stitch in Time was released in June. Before turning to writing full time, she had a career as an elementary and middle school teacher, with prior stints as a short-order cook and apprentice electrician.
Kalmar's book centers around 11-year-old Donut, a plucky, headstrong protagonist growing up in rural Vermont in 1927. Recently orphaned, Donut protests what she perceives as the world's injustice when her Aunt Agnes — who wears "a dress so full of flowers, so pink and purple, it was looking for a fight" — insists Donut move to Boston with her.
Determined to escape, Donut rows a small metal boat, built by her father, across a lake. On the other side, she takes refuge in an unused hunting cabin. Surrounded by people who care for her, including her taxidermist godfather, Donut undertakes a coming-of-age journey.
Last month, Kalmar took a break from writing to speak with Kids VT at the bustling Buffalo Mountain Food Co-op & Café in Hardwick, where she lives.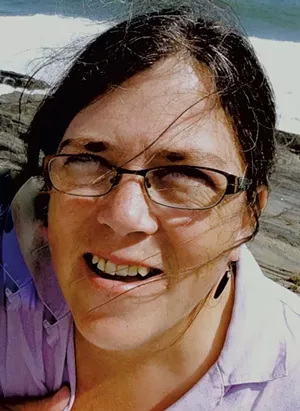 Kids VT: What made you choose to set the book in 1927?
Daphne Kalmar: I think, first of all, I wanted to write a book about a time that wasn't some monumental moment, that wasn't tied to a war or a depression. It would be the life of a kid in the past... I think part of what I was exploring was how death was approached back in the day... Right now, we avoid it at all costs. Most kids have never seen a dead body. They haven't even seen a dead animal. It's considered extraordinarily traumatic, rather than a part of being alive.
KVT: You read journals from that period?
DK: The thing about Vermonters is that their journals are totally quantified. Picked two bushels of apples. Caught 40 perch. Six inches of snow. They might say someone visited. But there is no emotional content at all, which is a little frustrating, but it's informative, too... It's very New England.
KVT: Can you speak a little about why taxidermy is important in your novel?
DK: Taxidermy is a hands-on approach to death, but it's also an illusion. It's a denial, a sort of a magic trick to avoid the fact that this creature should be lying on the floor looking very much not alive. The original taxidermists who did all the natural history museum works were real artists... It was the only way most people in those days saw exotic animals. In fact, it encouraged conservation, ironically. The presentation of these animals in all their beauty gave people a sense of reverence.
KVT: How accurate are the details from the past in A Stitch in Time?
DK: My first fan letter was from an 87-year-old man who read the book to his wife at a nursing home. He grew up on a dirt-road farm, and he listed all these things he noticed from when he was a kid that were in the book. It was really cool.
KVT: Tell us about your next middle-grade novel, which will be released in the winter of 2020.
DK: It's set in 1974 in Somerville, Mass., the summer Nixon resigned. It's about bad presidents, and a bad mother. She runs off... To be sympathetic to her for just a moment, she's not evil ... but I'm presenting it from the girl's point of view, for whom it's unforgivable. I'm exploring the idea that children do not owe forgiveness to parents.
As part of the Traditional Christmas in Stowe festivities, Kalmar will read from her book on Friday, November 30, at 3:45 p.m. at the Stowe Free Library. For more information, visit daphnekalmar.com.
The Fairbanks Museum & Planetarium in St. Johnsbury boasts an extensive taxidermy collection and a historical display of the craft. Specimens come from Vermont and around the world. They include birds, snakes, Arctic creatures and the extinct passenger pigeon. Find more at fairbanksmuseum.org