courtesy of Goddard College Archives
Goddard College students, 1971
Over the past 45 years, Vermont has catalyzed socially conscious capitalism by churning out Ben & Jerry's; reenergized rock and roll by spawning Phish, the ultimate jam band; transformed culinary culture by pioneering organic farming and locavore cuisine; and seismically shaken the political establishment by enabling America to feel the Bern.
Each of these examples of Vermont-as-vanguard arguably arose from the back-to-the-land movement of the 1970s. If that influx of thousands of countercultural pilgrims hadn't happened, Vermont might still be mostly poor, deeply sleepy, reliably Republican and square as a hay bale.
The revolutions that swept the state form the focus of a Vermont Historical Society symposium to take place in Montpelier on September 10. Two weeks later, the society will open an exhibit at its Barre headquarters titled "Freaks, Radicals and Hippies: Counterculture in 1970s Vermont." The VHS began a statewide survey in early 2015 and elicited nearly 700 responses; the results will be published online later in September. In addition, the historical society has sponsored seven discussions around the state related to the '70s counterculture.
Population statistics indicate the scope of the youth migration from northeastern metropolitan areas. The state recorded a 15 percent increase in residents during the '70s — the fastest rate of expansion per decade since the 18th century. It's estimated that 40,000 flatlanders moved to Vermont between 1970 and 1980.
Courtesy of Fletcher Oakes/Public Affairs
Mullein Hill resident Craig Neal and local women, Northeast Kingdom Co-op, Barton, 1973
Most of them did qualify as "freaks, radicals or hippies," although some were drawn more by job openings at IBM than by the prospect of free love on farms that grew their own dope. Some newcomers of yore said in recent interviews with Seven Days that they proudly flew their freak flags, while others defined themselves — then and now — as serious politicos rather than happy hippies.
A few of the aging New Agers described themselves as not fitting any of those categories. And not every urban or suburban refugee of that era was coming "back to the land." Some didn't dig the Vermont earth, having fled to the Green Mountains mainly to escape "the heat from narcs on the Lower East Side [Manhattan's stoned zone] or the burnout of New Left politics," said Robert Houriet of Hardwick.
The 79-year-old observer of, and participant in, Vermont's metamorphosis is the author of Getting Back Together, a 1971 book about communes such as Frog Run Farm in East Charleston, where Houriet lived for 15 years.
Despite differences in motives and outlooks, the rebels and dropouts shared some key characteristics: Nearly all were white, most were college educated and many were the offspring of prosperous parents. They chose to settle in Vermont "because of its rural beauty, affordable land and its reputation for political and social tolerance," the historical society notes in one of the texts that will accompany its exhibit.
Vermont's defining commitment to a laissez-faire way of life was based on values that were similar to, but predated, those of the counterculture. Montpelier attorney Charles Martin, who arrived in Vermont in 1964 as a Norwich University cadet and became an antiwar activist, summarized the state's abiding philosophy by citing the adage "You can do whatever you want — just don't scare the horses."
Reflecting on his mellow fellows' experiences in the '60s and '70s, Martin said, "Some of the locals looked askance at the skinny-dipping and other things we did, but they were basically OK with us because we didn't scare the horses."
The Age of Aquarius didn't mark the start of utopian experiments in Vermont. Millenarian communities based on religious beliefs or social ideals had sprouted in the state in the mid-19th century. In 1932, Helen and Scott Nearing established a homestead in Winhall, where they practiced agricultural self-sufficiency for the next two decades. They publicized their proto-hippie lifestyle in a highly influential 1954 book, Living the Good Life: How to Live Simply and Sanely in a Troubled World. In 1946, Irving Fiske invited some of his Greenwich Village neighbors to spend the summer on land he had acquired in Rochester, Vt. What began as an artists' colony morphed into a commune that's still grooving on Quarry Hill.
The VHS materials give a sense of what's most distinctive and significant about the back-to-the-land movement, broadly defined: It birthed the institutions that, in their maturity, make Vermont what it is today.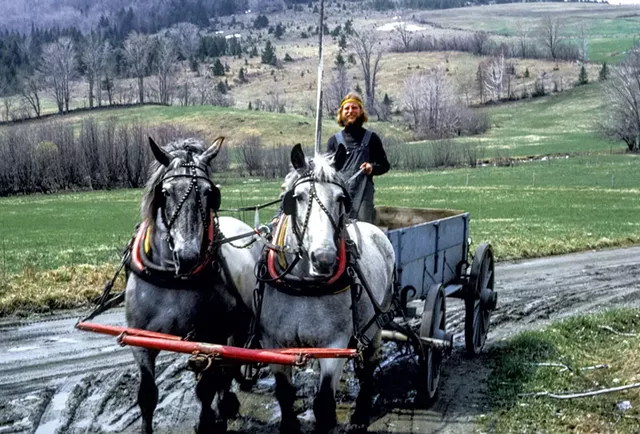 Courtesy of fletcher Oakes/Public Affairs
Eliot Cowan, West Glover, 1971
Some of the communes that raised organic crops also organized to buy food wholesale and in bulk. Such enterprises would become the Northeast Organic Farming Association, cofounded by Houriet in 1971; and supermarket-scale cooperatives such as City Market/Onion River Co-op in Burlington and Hunger Mountain Coop in Montpelier.
Similarly, the People's Free Clinic that provided "a new kind of health care" out of a storefront in the Old North End evolved into the Community Health Centers of Burlington. They now provide medical services to nearly 20,000 clients, many of them recent immigrants from Africa and Asia.
In politics, too, the period was pivotal. The Liberty Union Party, launched in 1970, espoused a radically progressive political program that appealed to Bernie Sanders, then a recent arrival from Brooklyn. "Bernie is, in fact, a classic example of a distinct, specific historical phenomenon: the back-to-the-land movement of the 1970s," observed Kate Daloz in the April issue of Rolling Stone. Daloz is a 40-year-old Brooklynite who was raised in a geodesic dome in the Northeast Kingdom and authored the recently published We Are As Gods: Back to the Land in the 1970s on a Quest for a New America. She continued, "The quirky details of [Sanders'] early bio — buying 80 acres of Vermont forest in 1968 and renovating an old sugarhouse into living quarters — are in fact shared by thousands of ex-urbanites across the country during the same period."
Sanders joined Queens native and Liberty Union cofounder Peter Diamondstone in campaigning for a socialist agenda that Sanders later implemented, in modified form, as mayor of Burlington and advanced as a U.S. congressman, senator and presidential candidate.
The movement had a profound impact on the arts, too: Vermont country air reverberated with rock and folk music throughout the 1970s. In the VHS survey question asking which aspects of the counterculture the '70s generation identified with, nearly 40 percent of respondents ticked "arts and crafts, music." In 1975, Nectar's opened its doors on Burlington's Main Street; it later became the center of a Vermont music scene that would most famously produce Phish.
Some members of the '70s secular hegira didn't help start new organizations but instead embarked on what Rudi Dutschke, a German student radical of the era, called "the long march through the institutions." Attorney Martin referred to Dutschke's dictum in describing how he traced his own path. After earning a law degree from Pennsylvania State University, Martin returned to Vermont as a clerk to the state Supreme Court and later worked as a public defender. He also volunteered for conservation groups. "I saw my role as working for change through the law," he says.
David Martin, a member of the Toad Hall commune in East Haven, noted that "many of the people I knew back then went on to become teachers, guidance counselors, local officials." They passed on their values to younger generations, "which was important in making it all last beyond that specific time in history," Martin said.
For all the good vibes emanating from '70s communes, the history of that time is also replete with downers. Relations between new and old Vermont sometimes fell short of being far out.
In 1971, Republican Gov. Deane Davis received scores of letters from constituents frightened by rumors of a 50,000-strong "hippie invasion" of the state. The concerns were so acute and widespread that Davis felt it necessary to issue a press statement seeking to allay the alarm. In keeping with Vermont's live-and-let-live spirit, the governor offered this reassurance: "Like most people, the bulk of the young transients go about their business in a self-sufficient, peaceful manner, although their habits and appearance may not be to our taste." He suggested, in other words, that the hippies wouldn't scare the horses.
But some locals did prove downright hostile. Ladybelle Fiske, born on Quarry Hill in 1950 and still a resident of that Rochester commune, recalled shots being fired through the window of a home one night in 1972. "It was kids who were for the war [in Vietnam] and who resented us for being against it," she said. "Some Rochester people with a lot of integrity took care of that. It didn't happen again."
Fiske also acknowledged, however, that "some of the young people who came in the '70s didn't have a stake in making sure that Quarry Hill was regarded positively by the locals." Their behaviors in town exceeded Vermont's broad capacity for tolerance, she admitted.
Courtesy of Loraine Janowski/Public Affairs
Mullein Hill commune, West Glover, 1971
All was not kumbaya at the Entropy Acres commune in West Glover, where Chris Braithwaite, who retired as publisher of the Barton Chronicle in 2014, lived in the early '70s. "Local folks, at least on the face of it, were quite friendly," he remembered. "They lent us equipment and were helpful with the farming we were trying to do." But, at a public meeting, some neighbors expressed strong opposition to allowing commune members to fill openings as part-time schoolbus drivers. They worried that the hippies would drop acid and kill their kids, Braithwaite ruefully recounted.
Mary Mathias, who was married to Houriet when both lived on Frog Run Farm, has only positive recollections of the communards' dealings with longtime farmers in the area. "Part of the land was right on the road, and passersby would see us farming with horses," said Mathias, now a retired social worker living in Brattleboro. "They'd stop to give us advice because they really liked what we were doing. They taught us everything we needed to know."
The back-to-the-land movement wasn't considered some alien implant, Braithwaite added. "Sure, the hippies fundamentally challenged the ethos of mainstream America," he said, "but northern Vermont was never really part of mainstream America. When we said we weren't going to heat with fossil fuels and would burn wood instead, the local reaction was, 'So what's the big deal?'"
While the back-to-the-land movement spurred many lasting changes in Vermont, it proved short-lived in its most characteristic form. The state was home to at least 20 communes in 1971, yet "there were zero by 1975," Houriet said.
Vermont winters proved longer and more bitter than many neophyte farmers could endure. Wayne Turiansky, founder and owner of the Burlington T-shirt screen-printing company Amalgamated Culture Works, was part of the early '70s exodus to Vermont from points south. "More than half the people I knew who had migrated to the Rutland area had left the state by 1980," he said. "They couldn't handle the cold."
Many may have returned to comforts still on offer in the suburbs whence they had come, suggested author Daloz, an invited speaker at the historical society's September 10 symposium. "Sometimes, it was just a romantic episode in privileged people's lives," she reflected. "They found out that rural poverty isn't all that much fun."
Breakups of personal relationships also drove many libertines off the land. The call to "smash monogamy" often led to jealousies and recriminations, Houriet noted. "You need to be delicate when you set out to smash something that's been around for centuries," he counseled.
Women were often on the losing end of these unstable arrangements. Feminism was not necessarily among the progressive values practiced by male hippies, Braithwaite remembered. In fact, Entropy Acres was satirically subtitled "Prison Farm for Women" because, he related, "The men would be all about mechanical stuff and physical work, while the women were expected to stay in and take care of the kids."
"A lot of good stuff came out of that movement," remarked Penny Patch. A 1960s volunteer in the Deep South civil rights movement who lived at Toad Hall in the '70s, she later became a registered midwife. "There was some messy stuff, too," she went on. "Remember, we were young and were trying to figure out how to live our lives in new ways."