Derek Brouwer
The Main Street building that houses the museum
Kate Hunter is not a party to the bitter squabble that has closed Orwell's history museum, but she's the one who gives visitors the bad news. The young librarian runs the Orwell Free Library on the first floor of a historic Main Street home. The Orwell Historical Society Museum is upstairs, where it has been cordoned off since March.
Hunter easily turns away tourists who've wandered off the highway in search of a quaint Vermont attraction. But locals demand answers.
She doesn't dare divulge details, because at this point, one wrong word might trigger another schism in the small Addison County town. "Everyone is just tired and hurt by this whole situation," she said this month, immediately fretting that she'd revealed too much.
The grinding controversy stems from what might seem to be a minor mishap. A thin layer of construction dust coats the museum's exhibits, the result of what historical society volunteers contend was careless repair work in the building. The collection can be cleaned, yet the nearly yearlong fight over how to do it and who should pay has erupted into public shouting matches and an alleged lockout.
"It has gotten to the point where it is just difficult to be in this town," the former curator, Sandy Korda, said.
Vermont counts roughly 190 local museums and historical societies. Typically powered by volunteers, their collections vary in quality and historic value, but each helps small-town residents maintain a shared identity.
Orwell's is a hidden gem, boasting immersive exhibits that earned statewide recognition. Now it's discussed in hushed tones. Weary and feeling unappreciated, Korda quit as its longtime curator in March. His departure placed the museum's future in greater doubt. While making historical exhibits inaccessible might evoke comparisons that are, well, Orwellian, the situation is also a reminder of the civic cooperation required to keep the past alive.
Orwell's Main Street, off Route 22A, is a quintessential Vermont time capsule. Tellers at the 187-year-old First National Bank of Orwell, the state's smallest bank, work behind brass-barred counters. At Buxton's Store, a chalkboard on the porch tracks the spring youth turkey harvest.
Between them is the historic Ethan M. and Eliza T. Wright Memorial Library, a two-story mansion that was set aside a century ago to house the municipal Orwell Free Library. The town helps pay for building upkeep — it chipped in $14,000 in 2018, town meeting minutes show — but a private board of trustees controls the structure. Upstairs, the Orwell Historical Society, a separate volunteer group, has developed public exhibits since the 1970s.
Narrow second-story corridors lead to the exhibits. Korda, who designed most of the displays, said they are meant to transport visitors back in time. Some capture rural life, including a re-created early 20th-century country kitchen and a one-room schoolhouse. Other rooms feature Victorian-era Vermont women's fashion and Orwell's military contributions. Four exhibits have won Awards of Excellence from the Vermont Historical Society.
The roof has leaked for several years, Korda said. In July 2018, a rainstorm damaged items that were being stored in a small closet. The historical society and the Wright building's board of trustees butted heads over who should do the repairs, he said. The Wright board ultimately tapped a local contractor, Ray Papandrea, to repair damaged drywall in the closet, according to correspondence provided to Seven Days by the historical society.
The society claims that Papandrea's repairs spread drywall dust that settled on artifacts. Joanne Hornbeck, a professional house painter who is one of the society's few members, said she was surprised to realize the contractor hadn't taken steps to protect the displays.
"I went up and looked at it after he was done and just shook my head," she said.
Dust on old objects wouldn't strike most people as an emergency. To Korda, it was. A trained Disney animator, the curator has a compulsive attention to detail and a photographic memory. His concern centered on the museum's textile collection: If left on the old dresses and military uniforms or removed improperly, the drywall dust could cut through the antique fibers, causing irreparable damage. Korda also serves as Orwell's emergency management director, responsible for making sure the town can respond quickly to disasters. The dust, he believed, posed just such a threat.
"In a sense, it's a hazmat situation," he asserted, using a term typically reserved for incidents involving explosives, poisons or radioactive materials.
The Wright board, the curator said, believed he was being "alarmist" about the damage. So Korda called a conservator, Michele Pagan of East Dorset, to do a professional assessment. Pagan, who has worked with Smithsonian collections, found that the exhibit rooms were coated in a "very fine layer of white powder" that warrants careful removal.
"This will be a lengthy process to clean a collection like theirs," she said. "It's not something that you go out and hire an average housekeeping team to take care of it for you."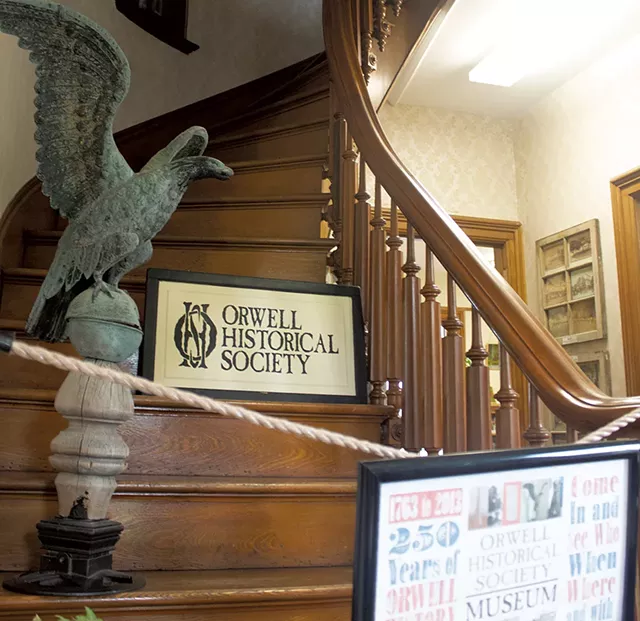 Derek Brouwer
Stairs leading to the museum
Small-town museums aren't generally equipped to provide specialized care for their collections. They don't have the precisely controlled climates or the expertise of professional museums. They're lucky if they have a budget. But for years in Vermont, they could turn to a cooperative of professional conservators who sought grant money to help local museums afford professional care. The original organization disbanded, but Pagan is part of a nascent effort to revive the resource, dubbed the Conservation and Collections Care Alliance.
Small museums can keep cleanup costs down by hiring a conservator to train volunteers, who then perform the conservation work "very slowly, very carefully, item by item," Pagan said.
Conflict has made such cooperation impossible in Orwell. After the Wright board balked at the cleanup price tag put forward by Korda, the curator appealed to townspeople using one of rural Vermont's most prominent forums: the annual town report. Without naming names, Korda wrote in the historical society's annual update in January that the building repairs were "substandard" and conducted with "inadequate attention to detail." Cleanup to conserve the collections would cost more than $12,000, he wrote.
"Unfortunately, the process is currently stalled while we must wait for all parties to fully appreciate the seriousness of the present problem," Korda concluded.
Historical society members believed Papandrea, the contractor, was responsible for the mess and that the Wright board, which had hired him, should negotiate with him to cover the costs. Robert Martin, the Wright board's spokesperson, declined to speak on the record and suggested that Seven Days would not be able to get enough information to tell an accurate story. He also declined to provide copies of board correspondence that he shared with members of the Orwell Selectboard, saying he believed they were not public documents.
But the available records make clear that the conflict escalated after Korda's public callout.
By March, the cleanup debate had become so fraught that the historical society asked the selectboard to mediate, selectboard chair Tom Audet said. The political intervention only made matters worse, as an "emergency meeting" brokered by town officials devolved into barb-throwing between Korda and Martin.
"He said that I was blatantly lying," Korda recalled, though any animosity was omitted from the official meeting minutes. "My comment to him was, quote, 'Robert, you are delusional.' And with that, I was verbally attacked by another member" of the Wright Memorial Library board.
The selectboard also spent more than $1,000 on legal advice, invoices show, including on whether the town could be exposed to defamation claims because it included Korda's blunt missive as part of the official town annual report distributed to residents and filed with the secretary of state.
"We wanted to make sure that the town didn't have responsibility if a person who may have taken that personally may come back on the town," Audet said, declining to specify whom the selectboard had in mind.
The dispute escalated at a second, unofficial meeting in which the historical society's Hornbeck confronted Papandrea about the quality of his work. She alleges that the contractor stood up from his chair and ran over to hers, arguing as he stood over her.
Papandrea declined to comment. He's operated a construction and home improvement business for decades, according to his LinkedIn page, and until recently chaired the Orwell Planning Commission and Development Review Board. The Wright Memorial Library board credited him in its 2018 annual report for "the significant amount of pro bono work he's done for the Library over the years."
Since the second gathering, the groups have refused to meet, and Papandrea has not disclosed his liability insurance information, according to selectboard meeting minutes. Korda quit as volunteer curator. Then the Wright board locked him out of the building, he said, before he could collect his personal items. The selectboard stepped away from the mess, concluding that it has no formal role because the building is privately owned. It's essentially a standoff.
"We are waiting for the library board and their contractor to come to terms on their cleanup," Audet said.
In an April letter, however, the Wright board told the historical society to sort out the "culpability issue" between Papandrea and Korda.
"You chose the low road, wasted valuable time, denigrated and slandered members of the WMB, and left a bad taste in everyone's mouth," the letter states. "Libel is a term you should become familiar with."
If the groups can't agree, Audet said, Orwell's residents may need to decide whether they're interested in publicly funding cleanup of their town's museum, though he described that as a "last resort."
Public funding would be unusual; Vermont's local museums tend to be independent groups that rely on donations. (Orwell's historical society raises funds from recycled can deposits.) Many historical societies, as in Orwell, have just "a couple of folks who are spearheading keeping it going," said Eileen Corcoran, community outreach coordinator for the Vermont Historical Society. When the societies fall apart, Corcoran said, the town's exhibits end up collecting dust in a private home or town building, orphaned by the only community to which they might matter.
Asked if Orwell residents are invested in their museum, Hunter, the librarian, chose her words carefully. "Locals care deeply for this town and the entities that exist within its limits," she wrote on a sticky note, handing it to a Seven Days reporter, "including the historical society." She also let a reporter peek at the dusty museum exhibits through the window of the purportedly locked door at the top of the roped-off wooden staircase. With a quiet jiggle, the door swung open. Whoever still had keys to the museum had left it unlocked.