Glenn Russell
New pillars being installed at Ira Allen Chapel
For 92 years, six wooden columns distinguished the entrance to the University of Vermont's Ira Allen Chapel, a historic building so iconic that Walmart sells its image in framed art prints online. Then, last summer, the colonnade facing University Row vanished — replaced, at first, by steel supports.
UVM's upper-level administrators say they weren't aware of the facility team's plan to scrap the original Spanish cedar pillars and replace them with replicas made from fiberglass, a material that didn't exist in 1926, when the chapel's construction was completed. Nor, apparently, did they inquire.
Now the university is begging forgiveness from Vermont Act 250 officials who are scrutinizing a repair job that some say has degraded one of the state's most significant architectural specimens.
"It is a very important building and deserves a high level of stewardship," said Paul Bruhn, president of the Preservation Trust of Vermont. "Replacing the wood columns with fiberglass columns does not qualify as good stewardship."
If state officials agree, the university might have to pay a fine or offset the change. Because UVM has already disposed of the original 32-foot columns, it will be more difficult to evaluate whether the university made the right call — or how well the new fiberglass replacements match the originals.
"We're reviewing it as after-the-fact, unfortunately, and we have to figure out how to mitigate that," said Laura Trieschmann, the state's historic preservation officer. She started asking questions about the missing columns at Ira Allen Chapel last fall.
Historic structures at UVM are generally subject to Act 250, Vermont's land-use law. It requires that certain improvements or changes to such buildings be reviewed and permitted to ensure that the proposed work will not have an "undue adverse effect" on the structures' historic character. The Vermont Natural Resources Board, which administers Act 250, asks Trieschmann to help make those calls. The regulatory body also encourages property owners to consult her office in advance of projects to review any potential effects. Owners may also request formal guidance from the National Resources Board to determine whether a given project requires an Act 250 permit. That "jurisdictional opinion," as it's called, amounts to a green light.
UVM officials said they haven't always sought the state's blessing when they consider a project to be repair or maintenance work, and they did not ask for an opinion on the recent work at the chapel. Staffers at the campus physical plant, who handle maintenance, have generally made those judgment calls. That's led to some inconsistent decisions about when to consult the state, acknowledged Robert Vaughan, UVM director of capital planning and management.
"It was more hit-and-miss in the past, I think, unless it was a big project where you knew you had to have everybody involved," he said.
In some cases, UVM has opted to restore rather than replace original materials. For instance, wooden columns along the Grasse Mount mansion sun porch were refurbished in 2010. Other times, staffers have ordered new materials, as when wood finials on the main steeple of Ira Allen Chapel were replaced with plaster replicas in the 1970s, then again with fiberglass in 2007.
That history was explained in a PowerPoint presentation UVM put together for Trieschmann last October, after "someone mentioned to me in my capacity as state historic preservation officer that the columns had been removed," she recalled. After the slide show, she asked UVM for a long list of additional documents. It wasn't until after a follow-up email from a Natural Resources Board enforcement officer that the university complied, on January 15.
The university, established in 1791, has more than 80 historic buildings to care for and a deferred maintenance backlog of "several hundred million dollars," according to vice president of university relations and administration Tom Gustafson. To address that issue, the goal is to increase the amount of money spent on repairs from $12 million to $20 million in coming years, Gustafson said.
The university must also balance preservation needs with cost, he added.
"The historic preservation folks — you know, God bless them — they're really focused on this stuff. We're focused on it, too, but we're also focused on tuition and everything else," Gustafson said. "If we can find a material that looks good, is easier to maintain, and no one will know the difference, it's something we at least want to look at."
UVM has made several repairs to the Ira Allen Chapel colonnade over the last 13 years. Maintenance staff concluded recently that the original wooden columns were rotted and cracked beyond repair and threatened the structural integrity of the building.
The situation was "hopeless," Gustafson said.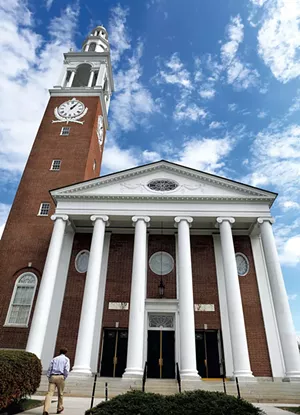 File: Ashley Conti
Ira Allen Chapel in 2014
The columns were removed as part of a $1.9 million project that also included replacing the brick foundation beneath the chapel's granite steps. Among the records UVM provided the state in mid-January were cost estimates. Replacing the colonnade with Spanish cedar would have set the university back $350,000. A look-alike support system of steel wrapped in fiberglass cost a third of that: $115,000. UVM staff hired Gale Associates, a regional firm that lists millions of dollars of UVM preservation work over the years on its online portfolio, to design the replicas. E.F. Wall & Associates, of Barre, was hired to install them.
"As this was a repair and not new construction, we sort of went ahead and ordered the columns and started the work," Gustafson said, "and that's when things started to go south a little bit."
Work on the classic colonnade was bound to draw attention. Ira Allen Chapel is named for Ethan Allen's younger brother and fellow leader of the Green Mountain Boys, who founded UVM. It was gifted to UVM by Ira Allen biographer James Wilbur and designed by architect William M. Kendall, of the renowned New York firm McKim, Mead and White. Kendall also designed Burlington City Hall, which was built in 1928.
Ira Allen Chapel was designed to seat more than 1,000 congregants inside a structure laid out in the shape of the Latin cross, with a gold-domed lantern at its center. Now used for special events and ceremonies, the building is considered an "outstanding example" of the Colonial Revival style, according to a description on UVM's website written by the director of the university's historic preservation program, professor Thomas Visser.
A change to the chapel that is as significant as swapping out columns should involve a state review, according to Trieschmann. Materials choices can compromise the integrity of a historic building, she explained: "It becomes false history ... a reproduction of something, and there's no reason to do that if a building is properly taken care of or maintained."
She pointed to last year's replacement of the statue of Ceres, the Greek goddess of agriculture, atop the Statehouse in Montpelier, as an example of a fix that honored the original. The 1858 wooden statue has been replaced twice. The first time, in the 1930s, the Statehouse sergeant-at-arms carved a somewhat crude successor that was affectionately referred to as folk art. Last November, a new mahogany replica was hoisted into place.
Although the Ceres statue swap did not require an Act 250 permit, the organizers did consult Trieschmann's office.
As for UVM, Trieschmann said she was reluctant to "throw them under the bus, because I have to continue working with them on their historic buildings." She said the university "generally" does a good job of stewarding them.
Why did the university ignore her concerns and move forward with the fiberglass installation at Ira Allen Chapel?
It took a second complaint to halt the project when four of the six columns had already been partially installed.
According to a January 8 email provided by UVM, a compliance and enforcement officer from the Natural Resources Board notified the university that she was investigating a complaint and told UVM to submit the project documents Trieschmann had requested in October "before further reconstruction occurs."
The email came one day after Bruhn, of the Preservation Trust, wrote UVM president Tom Sullivan urging the university to reverse course. Bruhn said his organization wasn't the source of the complaint.
University officials say they mistakenly thought work could continue while the permits were getting sorted out. They point out that historic preservation guidelines issued by the U.S. Department of the Interior list "substitute materials" as a viable option. They also note that the colonnade of the nearby Lambda Iota Society fraternity was replaced with fiberglass — then won an award from Preservation Burlington in 2011.
Finally, they remain optimistic that Trieschmann will submit a "no undue adverse effect" finding to the Act 250 office, which could then decide to exempt the project from the formal permitting process.
A Natural Resources Board attorney confirmed a pending investigation but declined further comment.
UVM has not volunteered to commission a new set of wooden columns, but in a letter accompanying the records it submitted to the state, it offered to mitigate the situation by restoring the windows at Ira Allen Chapel next summer.
The university is also promising to apprise the Vermont Division of Historic Preservation — via monthly meetings — of future projects that involve historic elements.
In the meantime, more pillars could come down. During an interview inside the Pierce-Spaulding House, located on the southern end of University Green along Prospect Street, Vaughan told Seven Days the chapel wasn't the only column project that will undergo an "after-the-fact review."
"There's this building that you're in," he said.
Last summer UVM replaced a series of wooden columns with fiberglass replicas while renovating the porch, just as it had started to do at Ira Allen Chapel, according to Vaughan. He said UVM recently informed the state of the Pierce-Spaulding House project and plans to submit documentation for review later this week.
That's news to Trieschmann, who wrote by email that she thought the columns at Pierce-Spaulding House were "being repaired and reinstalled, not replaced." In another email, she clarified, "UVM told me the columns would be put back up and not replaced with fiberglass."