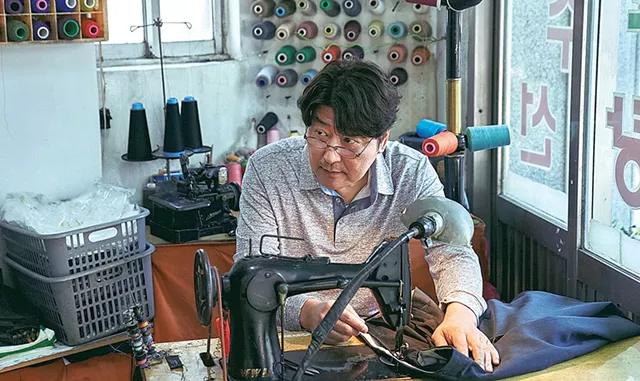 Courtesy Of Neon
Koreeda tells another moving story of outcasts forming a found family in his Palme d'Or nominee.
One of Japan's most renowned working directors, Hirokazu Koreeda won the Palme d'Or at the 2018 Cannes Film Festival for Shoplifters. For his latest film, Broker, Koreeda traveled to South Korea to work with acclaimed actors Song Kang-ho, who played the lead in the Oscar-winning Parasite, and Bae Doona (Sympathy for Mr. Vengeance, Cloud Atlas).
Screening at Catamount Arts, Merrill's Roxy Cinemas and the Savoy Theater through January 26 (check their websites after that), Broker uses whimsy and humor to approach a dark subject: What happens to society's unwanted children?
The deal
In the dead of night, a young woman named Moon So-young (pop star Ji-eun Lee) enters a church in Busan. Tearfully, she places her infant son Woo-sung on the floor in front of the "baby box" provided for parents who choose to give up their children, no questions asked.
Meanwhile, two other parties are covertly observing her actions. Police detective Soo-jin (Bae) wants to entrap a pair of brokers who she believes are plucking infants from the baby box and selling them on the adoption market. She tails young church employee Dong-soo (Dong-won Gang) as he drives Woo-sung to a laundry shop run by his older friend Ha Sang-hyeon (Song).
Soo-jin and her partner stake out the shop, hoping to catch the two men in the act of exchanging money for the baby. But things get complicated when the young mother returns to the church and demands her child back.
Will you like it?
Hollywood struggles when it attempts to tell stories about the socially marginal. Too often, well-intentioned "issue" dramas become exaggerated miserabilist fables that deny poor people their full humanity.
Koreeda's no-fuss, observational approach offers an antidote to misery porn, as he showed with Shoplifters and shows again in Broker. It would be so easy to make the central characters objects of our pity: So-young is a runaway with a history of sex work; Dong-soo was raised in an orphanage and yearns for the parents he never knew; Sang-hyeon is a divorced dad with an ailing business who drives everywhere in a wreck of a van. Everyone in the movie, even the middle-class detective, is a little broken in some way.
And yet everyone is surprisingly kind and resilient, too. When So-young discovers the two brokers' scheme to sell her baby, instead of calling the cops (whom she has reason to avoid), she tags along with Dong-soo and Sang-hyeon to make sure that Woo-sung gets a good home. On the road trip that ensues, the four of them visit an orphanage where they acquire a fifth companion, a soccer-loving kid named Hae-jin (Seung-soo Im), who stows away in the van and demands that they adopt him.
In most movies, this would be a situation ripe for pathos or cutesiness. But here it's so studiously underplayed that it becomes genuinely moving. Young Hae-jin clearly senses paternal potential in the two brokers, who care tenderly for their would-be merchandise and soon grow nearly as reluctant to part with the infant as his mom is. As the stern detective tries to manipulate the criminals into selling Woo-sung so that she can arrest them, it's she who becomes the "broker" — but she eventually reveals a softer side, too.
Koreeda gets major mileage out of a scenario of found family — here, a group of misfits who come together to give one another the support they haven't found in conventional family structures. It's a trendy trope but an undeniably resonant one.
Broker has to be the most feel-good movie ever made about human trafficking, and sometimes it dips dangerously close to sentimentalizing its subject. We may find ourselves wondering why two people as decent as Dong-soo and Sang-hyeon took up this profession in the first place. Koreeda adds a couple of gangster characters to remind us that not all criminals are as scrupulous as our protagonists, but they feel like distractions in the unnecessarily convoluted cat-and-mouse plot.
Longer and twistier than it needs to be, Broker is ultimately less compelling as a crime drama than as a rambling road trip movie. Its strength lies in leisurely, atmospheric scenes that give the actors' fine performances room to breathe.
I found myself wishing we could spend more time in the orphanage, where Koreeda unveils a subculture of kids and adults quietly striving to build meaningful lives even as they mourn their parents' absence. The filmmaker takes a stand against alienation and hopelessness by portraying a chosen family that gives each of its members an explicit message of affirmation: "Thank you for being born."
If you like this, try...
Air Doll (2009; rentable): Koreeda previously worked with Bae on this strange little urban fairy tale in which she plays an inflatable sex doll who comes to life, gets a job, falls in love and discovers that it's not so unusual to be hollow inside.
Shoplifters (2018; Amazon Prime Video, Kanopy, Pluto TV, plex, Vudu, rentable): If you liked Bong Joon-ho's Parasite, definitely check out Koreeda's Palme d'Or winner. It profiles a found family living on the margins in Tokyo with tenderness and humor.
Like Father, Like Son (2013; IFC Films Unlimited, AMC+, Kanopy, tubi, rentable): Koreeda has said Broker emerged from the research on adoption that he did for this drama about the dilemmas that ensue when a couple learn that the boy they've been raising as their son was actually switched at birth with their biological child.