Kevin Mccallum
The Mi9 offices in the Champlain Mill on Monday
When Miami-based e-commerce company Mi9 bought homegrown software firm MyWebGrocer in October 2018, Barry Clogan, the Winooski-based tech darling's president of retail solutions, hailed the sale as a win for local employees.
"It's wonderful for MyWebGrocer. It's very positive for the team here," Clogan told Seven Days at the time. "It's onwards and upwards."
He assured workers and the public that the acquisition by the larger company was a growth opportunity for MyWebGrocer, founded in Vermont in 1999 by entrepreneur brothers Richard, Jerry and Brian Tarrant. The company specialized in building e-commerce platforms that allowed shoppers to buy groceries online. Clogan said none of the employees remaining in the company's historic Champlain Mill headquarters would lose their jobs.
What a difference 12 months makes.
MyWebGrocer is now literally a shell of its former self. The MWG sign that graced the front of the building is gone, and much of the office space the company occupied is empty.
One year to the day after the purchase was announced, two Mi9 executives and a human resources coordinator arrived in Winooski to deliver grim news.
The team huddled in a fifth-floor conference room before firing off an email asking about 20 people to join them for a 10 a.m. meeting. Workers, some of whom had been with the company from the beginning, filed in, learned they were losing their jobs and were told to collect their belongings.
"I think the way this was done was very cynical and very cruel," said a current Mi9 employee in Winooski who realized what was going on after noticing colleagues hugging and crying. "It was just like cattle to the slaughter."
The employee is one of two who spoke to Seven Days and requested anonymity to protect their jobs and speak openly about the company's trajectory under Mi9. The employee said the latest layoffs left about 43 people at the Winooski office, down from 150 when the firm was sold.
That means more than two-thirds of the staff have departed or gotten the ax since Clogan's assurances that there would be no layoffs. Seven Days made multiple requests for comment by email and phone, and visited the cavernous and largely vacant Winooski office this week. Mi9's general counsel responded and declined to comment.
October has been a cruel month for some of the Burlington area's most prominent tech firms, raising questions about the vibrancy of the much-vaunted tech hub that Burlington has worked so hard to foster.
Dealer.com, which creates and manages websites for car dealerships nationwide, said on October 23 it had cut fewer than 15 positions from its 1,100-strong workforce during two rounds of layoffs. The company, owned by Atlanta-based Cox Automotive, stressed that it was still hiring for other positions.
The following week, Social Sentinel, which alerts school districts to potentially threatening public social media posts, laid off 19 people, shrinking from 45 employees to 26. Officials characterized the 42 percent workforce reduction as a way to reposition the privately held firm to focus on unspecified markets beyond schools. President Rick Gibbs recently replaced founder Gary Margolis as CEO.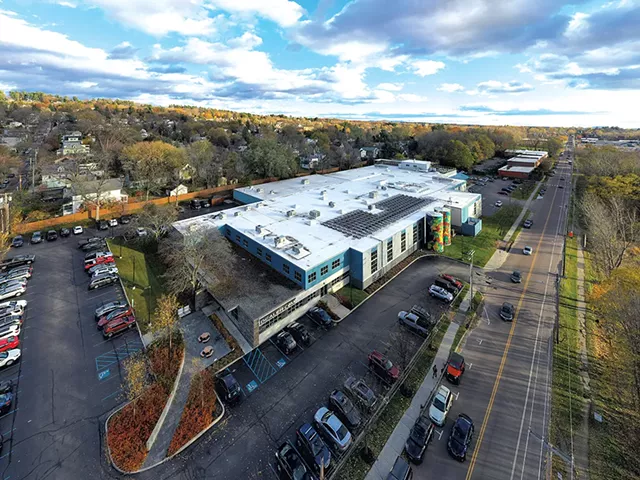 James Buck
Dealer.com
The latest round of Mi9 layoffs was never announced publicly. The number of employees affected was below 50, which would have triggered a requirement that the company notify the Vermont Department of Labor.
Taken together, however, layoffs at three marquee Burlington-area tech firms, while not necessarily a sign of an underlying problem with the local tech sector, are concerning, said Adam Roof, project manager at BTV Ignite, a nonprofit that promotes the Queen City's digital economy.
"I think we need to start thinking hard about whether we're competitive and innovative in the marketplace regionally, if not nationally," said Roof, who is also a Burlington city councilor.
The city has excellent broadband internet through Burlington Telecom, a robust investor network ensuring access to capital, and a critical mass of creative and entrepreneurial types willing to take risks, Roof said. This tech ecosystem needs to be large enough that workers can both climb the career ladder and move laterally to other tech companies if they want or need to, as in the case of layoffs. The relatively small size of Burlington's tech sector can make that a challenge, he said.
"If there aren't easy ways to move laterally, that's a problem," Roof said.
That's exactly the problem that Richard Tarrant Jr., one of the founders of MyWebGrocer, sees in the local tech economy. Tarrant worries there are fewer large tech companies spinning off startups than there once were.
"You need those oak trees to drop the acorns, and the oak trees aren't there anymore," Tarrant said. "Burlington has lost a lot of that."
One such company was IBM, which spun off startups like IDX Systems, the South Burlington-based health care information technology behemoth founded by the Tarrant brothers' father. It was sold to General Electric Healthcare in 2006 for $1.2 billion.
While Tarrant Jr. owns a small stake in Mi9, he now lives in Florida and hasn't been involved in MyWebGrocer for several years. The company, which has operations overseas, including in Dublin, Ireland, shed dozens of jobs as it positioned itself for the 2018 sale.
Like Clogan, Tarrant said he felt the purchase by a more diversified e-commerce platform provider positioned the company he founded for growth, not steady decline.
"Putting those companies together made perfect sense," he said. "There's only so much growth you can get in the grocery space."
Tarrant said he was unaware of any recent layoffs at the company but that cutbacks are part of the business cycle and can present opportunities.
In many cases, Vermont tech companies' fortunes are tied to cycles of the broader industries they serve, and that may have been the case with some of the recent cutbacks, said Jeff Couture, executive director of the Vermont Technology Alliance, a business group that represents and advocates for 200 tech firms in the state.
Mi9 had been posting jobs on the alliance's website, but that has tapered off, and the company recently declined to renew its membership, Couture said.
The smaller scale of the state's tech industry means "layoffs can be felt here a little harder than elsewhere," Couture said. But like other tech leaders, Couture sees strong demand at smaller tech firms that are aggressively hiring.
"There are a lot of interesting, dynamic, small tech companies you may not have heard of that are growing, that are doing well, that you could be a part of, where you can get paid well and live in Vermont," Couture said.
David Bradbury, president of startup incubator Vermont Center for Emerging Technologies, said nothing he's read about recent layoffs tells him the companies' futures are anything but "bright and vibrant." He said the broader tech job market is hot right now.
"From our perspective, we are seeing really large net new hiring demand across sectors," he said.
That's not only a strong sign for the tech sector, but for individual workers who now find themselves looking for work. The state's unemployment rate is hovering around a historic low of 2 percent, noted Joan Goldstein, commissioner of the state Department of Economic Development.
"We have such a tight labor market that there is no doubt that this talent set will be absorbed," she said.
Two of the three companies laying workers off have taken state dollars on the promise to grow their workforces. The state in 2010 and 2013 approved Dealer.com for grants totaling $6.1 million under the Vermont Employment Growth Incentive program. In 2009, the program granted MyWebGrocer up to $453,000, according to the state.
The grants are paid out to companies that grow their workforces. Payments are spread over several years and only paid if workers are retained for a sufficient period, Goldstein said.
The state does not reveal whether companies approved for such grants actually received them, Goldstein said. Dealer.com and the former MyWebGrocer are still in the program, which means one can assume they've received most or all of the incentives, she said.
If companies that receive funds end up laying off workers and fall below their original baseline levels, the state can recoup the funds, but it is rare, she said. It has not happened at either company.
The state does not release the metrics that individual companies need to hit to receive the funds, because that information is considered proprietary, she said.
While the local tech sector is small, its diversified nature is undeniable.
Marine robotic systems company Greensea in Richmond just announced a wave of new hires.
Energy storage systems maker Northern Reliability in Waterbury is seeing 900 percent revenue growth, Bradbury said. And Burlington-based Localvore, which makes an app connecting people to local food businesses, just announced a $1 million round of financing and expansion to the Twin Cities in Minnesota.
For the remaining employees at the former MyWebGrocer, however, the latest round of layoffs feels less like an opportunity and more like a dead end.
Previous cuts have seemed strategic, even understandable for a small company subsumed by a larger one, the first employee said. Just three months after the acquisition, the human resources, finance and legal teams departed.
In July, when the email marketing staff left, that too was largely viewed as a natural consolidation following such an acquisition. But the most recent cuts were broad-based, unexpected and immediate, leaving some of the remaining employees worried about Mi9's commitment to its dwindling Vermont outpost.
After the layoffs, there was an "all hands" meeting. Officials merely told employees the goal was to cut costs, according to a second employee.
Executives tried to be upbeat, but employees were, and remain, demoralized.
"Nobody was even really listening," the second employee said. "They were just so upset by it all."
Local staff is working hard to support the legacy software while transitioning clients to a new, more flexible e-commerce platform, but the latest cuts leave that shift in doubt.
"This one feels like the death blow," the first employee said.